"The Gibbon's Life in the Treetops" Exhibition


Exhibition
Gibbons are one of our closest living relatives. We share lots in common: our ability to walk upright, nimble hands, devotion to the family and even love for singing. What sets us apart is that unlike humans, gibbons feel at home in the treetops.
Gibbons spend all their lives high up in the rainforests of Asia, and are known for swinging from tree to tree like natural acrobats. But as gibbons' forest home is replaced by towns, roads and plantations, all species of gibbons are on the verge of disappearing forever.
October 24 marks the International Gibbon Day. Every year, gibbon lovers and conservationists worldwide organise events to raise awareness. This year, KFBG has curated "The Gibbon's Life in the Treetops" exhibition. Visit this reinvented research basecamp and rainforest in the heart of the city to get to know gibbons and the team of Hong Kong conservationists pulling them back from the brink.
Date: 16 – 24/ 10/ 2021
Opening Hours:
16 – 21/10: 12nn – 7pm
22/10 (Friday): 12nn – 8pm
23 – 24/10 (Weekend): 11am – 8 pm
Venue: Central Piazza, Lee Tung Avenue, Wanchai
We are grateful for the support from our exhibition sponsor Kakato Premium Pet Food, our venue partner Lee Tung Avenue, and our publicity sponsor The "Star" Ferry Company Limited.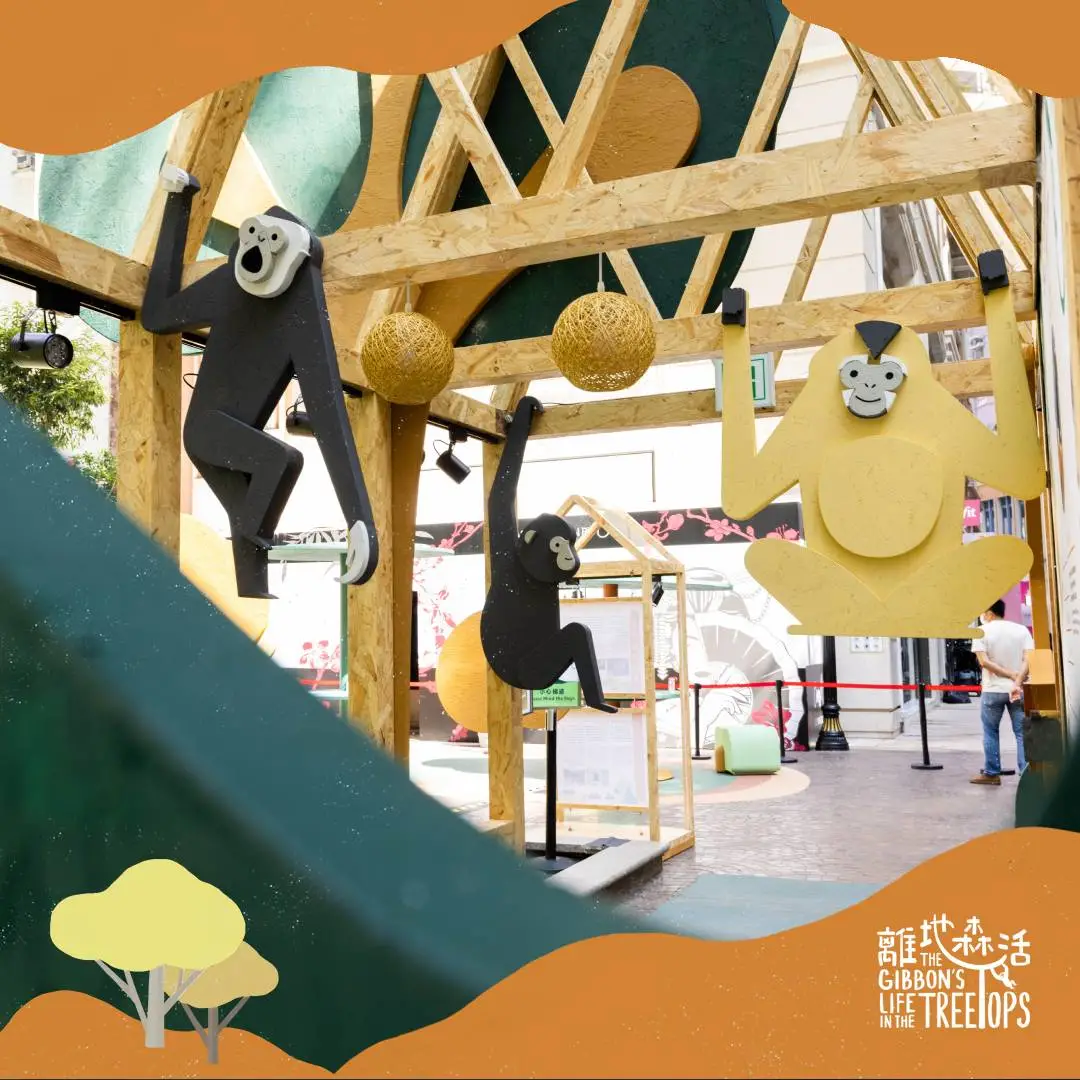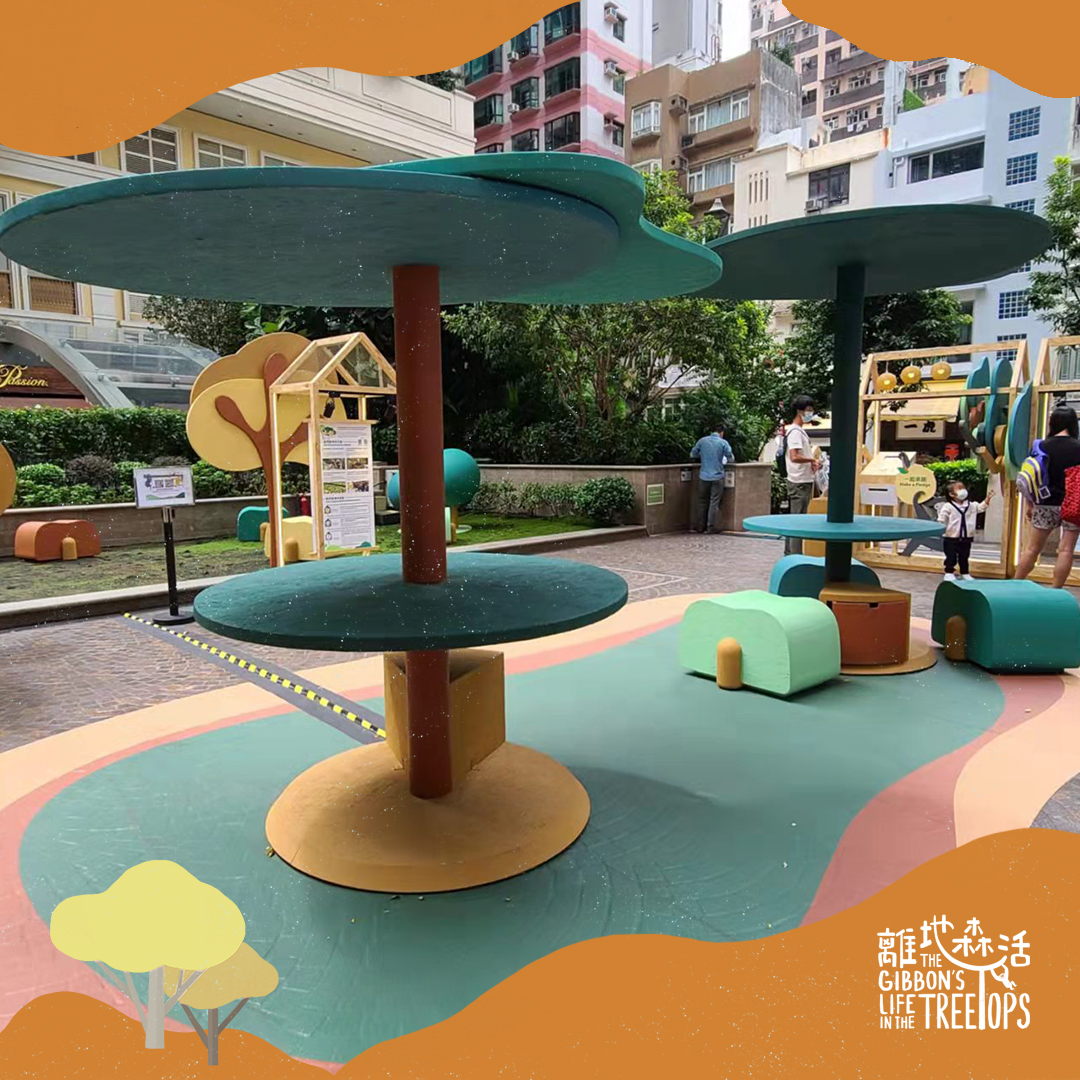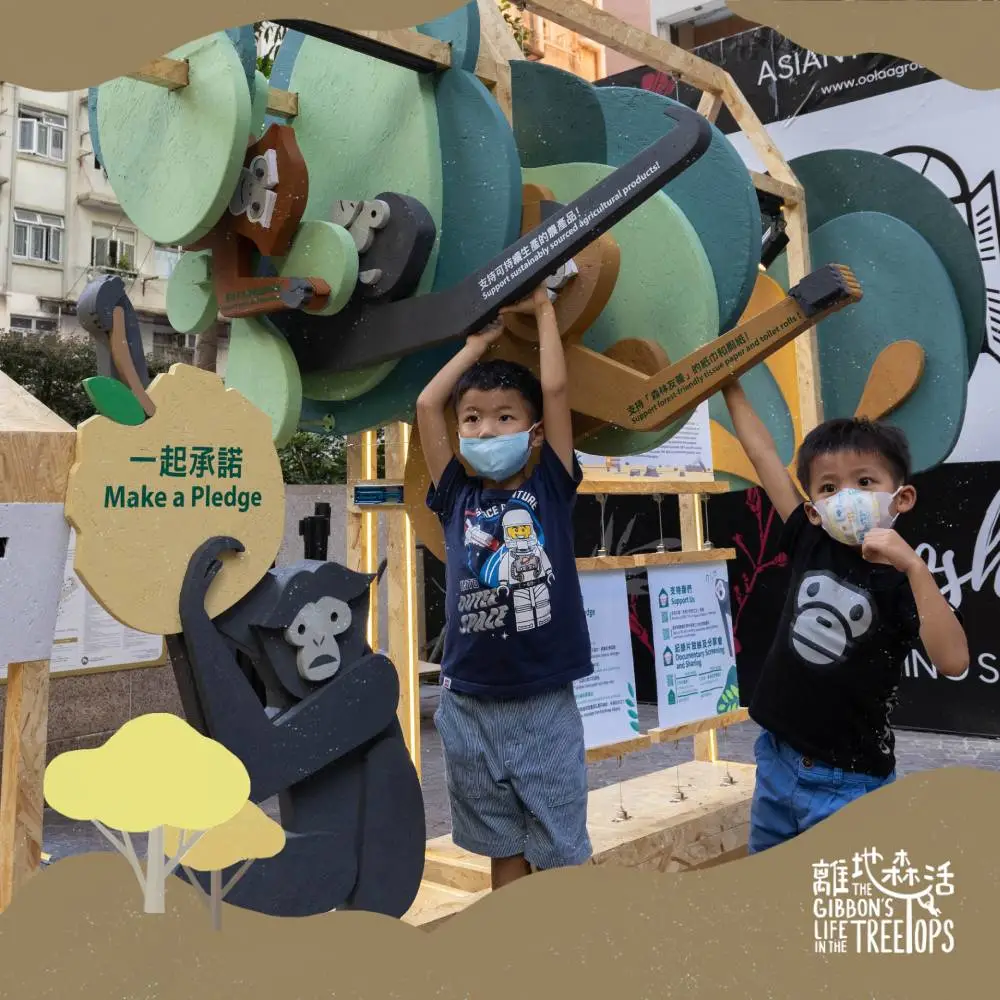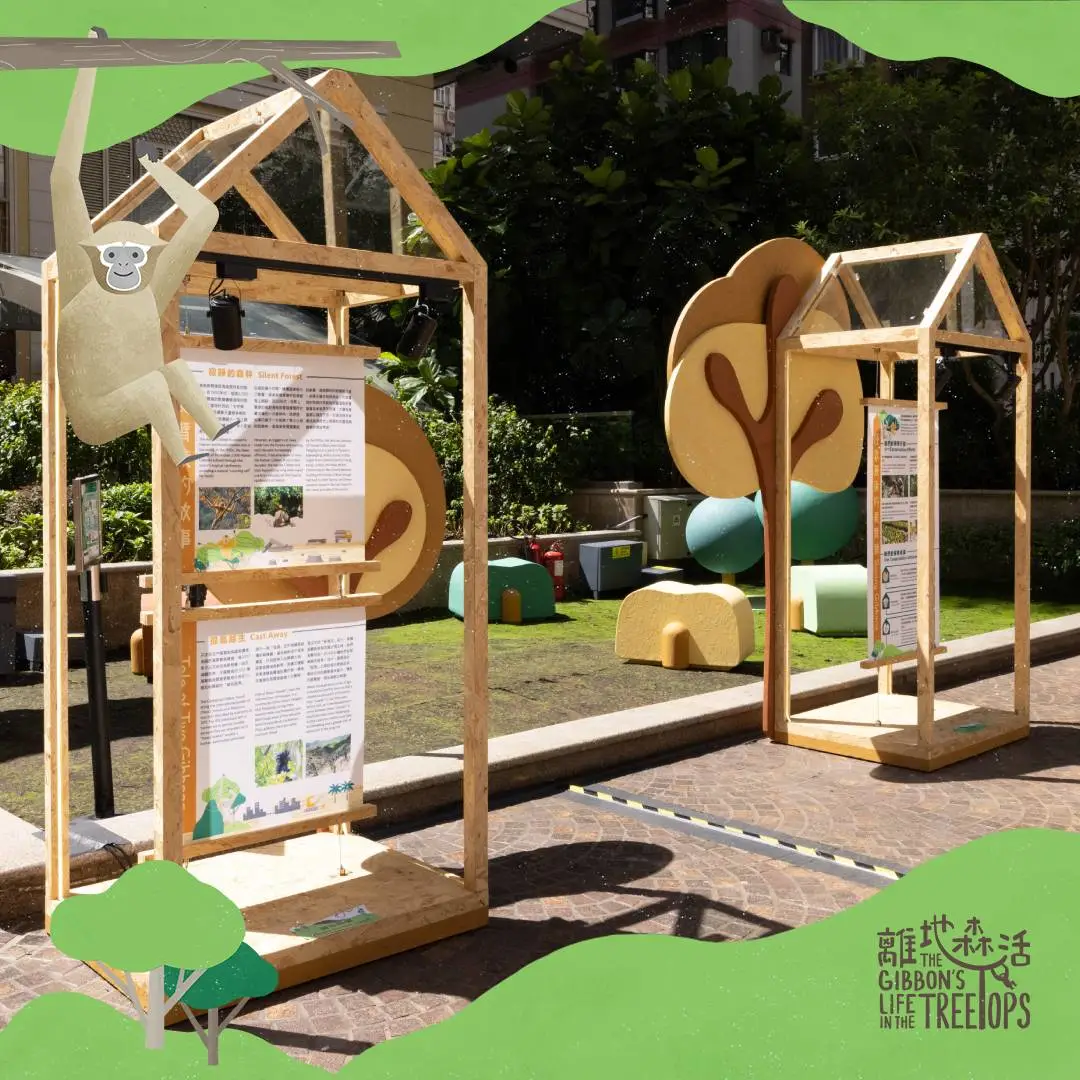 Weekend Art Workshops
Date: 16, 17, 23, 24/ 10/ 2021
Time: 12:00 – 15:00, 15:30 – 18:30
Venue: Central Piazza, Lee Tung Avenue
Fee:Free
Gibbon Origami

Time: 15 mins

Quota: 75/ day

Capacity: 3 person/ session

Gibbon Silk Screening Tote Bag

Time: 10 mins

Quota: 30/ day

Capacity: 1 person/ session
On-site Registration
At the "Pledge Zone", take a photo of yourself "shaking hands" with a gibbon to show support of a forest-friendly product
Share your photo on Facebook/ Instagram with the tags

@kadoorie_farm_botanic_garden

and

#kfbggibbonday

Show your post to our staff
Notes for Weekend Art Workshops
Please maintain 1.5 m social distancing whilst queueing.

Space is limited and allocated on a first-come, first-served basis.
Documentary Screening and Sharing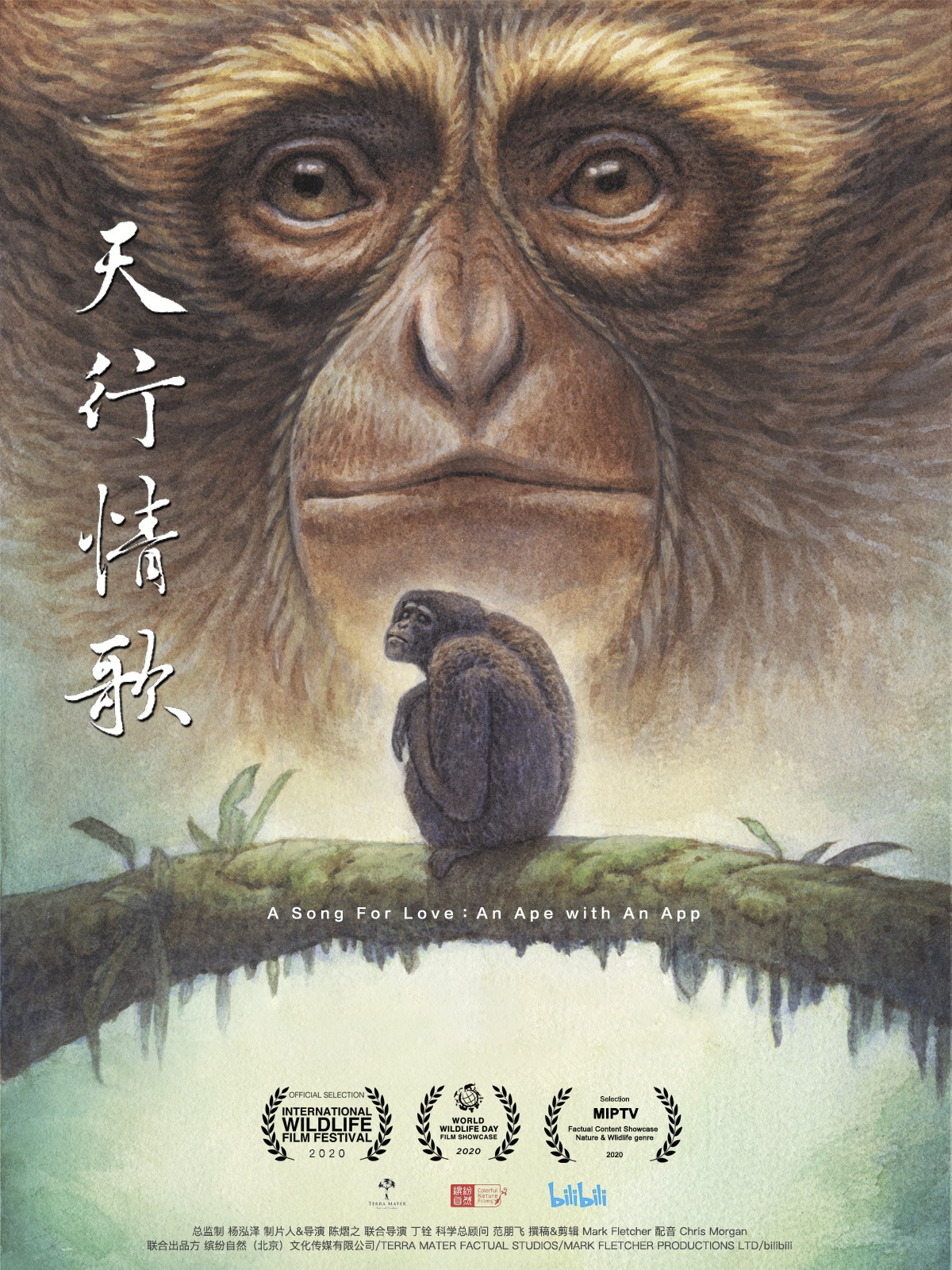 Documentary Title: A Song for Love – An Ape with an App
Synopsis: The Gaoligong Gibbon, found along the international border of China's Yunnan and Myanmar, was only described by scientists in 2017. The documentary captures many rare behaviours of the gibbon that have never been recorded and tells the story of how scientists use technology to set up two gibbons living far apart on "blind dates"! The documentary won the Best Story Award at NaturVision Film Festival 2020 and was the finalist of the UN World Wildlife Day 2020 Film Showcase.
Date: 17/10/2021 (Sun)
Time: 15:00–16:30
Venue: Auditorium, 1/F, Duke of Windsor Social Service Building, 15 Hennessy Road, Wan Chai
Speaker: Dr Bosco Chan (Head of Kadoorie Conservation China, Kadoorie Farm and Botanic Garden and Member of the IUCN Primate Specialist Group)
Language: English (with Simplified Chinese and English subtitles); Sharing will be conducted in Cantonese
Fee: Free
Registration Required: Closed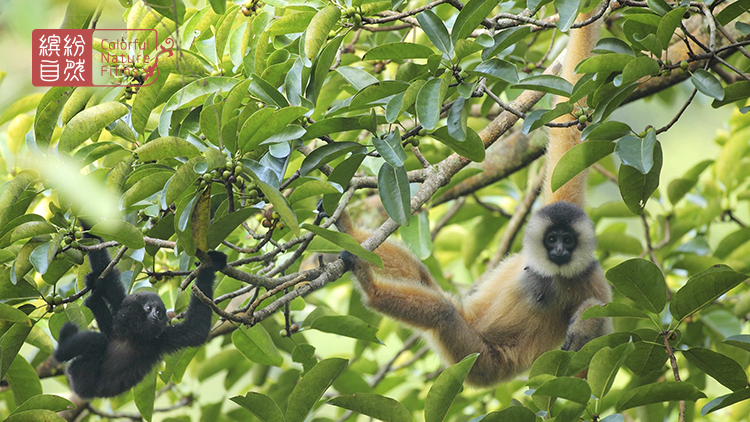 Documentary Title: Cao Vit Gibbon's Ark
Synopsis: The Cao Vit Gibbon was once considered extinct, until it was rediscovered in northern Vietnam in 2002 by Vietnamese experts, and in Guangxi, China in 2006, by ecologists of Kadoorie Farm and Botanic Garden. This is the world's first film to tell the survival story of this mysterious primate living in limestone forests on the Sino-Vietnamese border, and how two countries partner up to protect the last 120 Cao Vit Gibbons.
Date: 24/10/2021 (Sun)
Time: 15:00–16:30
Venue: Auditorium, 1/F, Duke of Windsor Social Service Building, 15 Hennessy Road, Wan Chai
Speaker: Dr Bosco Chan (Head of Kadoorie Conservation China, Kadoorie Farm and Botanic Garden and Member of the IUCN Primate Specialist Group)
Language: Putonghua (with Simplified Chinese and English subtitles); Sharing will be conducted in Cantonese
Fee: Free
Registration Required: https://www.kfbg.org/en/events/gibbonday2021-documentary/
Registration Deadline: 24/10/2021 (Sun)
Notes for Documentary Screening and Sharing:
Before entering the venue, all participants must undergo a temperature check, sanitise their hands, and scan the provided QR code with 'Leave Home Safe' mobile app and show the screen capture to the staff, or fill in a Google form with name, contact number, visit date & time

During the event, all participants must wear a face mask, and maintain social distancing

No food and drinks are allowed

The organisers reserve the right to refuse entry in the following circumstances:
Participant's body temperature is higher than 37.5°C

Participant is not wearing a face mask

Participant fails to make admission record

Participant is wearing a government-issued home quarantine wristband
Enquiries: Please contact Ms Helen To at 2483 7178 or kcc@kfbg.org