The Forgotten Apes International Gibbon Day
Kadoorie Conservation China, a department of Kadoorie Farm and Botanic Garden, was founded in 1998. Our aim is to minimise the loss of biodiversity and promote sustainability in China. We work in Hainan, Yunnan, Guangdong, Guangxi, Sichuan of China, and Cambodia. Since 2003, KCC has been striving to protect the rainforests in China. One of our flagship projects is to conserve the icons of the rainforest, such as the Hainan Gibbon, Gaoligong Gibbon, and Cao Vit Gibbon. October 24 marks International Gibbon Day. The KCC team will venture deep into Hainan Island's tropical rainforests to conduct the annual Hainan Gibbon population survey. And throughout the month in Hong Kong, we have prepared many exciting activities including documentary screening, sharing, workshop and exhibition to celebrate these endangered but overlooked primates!
Paper-mache Gibbon Workshop (7/10, 13/10)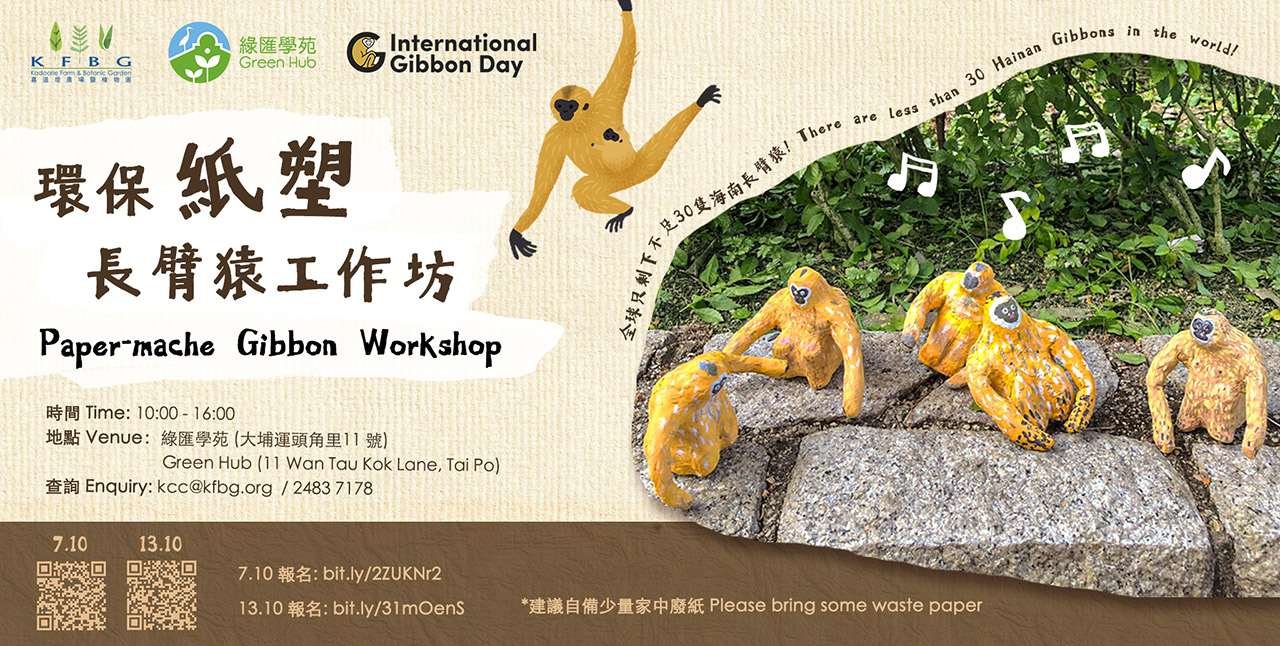 "The Forgotten Apes" Gibbon Conservation Exhibition (14/10-31/10)
Introduction: What is the rarest primate on earth? King Kong from the classic blockbuster? Or the stars in the movie Planet of the Apes? All wrong! They are called gibbons. These mysterious animals are often overlooked by us, their human cousins, and very seldom grace movies. They live in tropical and subtropical rainforests of Asia. The rarest species of all, Hainan Gibbon, has a population of less than 30 individuals in the world, and live on Hainan Island - just an hour by flight away from Hong Kong. This exhibition will introduce the behaviour and habits of the gibbon, and how Hong Kong ecologists work hard to save the gibbons in remote forests of Hainan Island and Yunnan.
Venue: Kadoorie Farm and Botanic Garden