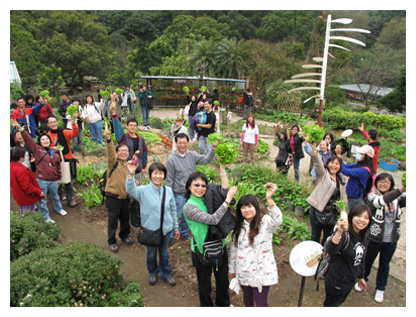 Sustainable Living and Agriculture Department aimed at raising public awareness to transit to a sustainable living. Join us as volunteers and help to protect our common future.
Volunteer Opportunities:
Central Farmers' Market
Venue set up and dismentle (*Labour work is required)
Assist in workshops / booths operators
Maintaining good order of the event
Other related tasks
Central Farmers' Market is a weekly event held for the general public, which takes place at the Star Ferry Central Pier no. 7. It is co-organised by Kadoorie Farm and Botanic Garden, Environmental Association Ltd and The "Star" Ferry Company Ltd. It is a market place for direct sales of fresh organic vegetables from local farmers. Apart from local organic farm produce sale booths, earth friendly products, local handicrafts, sustainable living educational activities and exhibitions, etc are also avaliable.
Remark
To celebrate and thank our volunteers who donate thier precious gift of time and talent to our programme, a service testimonial will be awarded to active volunteers who have served at least ten times at Central Farmers' Market.
Due to limited parking space, volunteers are recommended to take public transportation to KFBG.
How to apply
Please click here for online application.
You may contact sla@kfbg.org for further questions or information.
Once receiving your application, we will contact you by email shortly.