World Snake Day 2021 – behind the scenes at KFBG
16 July 2021 |
Animal Stories
In 1999 KFBG commenced a snake rescue project in partnership with the Agriculture, Fisheries & Conservation Department (AFCD) and the HKSAR Police. This ongoing project helps to address the mitigation of human-snake conflicts in Hong Kong.
The Police are regularly contacted by the public when a snake is found close to human habitation and perceived to present a threat. The police will ask a 'seh wong' (snake catcher) to assist with the capture. In these behind-the-scenes photos, we will show you how we deal with the snakes when they arrive at KFBG.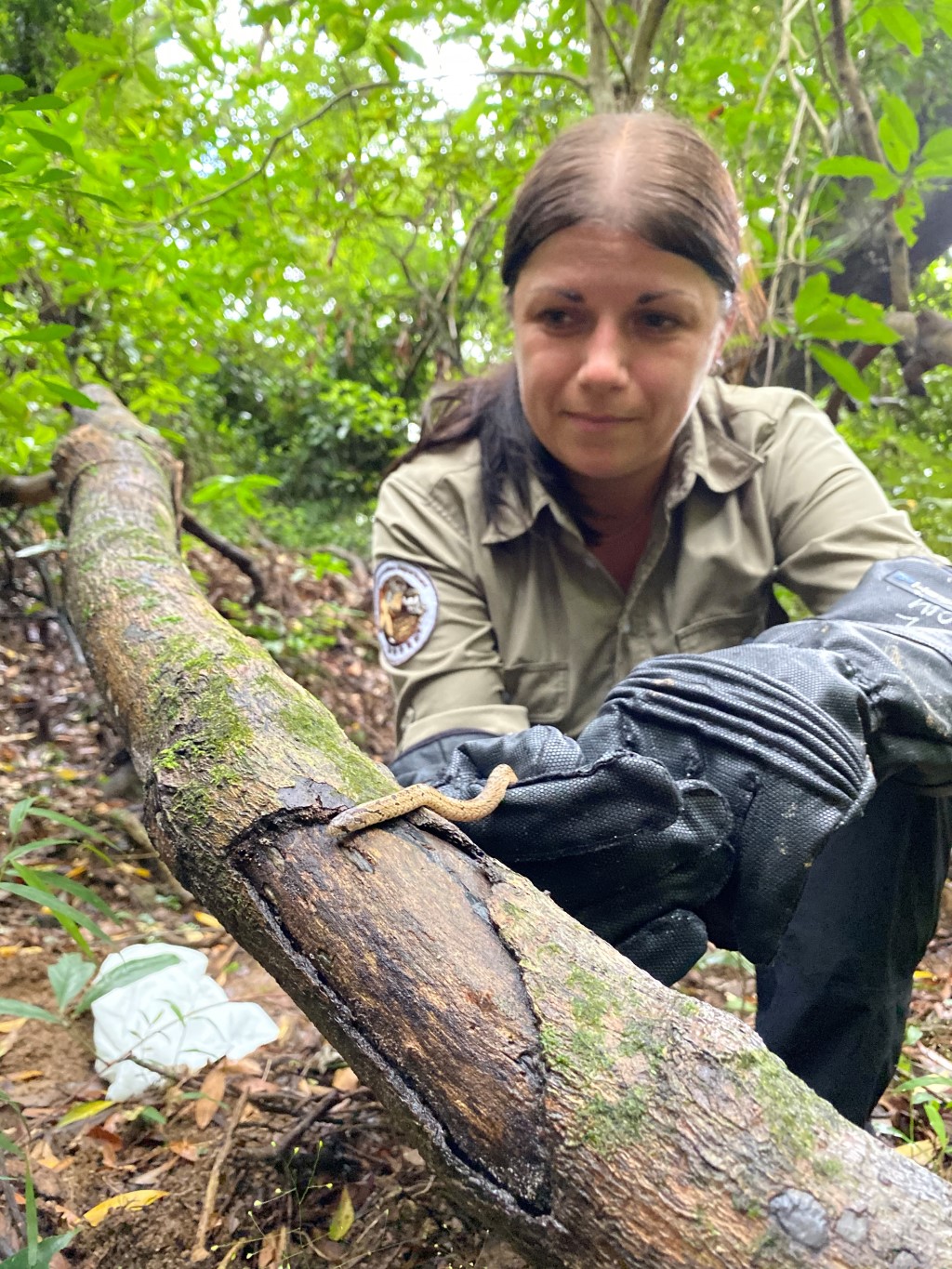 A Taiwan Kukri snake being released by an experienced snake handler from KFBG.
Photo Credit: KFBG / Kadoorie Conservation China Department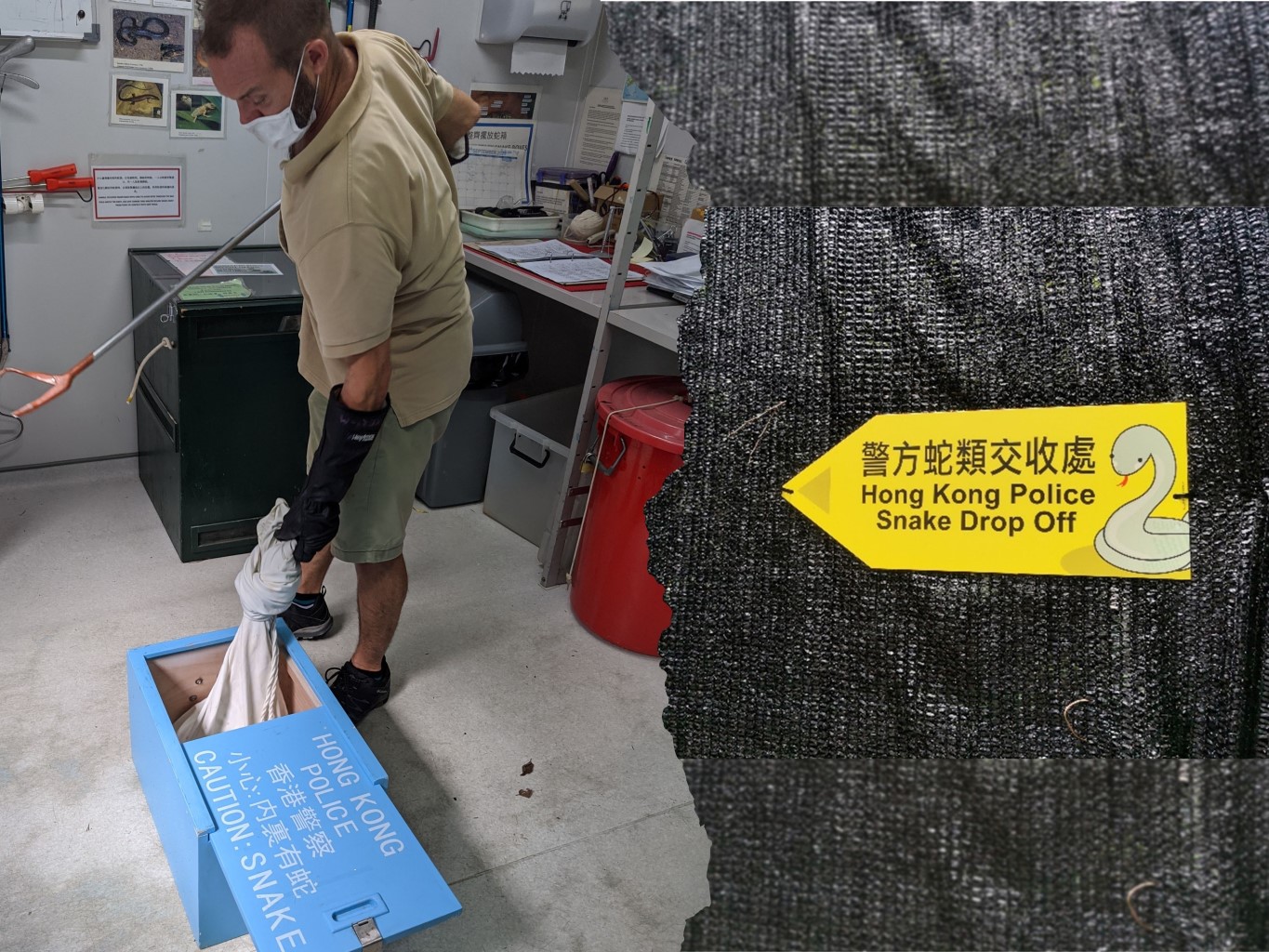 The police deliver the snake to KFBG in a specially designed transport and holding box and bag.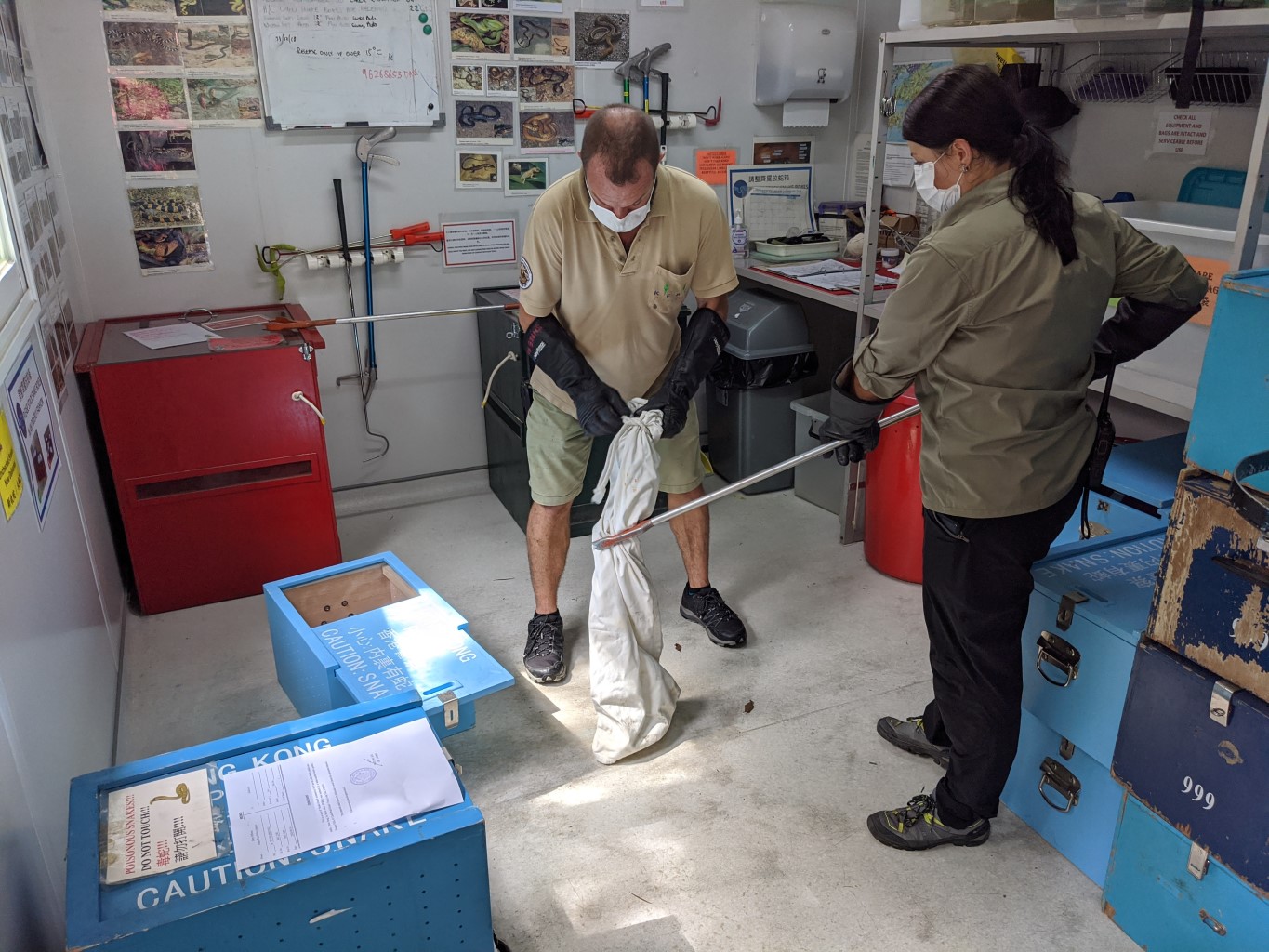 All snakes received at KFBG are health checked and the species identified. All healthy native snakes are released back to nature. In 2020, 1,541 snakes were released.
Safety tools and gloves are used to protect the handlers and minimise snake contact.
Photo Credit: KFBG / Kadoorie Conservation China Department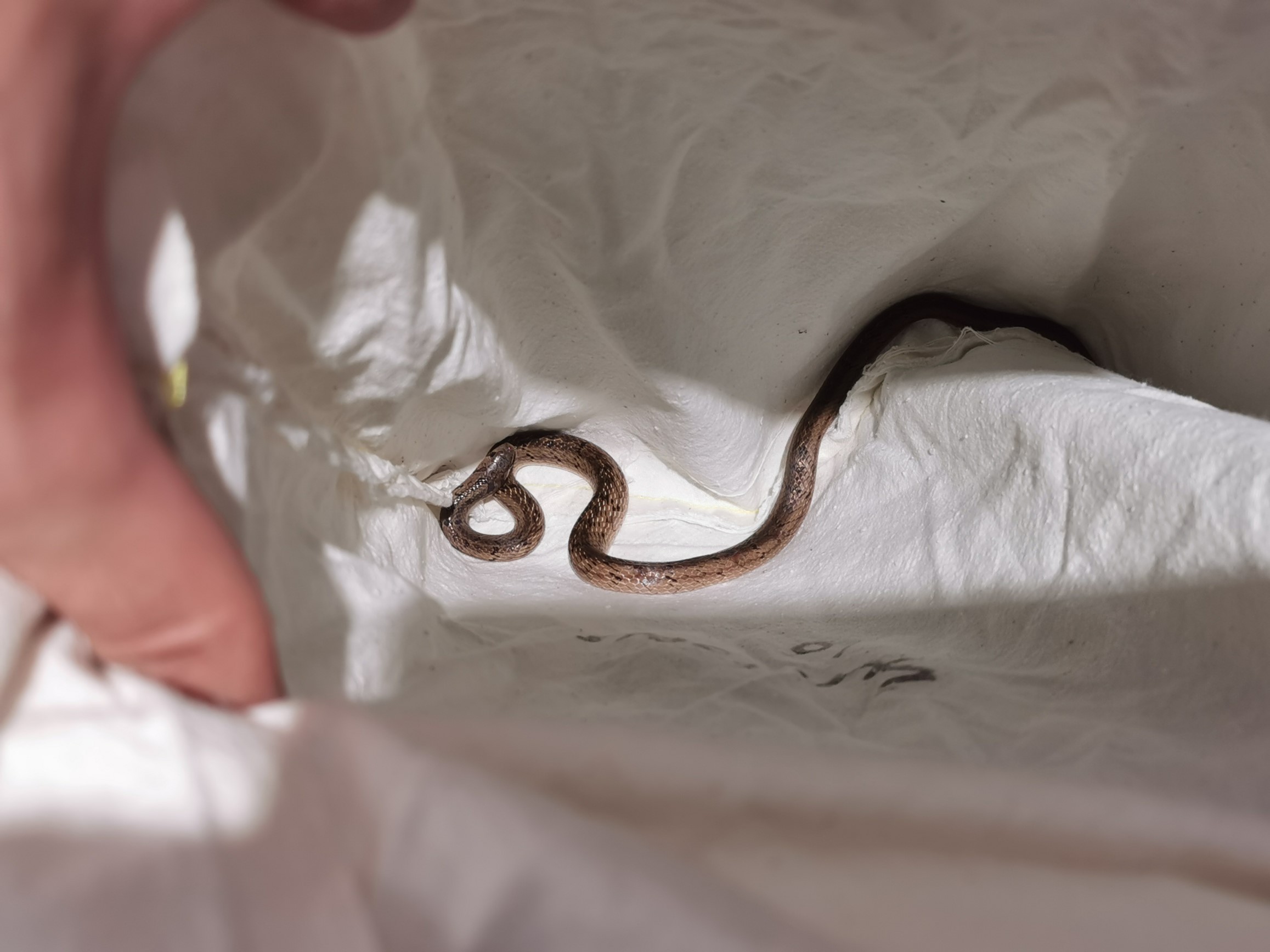 Here is a non-venomous Taiwan kukri snake (Oligodon formosanus) still inside the snake bag in the snake handling room. As this is a healthy native snake, it will be released soon.
Photo Credit: KFBG / Liz Rose-Jeffreys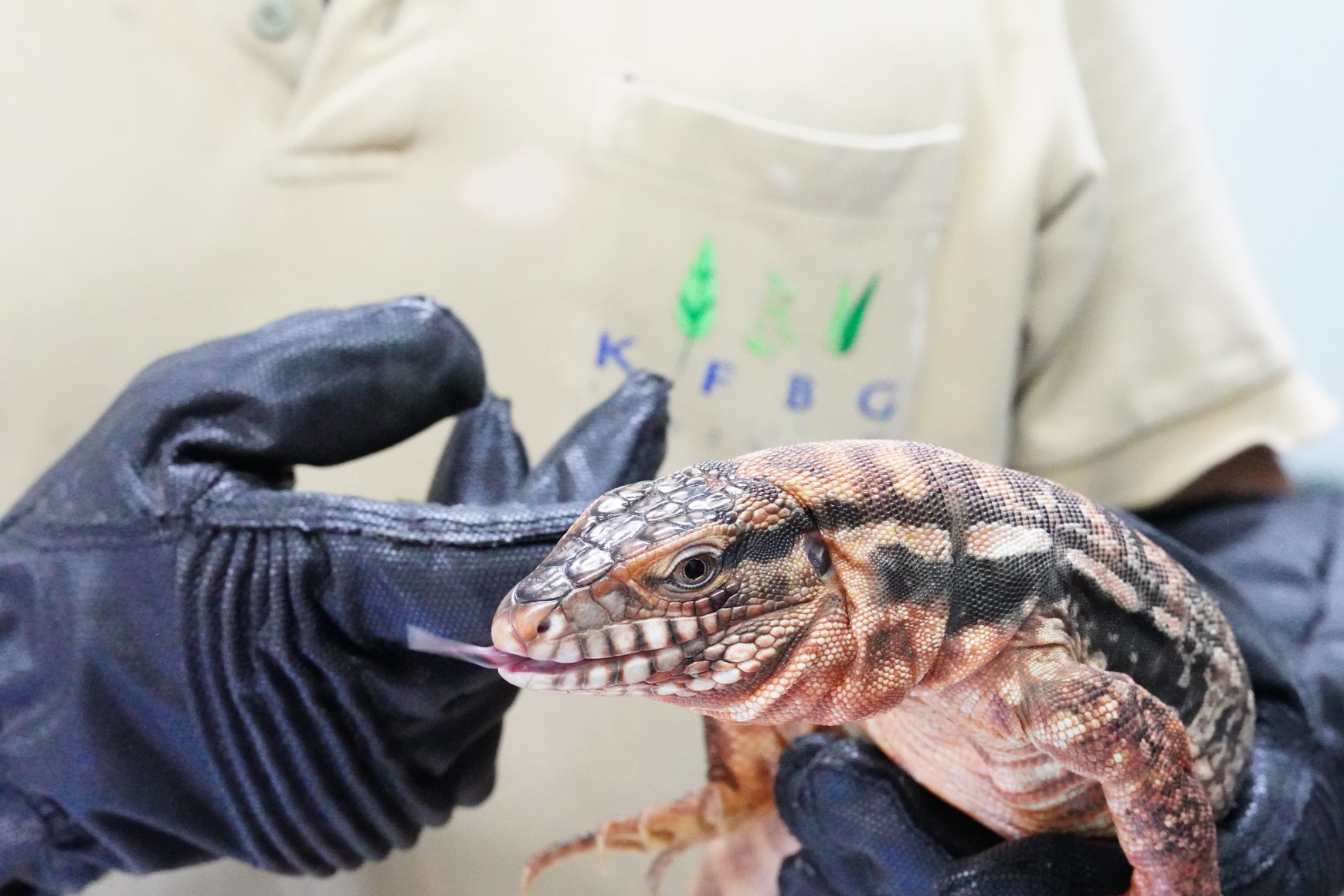 Sometimes, exotic lizards are received through the project. If it is a wildlife trade protected species (e.g. CITIES listed), we will send to AFCD. If it is a common pet lizard and not a CITES species, we will contact the Hong Kong Society of Herpetology Foundation for possible re-homing.
Photo Credit: KFBG / Kadoorie Conservation China Department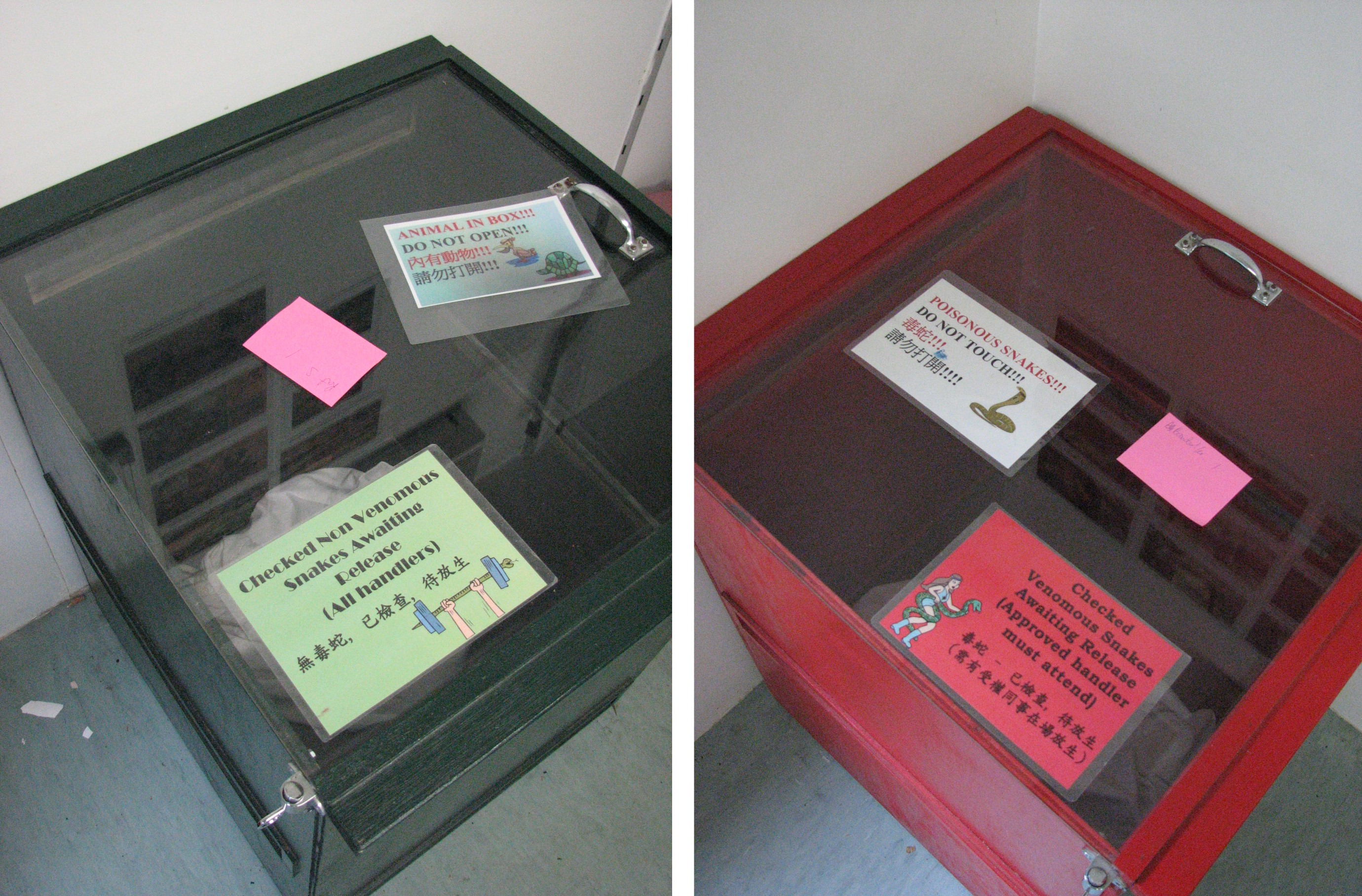 Before release, snakes are temporarily held in bags inside either a venomous snake holding box (Red) or a non-venomous box (Green) depending on the species. Both boxes have lockable lids and small airholes.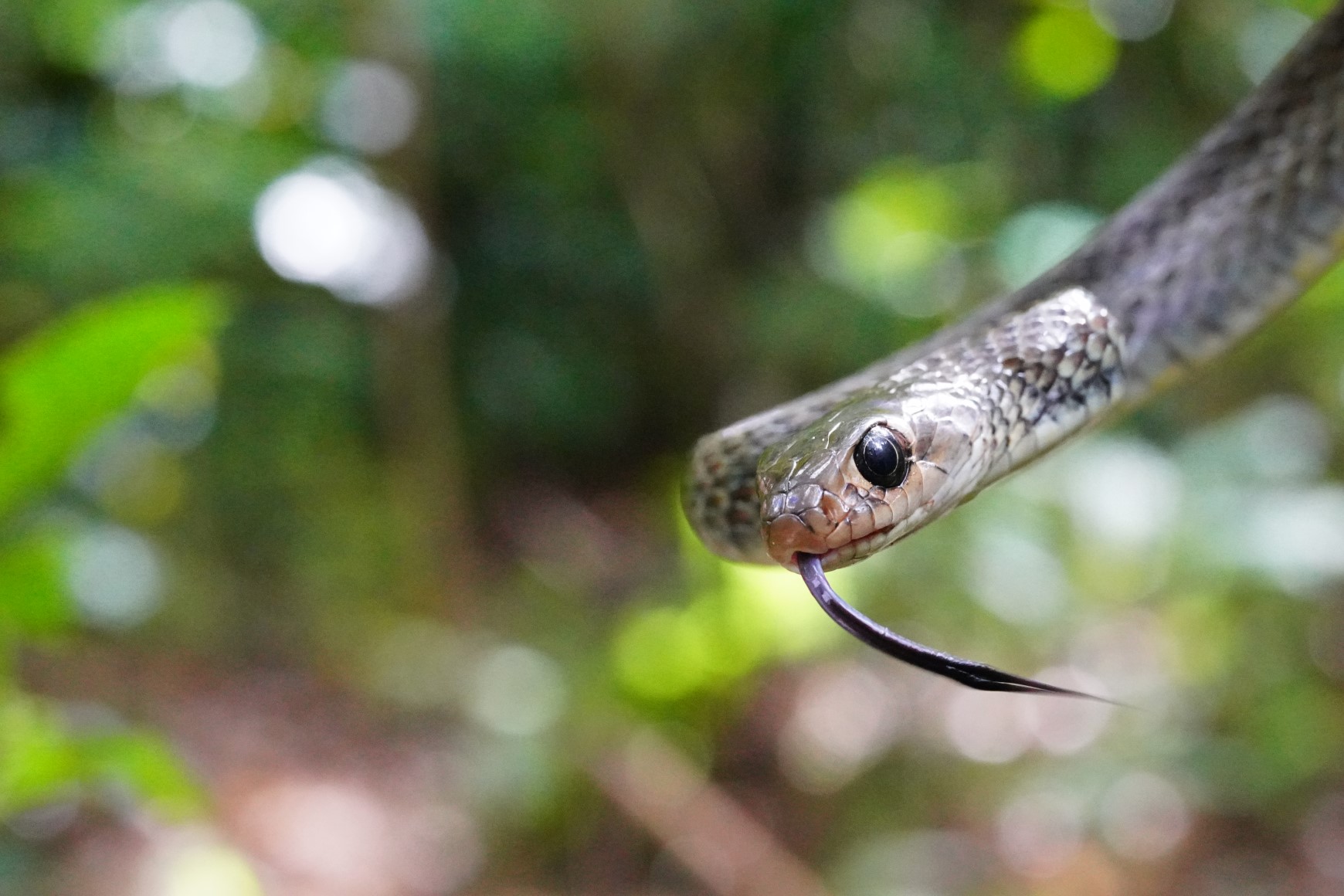 An Indo-Chinese rat snake (Ptyas korros) (non-venomous) captured in Stanley on 17 September 2020 was released back to nature on the same day.
Snakes like the Indo-Chinese rat snake feed on animals we treat as pests such as rats and mice, providing natural pest control.
During the snake processing at KFBG there is no need to feed the snakes as the turn around time for release is within 3 days. Sometimes we do provide water if the snake appears dehydrated during the health check.
Photo Credit: KFBG / Kadoorie Conservation China Department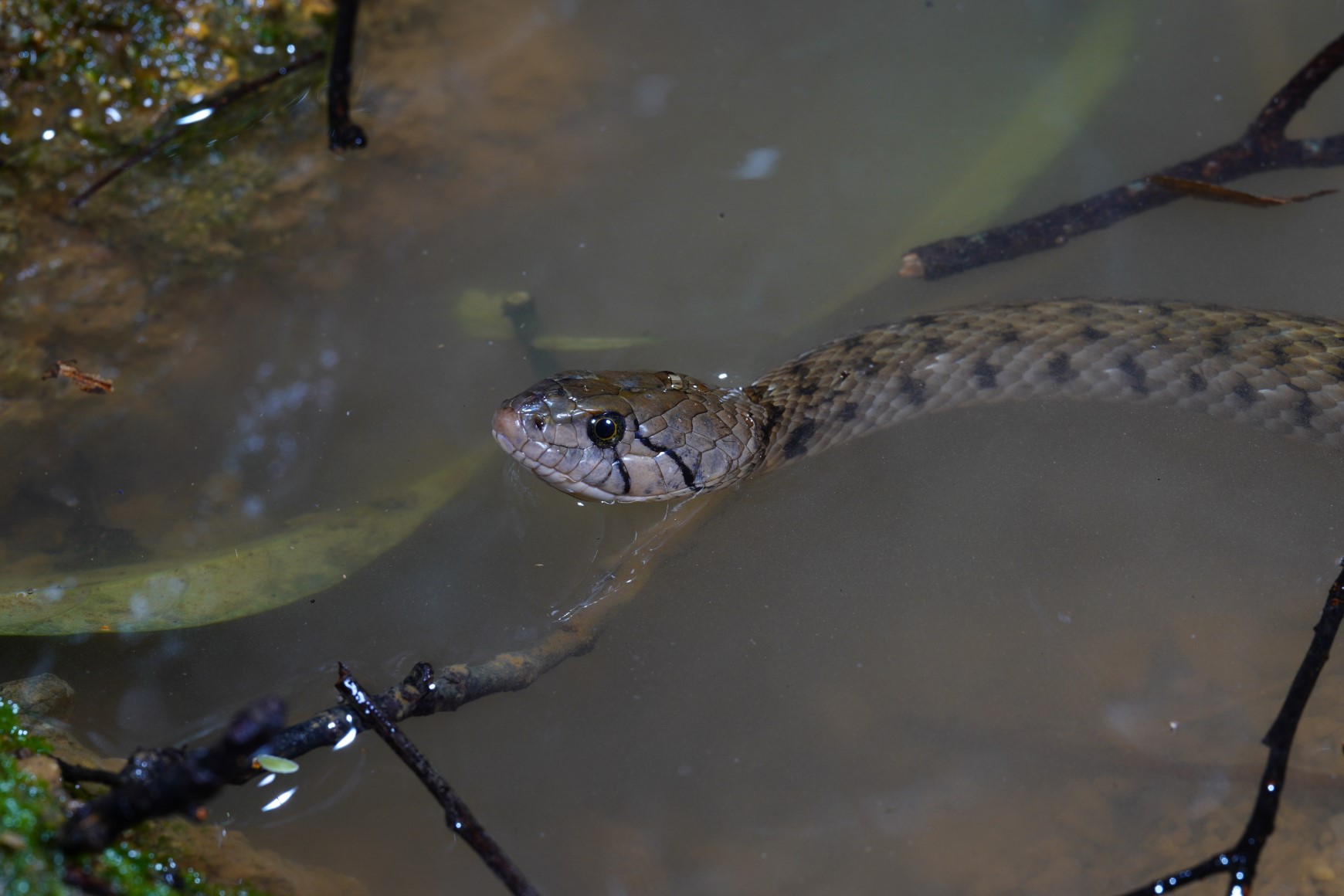 A yellow-spotted keelback (Fowlea flavipunctatus) (non-venomous) captured in Yuen Long on 16 September 2020 was released into a freshwater habitat the next day.
Research published in 2019 examined the human-snake conflict patterns in relation to habitat type from 2002 to 2016 in Hong Kong using KFBG snake project data. Yuen Long is one of the areas with higher human-snake conflicts.
The research found that human-snake conflict incidents are less likely in forests and urban areas (e.g. Kowloon), where densities of either humans or snakes are low, but highest in successional or secondary habitats like shrublands or areas with low vegetation, which may contain intermediate levels of both snakes and humans. Yuen Long is a place with a mixture of semi-natural habitats, farmland, and urban areas. And ongoing development brings in more people. It explains why there are more human-snake conflict incidents in Yuen Long.
Reference: http://www.herpconbio.org/Volume_14/Issue_1/Yue_etal_2019.pdf
Photo Credit: KFBG / Kadoorie Conservation China Department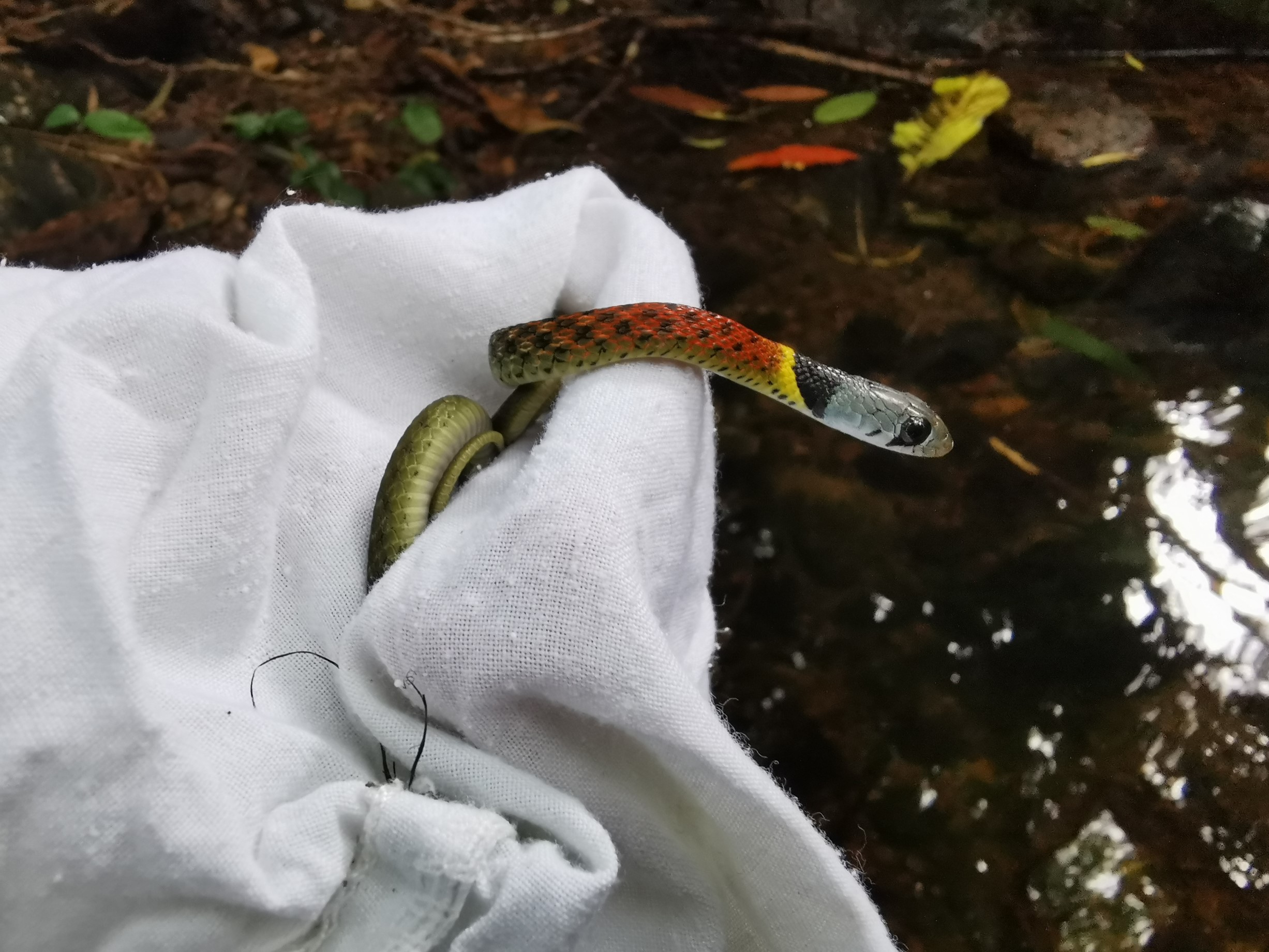 A juvenile red-necked keelback (Rhabdophis subminiatus helleri) (venomous), a commonly encountered snake, was released back to nature after processing on 7 July 2021.
Despite being venomous, this species is generally quite docile and will not try to bite unless constrained in some way. It is a common species in Hong Kong and mainly eats frogs but will also eat rats and therefore can provide a beneficial pest regulation role to humans.
Photo Credit: KFBG / Liz Rose-Jeffreys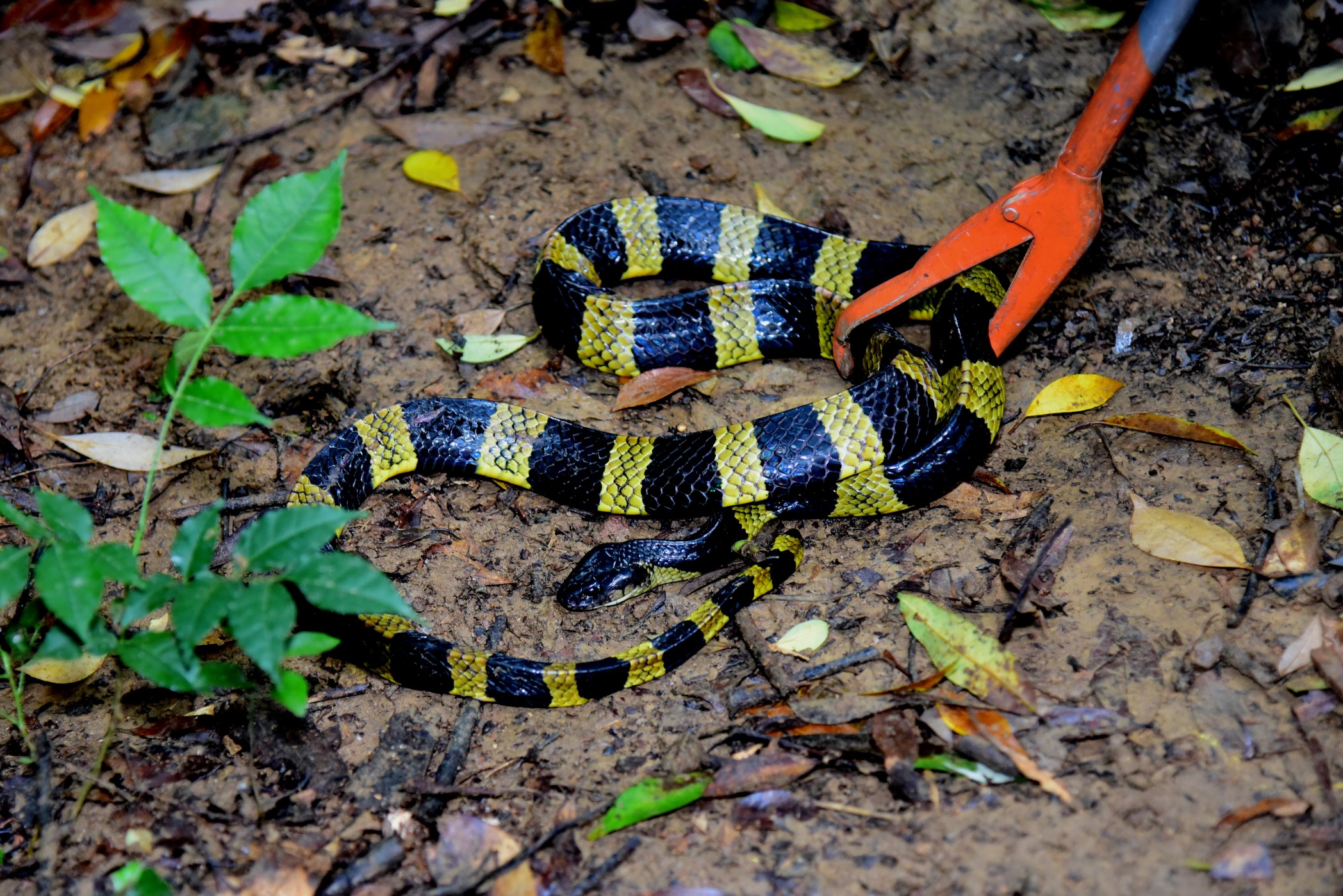 A banded krait (Bungarus fasciatus) (venomous), an uncommon snake, was released back to nature well away from human habitation.
Some people feel that all snakes are venomous and aggressive so some people try to attack snakes. Most snake species in HK are either non-venomous or mildly venomous presenting no significant risks to people outside of very extreme circumstances. When we encounter a snake in the wild, we should keep calm and provide some space (at least 2m) for the snake to move away.
Photo Credit: KFBG / Kadoorie Conservation China Department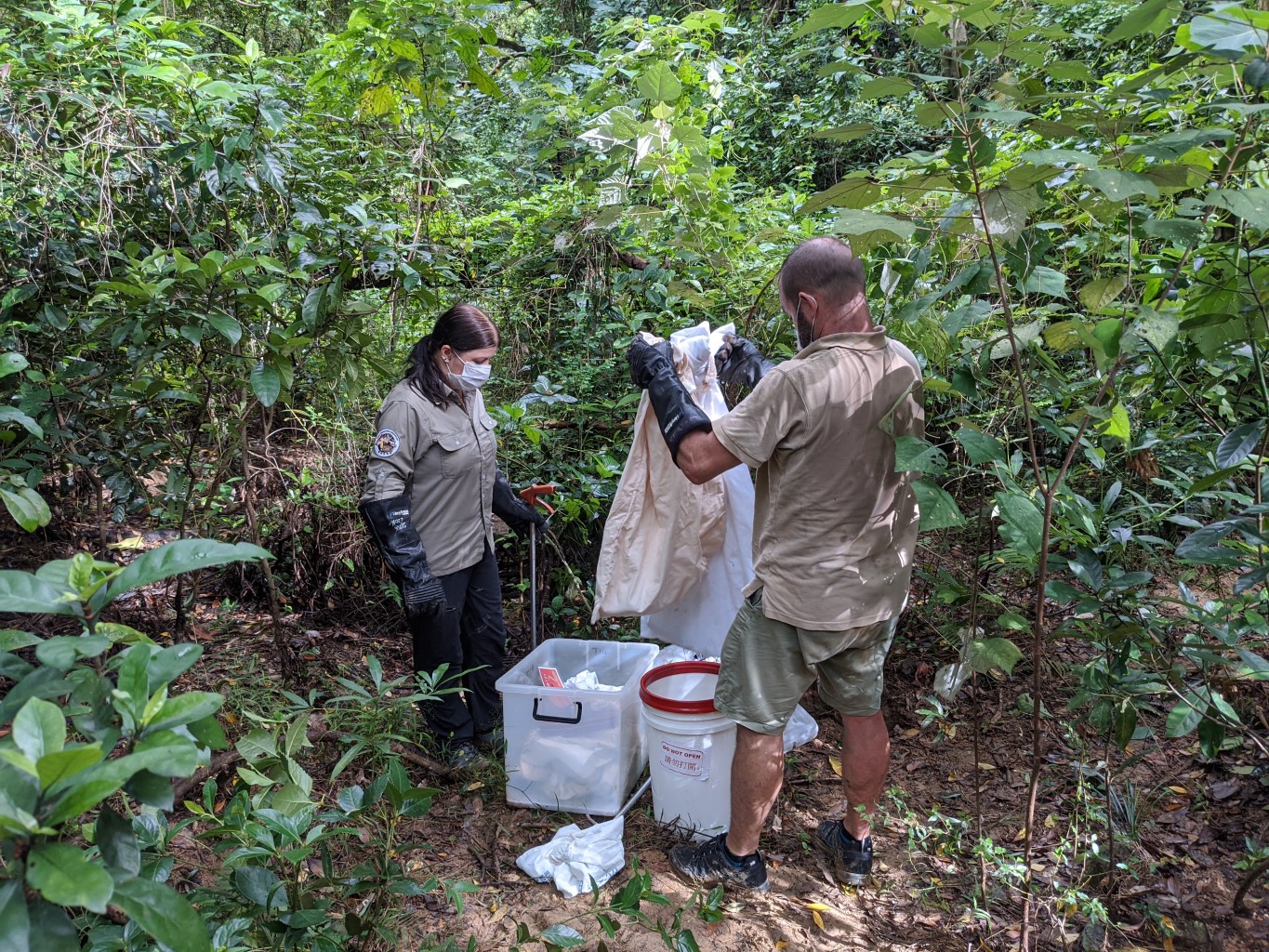 Our KFBG snake project team staff are checking the snake bags after the snake release in a natural woodland.
Photo Credit: KFBG / Kadoorie Conservation China Department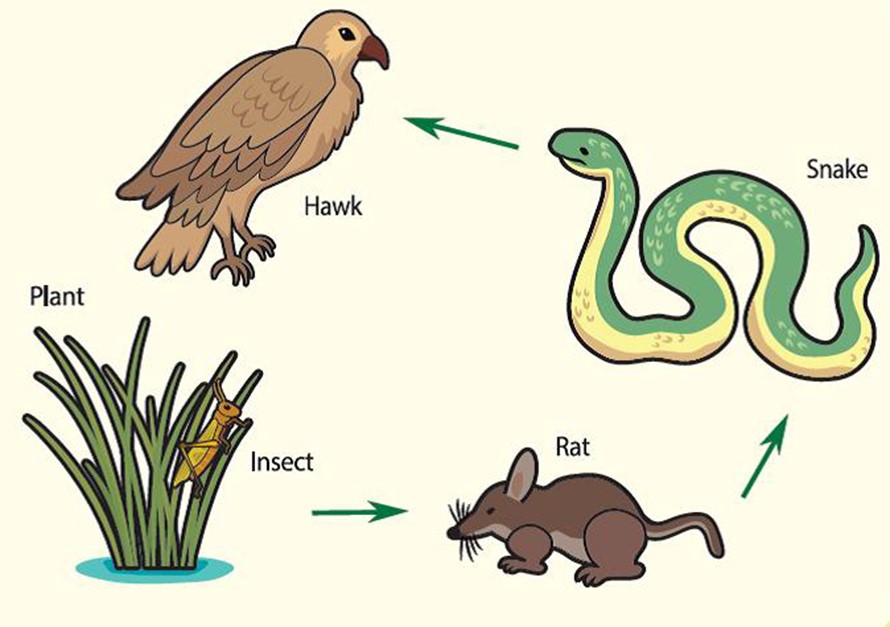 Hong Kong is home to more than 50 snake species.
Snakes play an important role in the ecosystem and help to keep a balance in nature.
We would prefer that snakes were left alone and not removed from the wild unless it is necessary for human safety reasons. Let's try to live in harmony with nature and enjoy special moments and encounters with wildlife.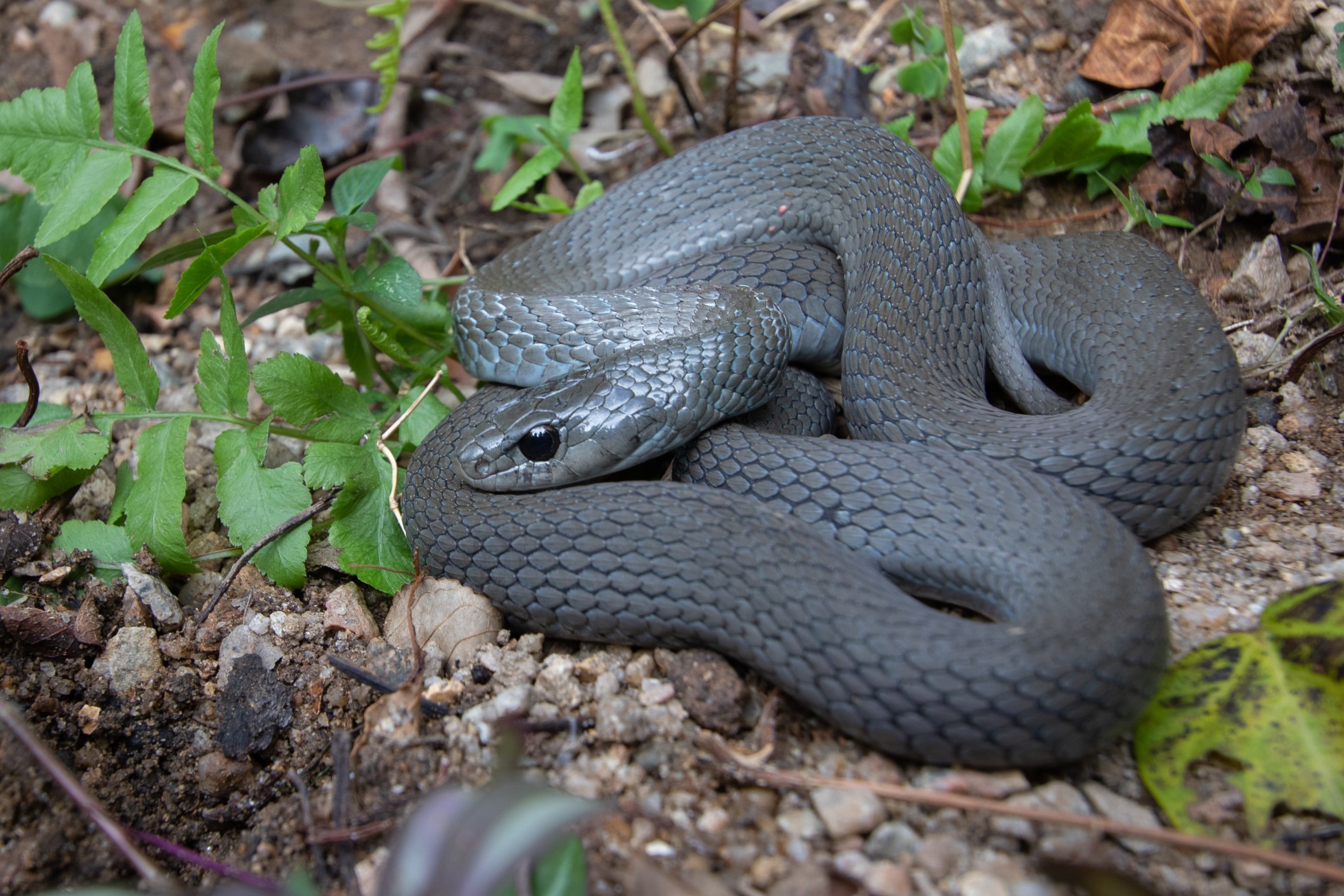 Bonus photo: Melanistic Red-necked Keelback (Rhabdophis subminiatus). A rare encounter in Hong Kong.
Photo Credit: KFBG / Kadoorie Conservation China Department