Botanic Garden and Nature Reserve
Botanic Garden and Nature Reserve
Kadoorie Farm and Botanic Garden was started as an Agricultural Aid Association in 1956 to provide livestock and agricultural products to local villagers. The badly eroded and barren site was chosen because the stream in the valley never dries out, allowing sufficient water supply for humans, livestock and food plants. Soon it was realised that a holistic, integrative management approach is necessary to balance agricultural and livestock production with restoring and conserving nature. Only a healthy and balanced environment is able to provide clean air and water for humans, livestock and plants. This fundamental consideration still guides the management of our hillside and was outlined in our land management plan in 2013.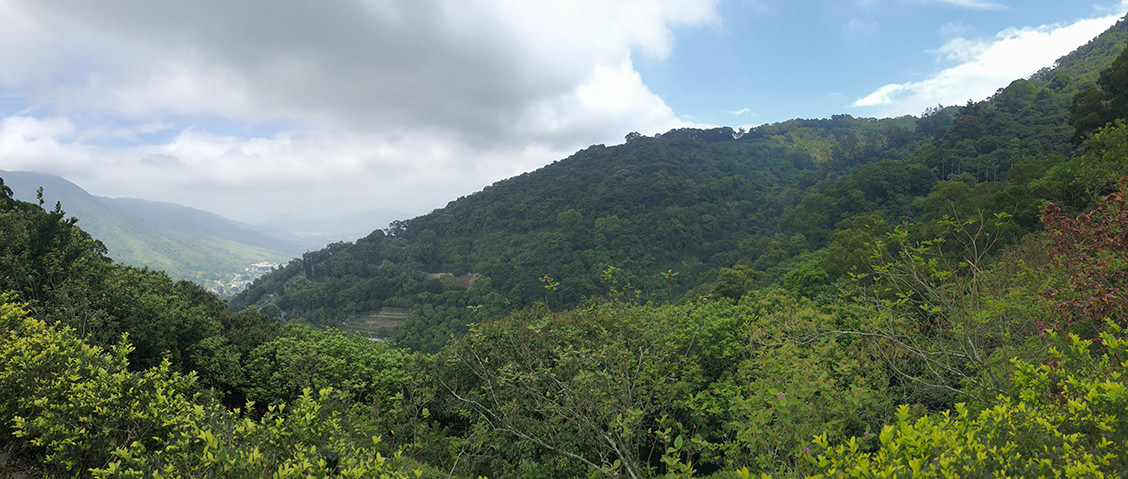 Finding balance between sustainable yields and ecological integrity by harmonising our relationship with nature is a core challenge of human society in the 21st century, and our survival on planet earth depends largely on our success in achieving it.
More than ever, KFBG's hillside is now a demonstration site that showcases how this balance can be achieved by embedding inspirational Botanic Garden displays and theme gardens for visitors and sustainable agricultural plots in a natural landscape. The KFBG nature reserve consists mostly of young secondary forest, which is undergoing continuous restoration and enhancement to guarantee long-term water supply, resilience to climate change and extreme weather events, and to provide a home for myriads animal and plant life. From the outset, it was clear that re-cultivating a barren hillside had to be experimental and would involve "learning by doing", and that sharing lessons learned with society at large would be essential.
Guided by this vision, we have developed a cycle of principles for managing our land. Cultivating a thorough understanding of native plants and their communities serves as the basis for our efforts in forest restoration. This is facilitated with the aid of a detailed land management plan containing zoned land use maps that specify the present and desired vegetation cover of the entire site. With this in mind, we venture out to remote parts of Hong Kong in search of seeds that will form the stock for rewilding our hillside, and we work the ground so that the soil is ready to work its magic. Planting out seedlings raised in our nurseries therefore brings the hope and inspiration that we are propagating change and restoring resilience.
By harmonising the relationship between human society and nature, we believe we will bring serenity within arm's reach.