Raptor Stories from rescued birds at KFBG
30 March 2021 |
Animal Stories
The first private authorized bird of prey rehabilitation programme was established by Major Jim Ades in Hong Kong in the 1980s. The Jim Ades Raptor Sanctuary houses disabled and imprinted raptors that have gone through the rescue process but cannot be released, such as Black Kites, Crested Goshawks, Common Buzzards and owls. You can visit the Raptor Sanctuary and read their stories during opening hours. Let us learn about the often tragic stories behind how some of these birds arrived at KFBG, so we can make informed conservation choices that will support the conservation of birds.
Grey-faced Buzzard (Butastur indicus) – Fan Fan
Fan Fan was confiscated at Man Kam To Control Point by the authorities and passed to the KFBG Wild Animal Rescue Centre in 2011. After veterinary examination, she was found to have a permanent left wing injury and thus she was not suitable for release. She had probably had a collision with a hard object causing the injury. She joins her other raptor companions at the sanctuary. Grey-faced Buzzards are a migratory species that can be seen in Hong Kong in spring. Occasionally migrating birds fly over the KFBG hillside and you can see Fan Fan looking up as they pass by.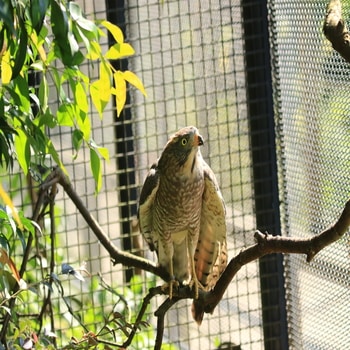 Common Barn Owls (Tyto alha) – Snow, Tyto, Pip
Victims of the illegal pet trade, these three Barn Owls were seized by the authorities and sent to the KFBG Wild Animal Rescue Centre in 2016 and 2018. Upon arrival, Snow was in good condition, but both Tyto and Pip were emaciated and had damaged feathers. They were all nursed back to health. As they are not a native species to Hong Kong, and they were used to humans, they could not be released, but they were able to join the other owls at Raptor Sanctuary.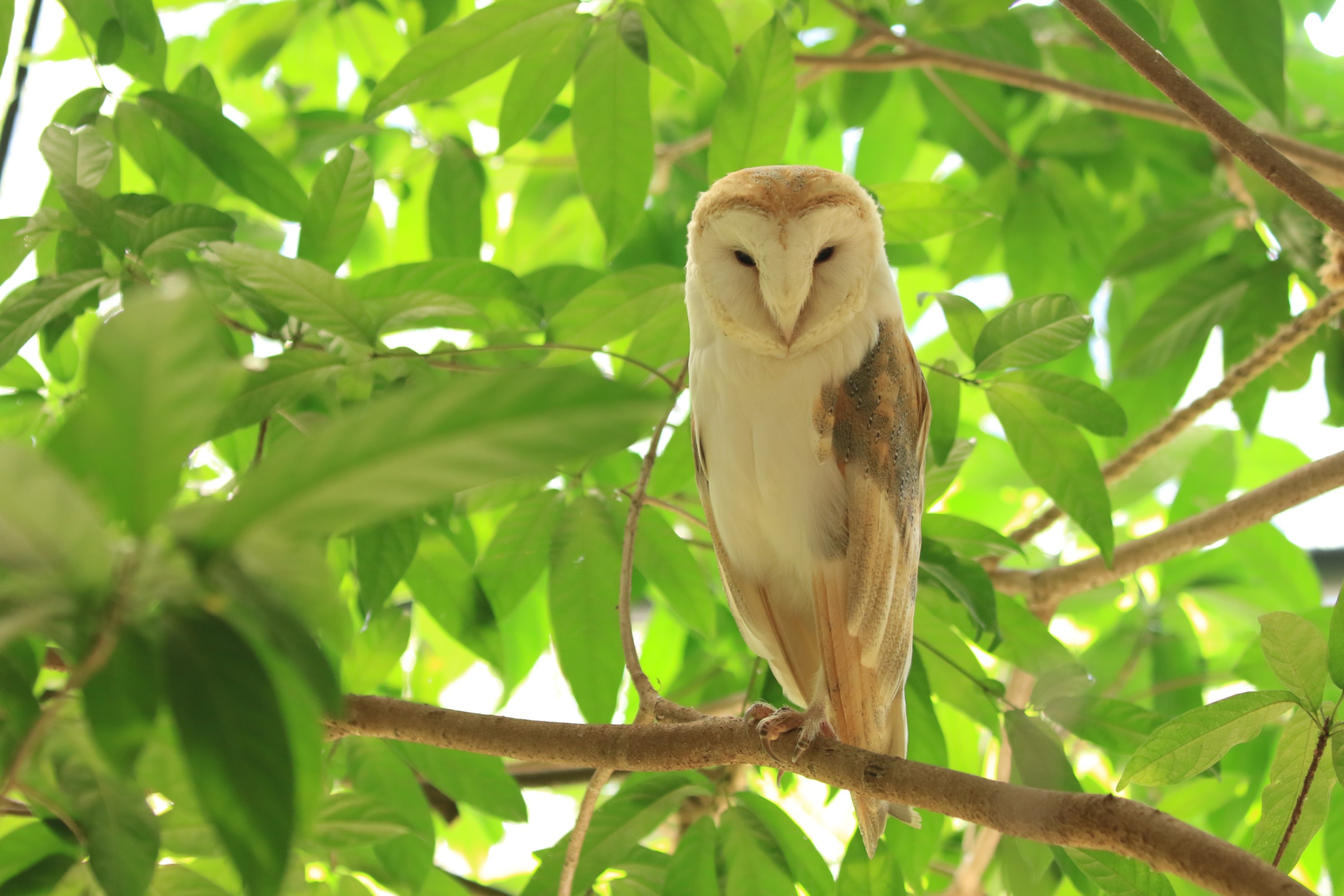 Himalayan owl (Strix nivicolum) and Ural owl (Strix uralensis) – Dai Ngan and Tessa
Dai Ngan and Tessa were rescued by AFCD from the illegal pet trade in 2013 and 2017 respectively. On arrival at the KFBG , Dai Ngan was underweight and his wing and tail feathers were damaged. Tessa was only four-month-old and suffered broken tail feathers. They recovered well but as Tawny Owls are not a native species to Hong Kong, they cannot be released into the wild.
Brown Fish Owl (Ketupa zeyleonensis) - Bosco
Bosco was accidentally hit by a car on Lantau Island in 2004. His right wing was badly damaged and later amputated. He is unable to fly but has adapted very well to his captive life with one wing. He is provided with a network of branching to help him move from the floor up to the highest branches.
Collared Scops Owls (Otus lettia) – Potter, Pong Pong
Potter was rescued from the illegal pet trade and Pong Pong was found as a nestling in Pokfulam. Since Potter is blind in his left eye and Pong Pong was born with an abnormal left eye, their chances of survival in the wild are greatly reduced and therefore they were not released. They join the other non-releasable owls at the Raptor Sanctuary.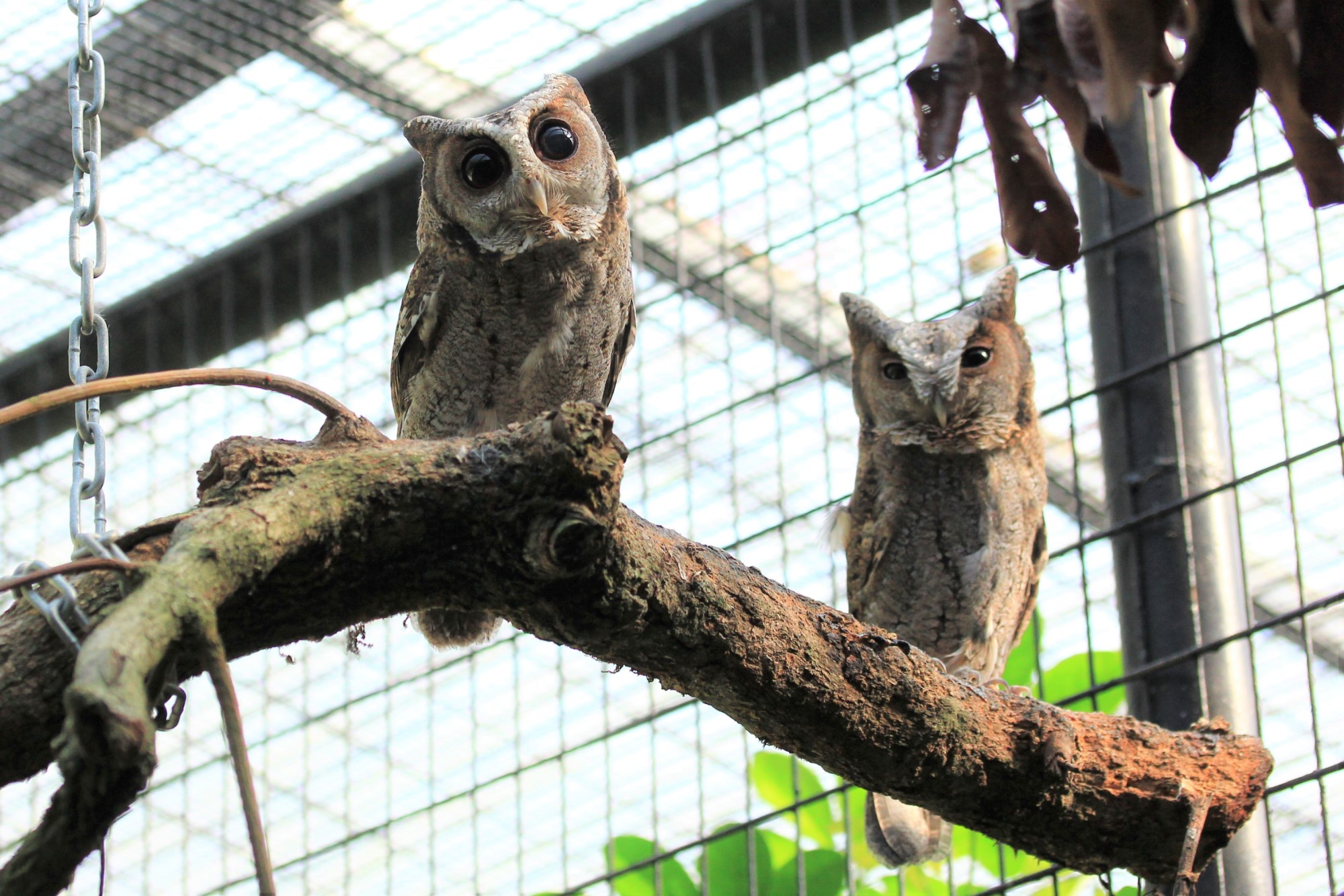 Eastern Grass Owl (Tyto longimembris) - Elle
In June 2016, when Elle was about two months old, she was rescued by the authorities from the illegal pet trade and transferred to the KFBG Wild Animal Rescue Centre. Although she regained health under the care of our staff, she was not released as Eastern Grass Owls are not native to Hong Kong but are occasional vagrants from other parts of Southern China.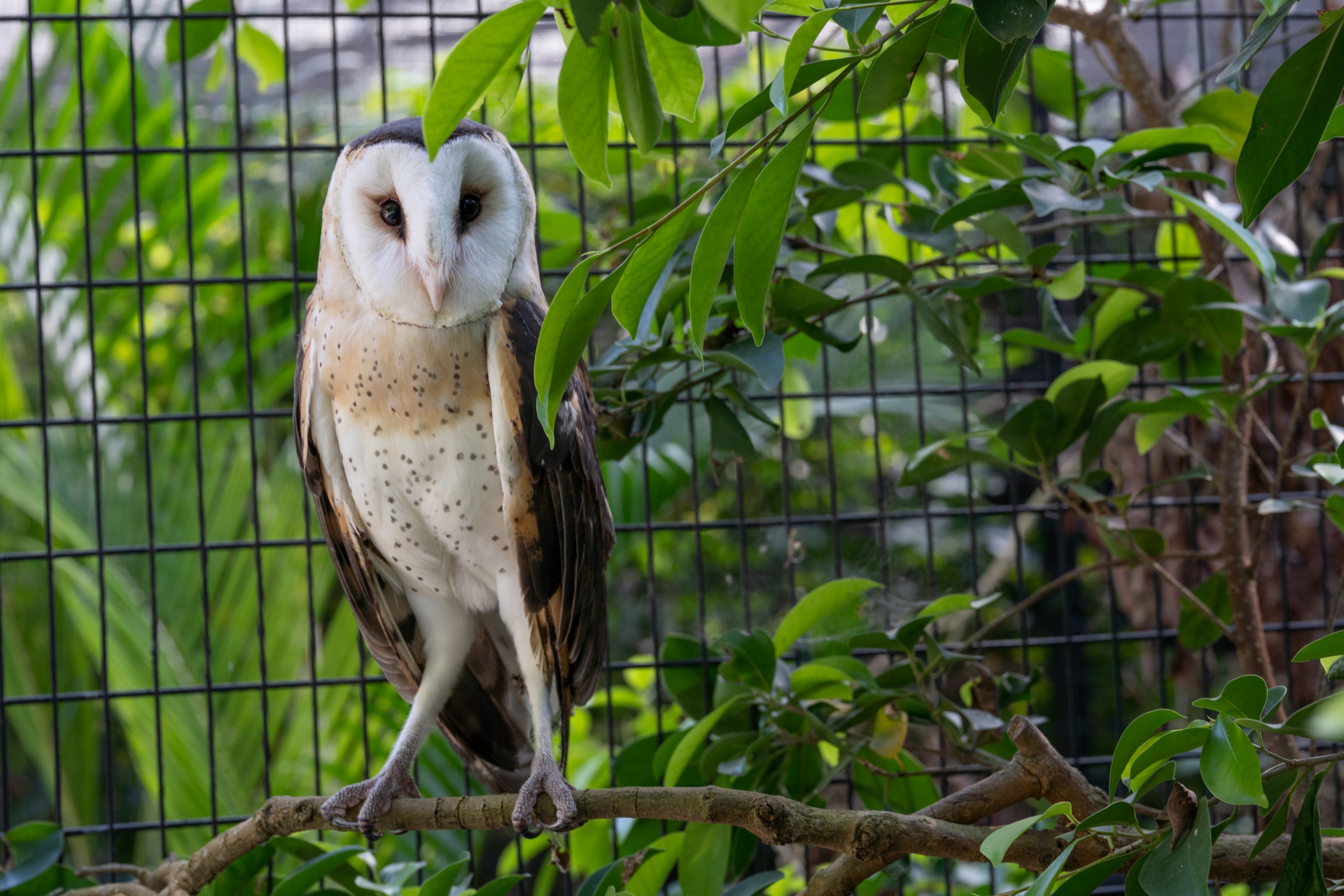 Brown Wood Owl (Strix leptogrammica) – Strix
In 2018, Strix the Brown Wood Owl was seized by the Authorities as part of an illegal possession case and passed to the KFBG Wild Animal Rescue Centre. She was a young bird and during her health check, Strix was found to be healthy with some minor feather damage. She was very friendly and we concluded that she had probably been hand-reared. The Brown Wood Owl is a recent addition to the local resident bird fauna in Hong Kong as a result of range expansion in southern China. The species has successfully bred in Hong Kong for several years.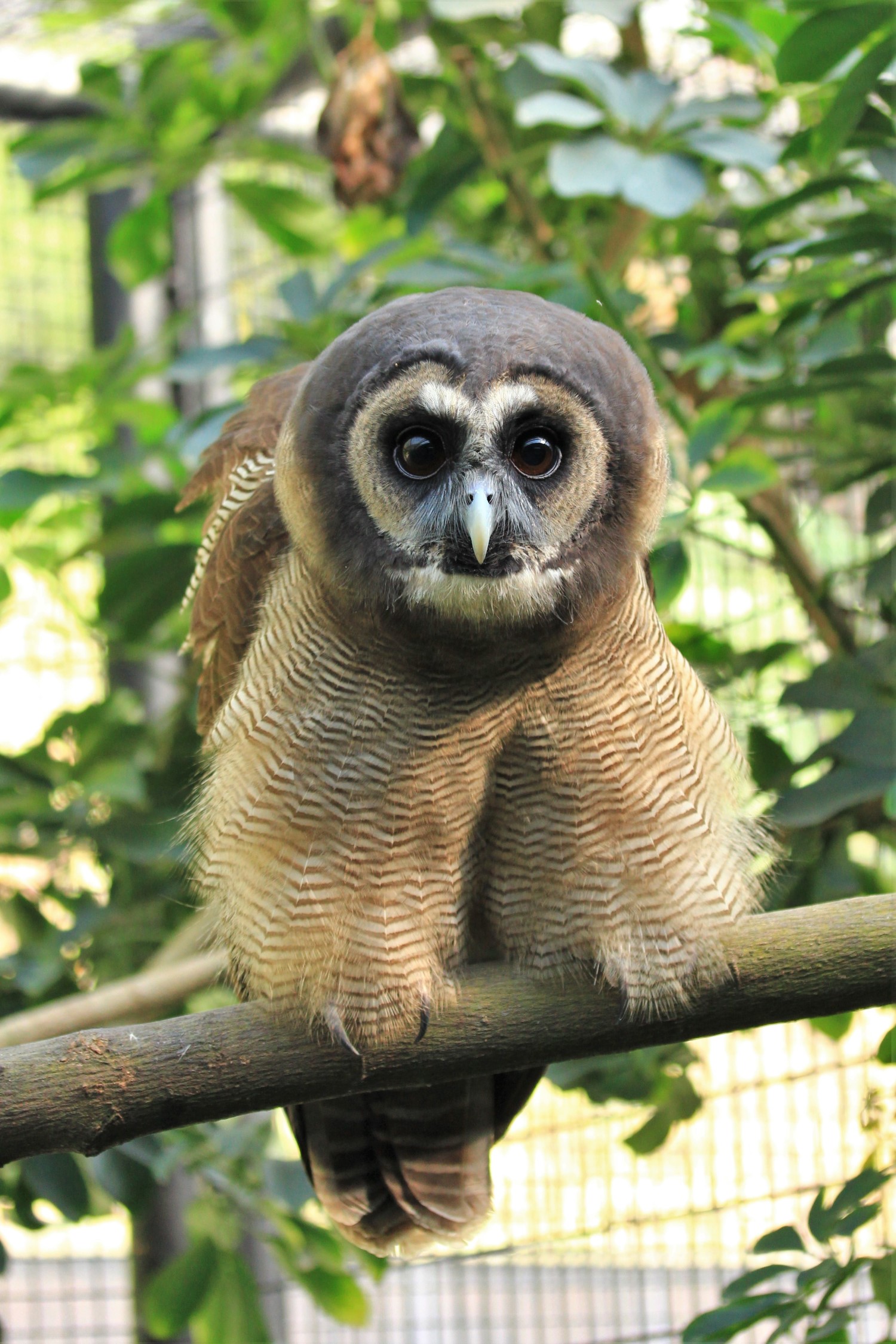 Eurasian Eagle Owls (Bubo bubo) – Chad and Boo
Chad was found by the AFCD in Tai Wai in June 2017 with jesses (leather straps) on his legs suggesting that he had been kept in captivity illegally. After undergoing rehabilitation at the Wild Animal Rescue Center, Chad was released back to the wild in September 2017. However, in October 2017 he started to make regular appearances at a housing estate in Tai Po and was reported to be accepting food from the residents. Animal care staff from the Wild Animal Rescue Centre recaptured Chad. It was apparent that he had become too habituated towards humans and unsuitable for wild release. Chad now joins the other owls at the Raptor Sanctuary as an Education Ambassador.
In April 2016, Boo was discovered on Sha Tin Wai Road close to the Prince of Wales Hospital with wounds to her tongue, left wing and leg, and a damaged left eye. She was rescued by the AFCD and sent to the KFBG Rescue Centre. Her condition improved significantly after several months of care, but she still requires long-term rehabilitation because of her injuries.
Please visit the Raptor Sanctuary and read the background stories about our raptors during our opening hours. Please be quiet when viewing these birds, they are wild and are easily startled. We occasionally run Raptor Talks, where visitors can have a close-encounter experience with one of our birds. Please check our Website for activity schedules.
Why not become our Monthly Sponsor, your donation will help feed, house and provide medical care for our resident raptors. Your compassion goes a long way toward helping us to make a difference regarding the conservation and captive care of these majestic birds.