Energy of Nature - Level I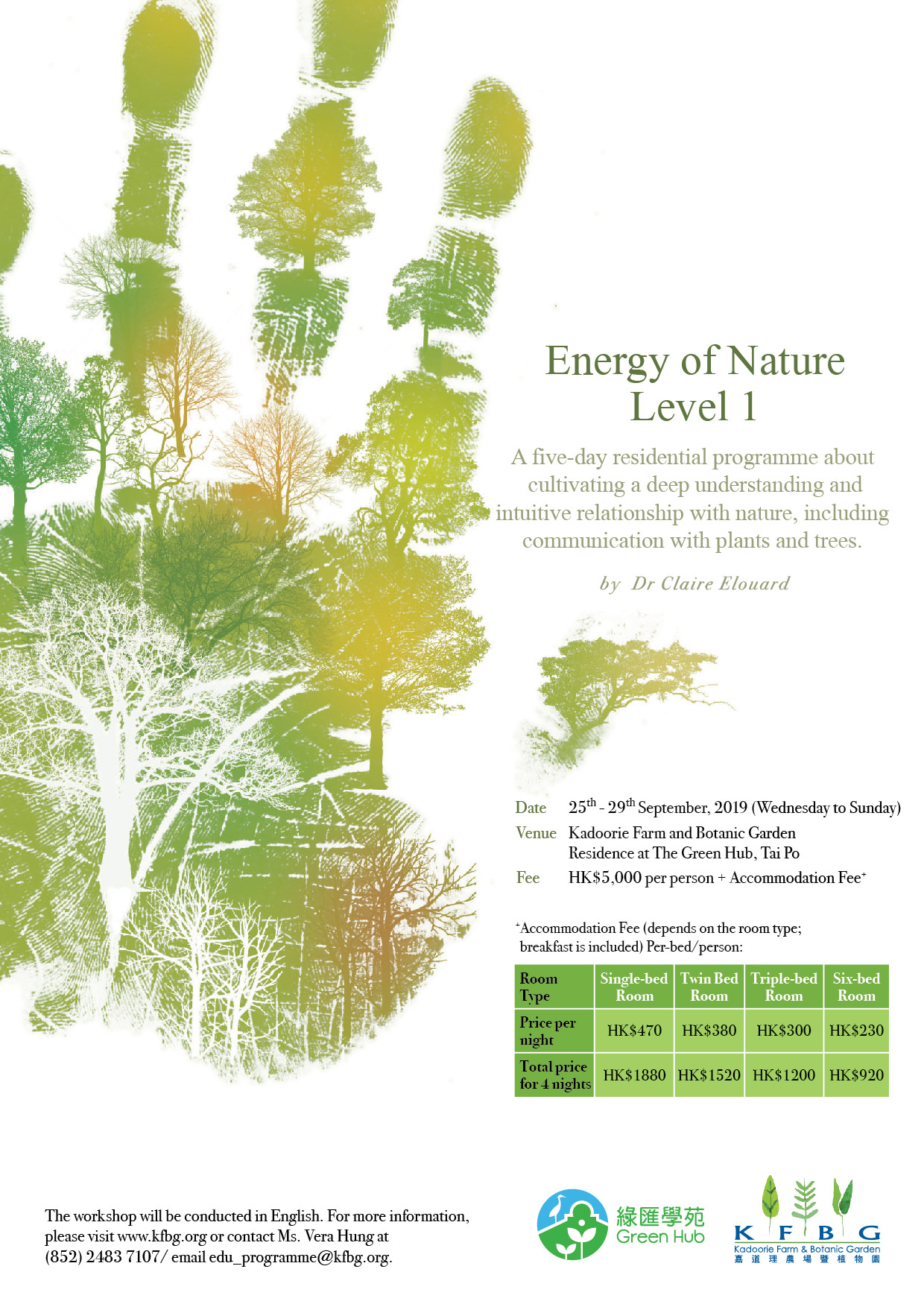 1. Nature/Objectives
Nature's energy is ever-present in our life, in the food we eat, in the air we breathe and in the soil we walk on. Connection with the energy of nature helps us to explore a deeper connection with the natural world. Conscious connection with nature and its energy can help us in our daily life, to find harmony and stability within ourselves, and bring us in touch with the healing powers of nature.
The "Energy of Nature" Workshop - Level 1 is a five-day programme that guides participants towards the cultivation of a deep awareness of our intuitive relationship with nature, particularly with trees and plants.
The objective of the workshop is to strengthen the participants' conscious connection with nature, and may help to discover some unrealised aspects of themselves and open the door to a more fulfilling and holistic lifestyle. Through experiential activities, the participants will understand and enhance their perception of energy and develop their intuition. They will also deepen their connection with themselves and with nature and its supportive and healing energy. An exploration of the five elements in nature will be conducted during the workshop, to access to their healing powers.
Energy of Nature - One-day Introductory Workshop is available for those who are interested in this topic but cannot attend five days of workshop.
Teacher: Dr. Claire Elouard
Dr. Claire Elouard is of French nationality; she spent her early childhood in Senegal, Africa, and later studied in France. She has a master's degree in Biology and a Ph.D. in vegetal ecology from Universities in France. She conducted her field research for her Ph.D. in Indonesia, and afterward spent eight years doing research in forest pathology and ecology in Malaysia and South India. Subsequently, she directed an environmental project in the Mumbai area in India, from 2001 to 2015. She has been coming to KFBG for over 10 years delivering her workshops on the "Energy of Nature".
Dr. Claire Elouard has been deeply connected with nature since childhood. She later developed her perception of nature's energy and deepened it by learning about the Hindu philosophy on the five elements and their corresponding chakras. She has been teaching people to communicate with nature and perceive its energy since 2004 in India, France, Taiwan, Hong Kong, Singapore and China.
2. Content
This five-day workshop includes the following elements:
Exercises to feel and identify one's perception of energy in nature.
Exercises on grounding and centering and be one with one's heart.
Development of one's intuition.
Choice of a tree to establish a personal relationship with and regularly spend time with it.
Learning to feel the trees' energy and their healing power.
Introduction to the five elements in nature (earth, water, fire, air and ether), their qualities and healing powers.
Learn to identify places that "replenish" our energy.
Guided contemplations on nature.
Presentation of a personal project on one's tree or on another aspect learned in the workshop.
Note: the workshop's agenda and contents may be modified depending on weather conditions, and other external factors, in accordance with Dr. Claire Elouard's professional advice.
3. Language
English
4. Target group/No. of Participants
Aged 18 years or above
Maximum of 15 participants
5. Date
25-29 September 2019 (Wednesday to Sunday)
6. Venue
Workshop at Kadoorie Farm and Botanic Garden, and nearby areas.
Meeting point: Reception Area at KFBG on 25 September.
​​​​​Residence at The Green Hub*, the Old Tai Po Police Station, Tai Po from 25-29 September 2019 (four nights).
*Located on a small hill at Wan Tau Kok, the Old Tai Po Police Station was the first permanent Police Station built in the New Territories in 1899. The Antiquities Advisory Board accorded the Old Tai Po Police Station Grade 1 Historic Building status in December 2009. The Development Bureau awarded the site to KFBG to transform the Old Tai Po Police Station into a "Green Hub for Sustainable Living" under the Batch II of the "Revitalising Historic Buildings Through Partnership Scheme". You may visit the Green Hub website at www.greenhub.hk for more information.
7. Fee

Course Fee# HK$5,000 per person + Accommodation Fee+
#including lecture fee, vegetarian meals, outing arrangement and shuttle bus service between The Green Hub and visiting sites during the workshop
+Accommodation Fee (depends on the room type; breakfast is included) Per bed/person:
| | | | | |
| --- | --- | --- | --- | --- |
| Room Type | Single Room | Twin Bed Room | Triple-bed Room | Six-bed Room |
| Price per night | HK$470 | HK$380 | HK$300 | HK$230 |
| Total price for four nights | HK$1,880 | HK$1,520 | HK$1,200 | HK$920 |
Multi-bed rooms will be organised according to gender
Most rooms have fans and natural ventilation, only a couple of rooms have air-conditioners. You may indicate your preference in the application form. We will try to arrange your accommodation based on your preference. Please note that a first-come-first-served policy will be adopted. For more information about the rooms, please visit http://www.greenhub.hk/eng/RateReservation.aspx
8. Application
Please complete the online application form and pay the course fee (HK$5,000) online on or before 22 September 2019. Details are as follows:
Please click here for the online registration and payment.
Upon receipt of the application form and course fee payment, acknowledgement of application with a payment notice of accommodation fee will be sent to you by email within five working days. We may need to ask you to be flexible with your accommodation request (not everyone can have a single room, and sharing is more fun!)
Payment method will be provided in the notice. Please settle the remaining payment within one week after receiving the notice. Otherwise, your reservation may be cancelled and released for others.
A final confirmation email will be sent to you after all payment is settled.
Payment is not refundable after acceptance.

9. Enquiry
For enquiries, please contact Ms. Vera Hung at 2483 7107 or edu_programme@kfbg.org.
10. Note
Please note that this is an experiential workshop. Participants are required to attend all five days of the workshop and participate fully in all exercises to ensure progression.
To ensure the quality of the workshop for all participants, KFBG reserves the right to select participants for this workshop, if we feel necessary. For unsuccessful applications, a full refund will be arranged by bank transfer or cheque within one month.
Two weeks' notice will be given to participants in the case of cancellation due to under-enrollment (below six registered participants). In such a case, a full refund will also be arranged accordingly. However this is not expected as Claire has been teaching with us for several years and is always in high demand.
Certificate will not be given to participants with less than 90% attendance.
It is not expected for learners to participate in more than one level each season, as time is needed for learners to fully absorb the knowledge and embody the experience.