Gaia and Deep Ecology Online Programme by Dr. Stephan Harding, Juliana Schneider and KFBG staff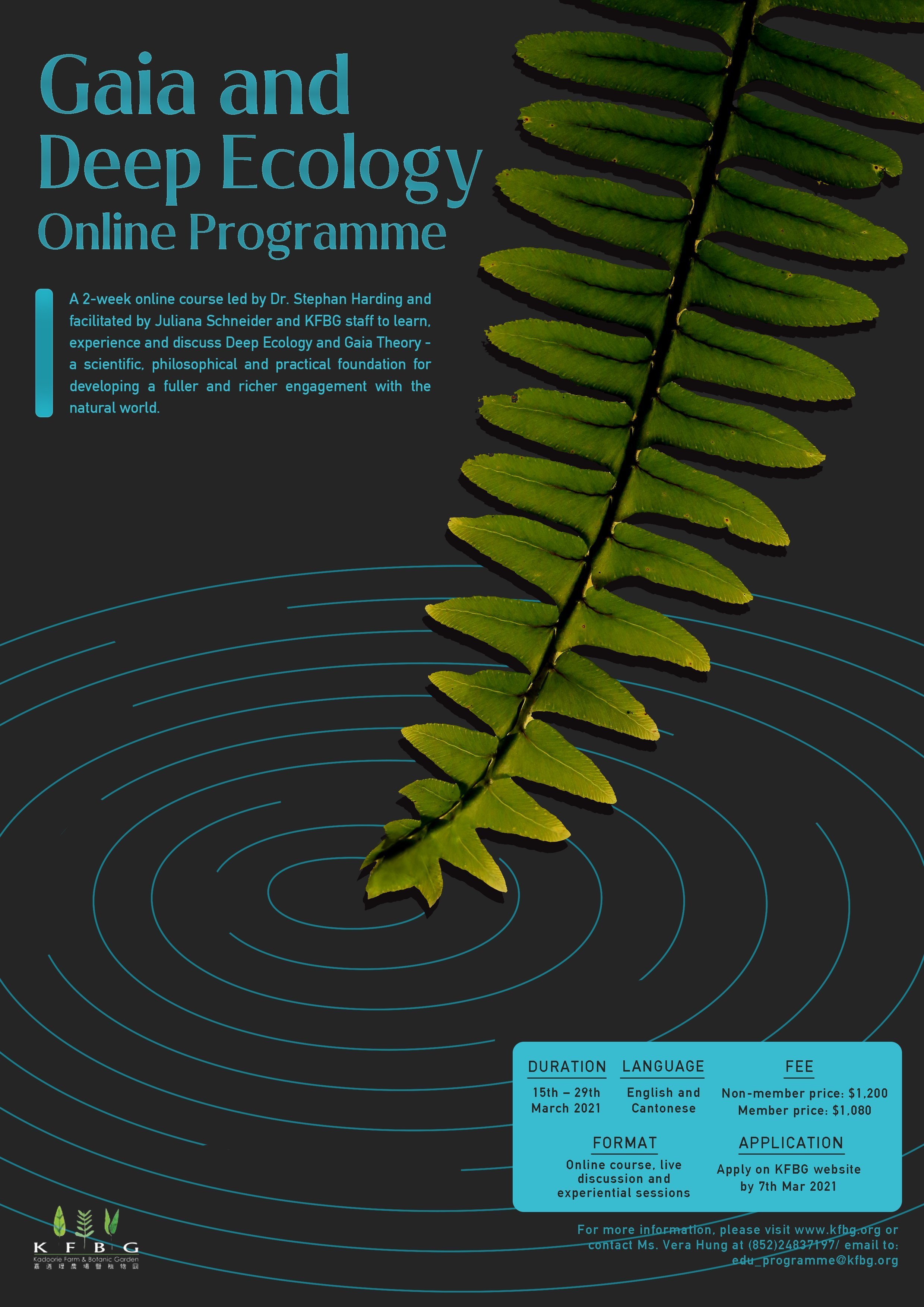 1. Nature
A 2-week online course led by Dr. Stephan Harding and facilitated by Juliana Schneider and KFBG staff, introducing participants to Gaia Theory and Deep Ecology, providing an integration of scientific, philosophical and practical foundations for developing a fuller and richer engagement with the natural world in this time of ecological and social crisis. This online learning journey combines learning materials, live discussions, guided exercises and experiential sessions altogether. In between online teaching and discussion sessions we will offer participants practical exercises that can be done in their own homes to help ground the learnings and reflections. The course follows the Schumacher College model of encouraging exchange between participants as well as with the teachers and facilitators in creating a true community of learners.
This course is for anyone wishing to deepen their relationship with the natural world, whether in their own lives or in their professional practices in order to contribute to healing the current crisis. No previous knowledge of Gaia theory or deep ecology is required.
"A human being is part of the whole called by us the universe. We experience ourselves, our thoughts and feelings as something separate from the rest. A kind of optical delusion of consciousness. This delusion is a kind of prison for us, restricting us to our personal desires and to affection for a few persons nearest to us. Our task must be to free ourselves from the prison by widening our circle of compassion to embrace all living creatures and the whole of nature in its beauty… We shall require a substantially new manner of thinking if humanity is to survive." (Albert Einstein)
Click HERE to download programme poster
Short promotional video:


Teacher: Dr. Stephan Harding
| | |
| --- | --- |
| | Stephan was one of the founding members of Schumacher College, an international centre of transformative education for sustainable living, in Devon - United Kingdom. He coordinated and lectured on the masters in Holistic Science for nearly two decades, besides teaching on many of the college's short courses. At Schumacher College Stephan has taught alongside many of the world's leading ecological thinkers and activists, including Arne Naess, the proponent of deep ecology and James Lovelock, proponent of Gaia Theory, as well as Fritjof Capra, Lynn Margulis, Brian Goodwin and Rupert Sheldrake. He is now the Deep Ecology Fellow at Schumacher College and is a teacher on several ecological educational projects internationally. |
Facilitator: Juliana Schneider
| | |
| --- | --- |
| | Juliana has been a close affiliate with Schumacher College for the past decade, having graduated with Masters in Holistic Science and worked as a facilitator alongside experts in different areas such as Stephan Harding, David Abram, Vandana Shiva, Satish Kumar. In 2013 she founded an educational enterprise in Brazil experimenting with more participatory ways of organising. Beyond leading the organisation, she has taught and facilitated holistic thinking through numerous groups with highly diverse backgrounds. She is now a collaborator of educational initiatives in Brazil and around the world through mentoring, consulting and teaching, as well conducting a PHD as a researcher of the Schumacher Society. |
Facilitator: June Ngan
Education Officer of KFBG, also an ANFT Certified Forest Therapy Guide and Certified Zentangle Teacher. She has been facilitating Forest Immersion Walk since 2019.
Facilitator: Natalie Leung
Education officer of KFBG, RYT-200 Yoga teacher with certificate in Basic Horticultural Therapy and 8-week MBSR course. She has been practising mindfulness through meditation and yoga since 2016.
2. Content and Schedule
The 2-week course include the following:
1st week (15th Mar – 21st Mar 2021)
Coming Together online Zoom session
Date and Time: 15th Mar (Mon) 1800 – 1900
Welcoming the newly formed group and introduction of the programme to fertilize the learning experience ahead. Experiential exercises will be shared for participants to practice at home.
Online video talk on Gaia Theory
Date: Available from 16th Mar (Tues)
A 1-hour video talk hosted by Dr. Stephan Harding, guiding participants to explore the scientific view of scientist James Lovelock founder of Gaia Theory. Gaia Theory proposes that from the complex interactions and feedback between the living and non-living beings on the planet emerges self-regulation of key planetary variables at the scale of the whole planet, such as global temperature and acidity.


Experiential Session: Virtual Forest Immersion Walk
Date and Time: 20th Mar (Sat), 1000 – 11:30*
A 1.5-hour online nature immersion experience by KFBG staff. Through a variety of invitations to slow down and ground deeply, this journey offers a sensory connection and rebuilding of relationship with our nature. The session will highlight the interconnectedness between human and nature and explore experientially our ecological engagement with the living earth.

*Will be postponed to 27th Mar (Sat), 1000 – 11:30* in case of bad weather
2nd week (22nd Mar – 29th Mar)
Making sense online Zoom session
Date and Time: 22nd Mar (Mon), 1800 – 19:00
Sharing of learning experience, questions and reflection. Further experiential exercises will be shared for participants to practice at home or outdoor to connect with plants.
Online video talk on Deep Ecology
Date: Available from 23rd Mar (Tues)
A 1-hour video talk by Dr. Stephan Harding on Deep Ecology, introducing a new sense of belonging to an intelligent universe and developing deep commitment to a more eco-centric lifestyle. Participants will be guided to look into nature's intrinsic value through Arne Naess' Deep Ecology approach, which proposes a deep interaction with the community of all beings as a way of expanding one's sense of self towards an ecological self committed to living well with Gaia.
Experiential Session: Deep Time Walk
Date and Time: Any day between 23 - 28 Mar
A self-guided experience which participants will use the "Deep Time Walk" mobile application to walk an approximately 4.6 km-long journey designed to scale with Gaia's developmental trajectory over geological time. As participants are walking in their own Gaia space, they can feel the earth beneath their feet and go through the planet's astonishing history over vast spans of time to reflect on the role of humans in the evolution of the planet.
Making sense and closure online Zoom session
Date and Time: 29th Mar (Mon), 18:00 – 19:00
Reflection on participant's experiences on the course and sharing of one another's learnings and how these might translate into everyday life actions and choices.
3. Language
English (Main teaching language) / Cantonese (For virtual forest immersion walk only)
4. Target group/ No. of participants
Aged 18 or above
Maximum of 25 participants
5. Course Period
15th – 29th Mar 2021
6. Format/ Location
‧ Online videos: Available on KFBG learning platform throughout the course period
‧ Coming together, Virtual forest immersion walk and making sense session: Zoom
‧ Deep Time Walk: Mobile Application
7. Fee
KFBG member price: HK$1,080
Non-member price: HK$1,200
8. Application
Please complete your registration as follows:
‧ Please click HERE for the online registration and payment (HK$1,080/ $1,200) online on or before 7th Mar 2021.
‧ Upon receipt of the application form and payment, a confirmation letter will be sent to you by email within 5 working days.
‧ Payment is not refundable after confirmation.
9. Enquiry
For enquiries, please contact Ms. Vera Hung at 2483 7107 or edu_programme@kfbg.org
10. Note
‧ Plant is needed for in-home exercise. It is advised to buy and keep one if participants do not have it at home.
‧ Online videos will be shared on KFBG learning platform, personal login ID and password will be provided prior to the start of the course. Participants can login to access all the materials within the learning period. Access to materials will be lost upon the end of March, 2021.
‧ Please download and install Zoom on your device before the interactive week.
‧ Please check your email inbox and junk box regularly to ensure you are always informed with the course latest updates.
‧ Prior notice will be given to participants in case of cancellation. In such a case a full refund will also be arranged accordingly.
‧ To ensure the quality of the workshop for all participants, KFBG reserves the right to select participants for this workshop if we feel necessary. For unsuccessful applications, a full refund will be arranged by bank transfer or cheque within one month.