Healing Power of Nature – Self-guided Online Course with Dr. Claire Elouard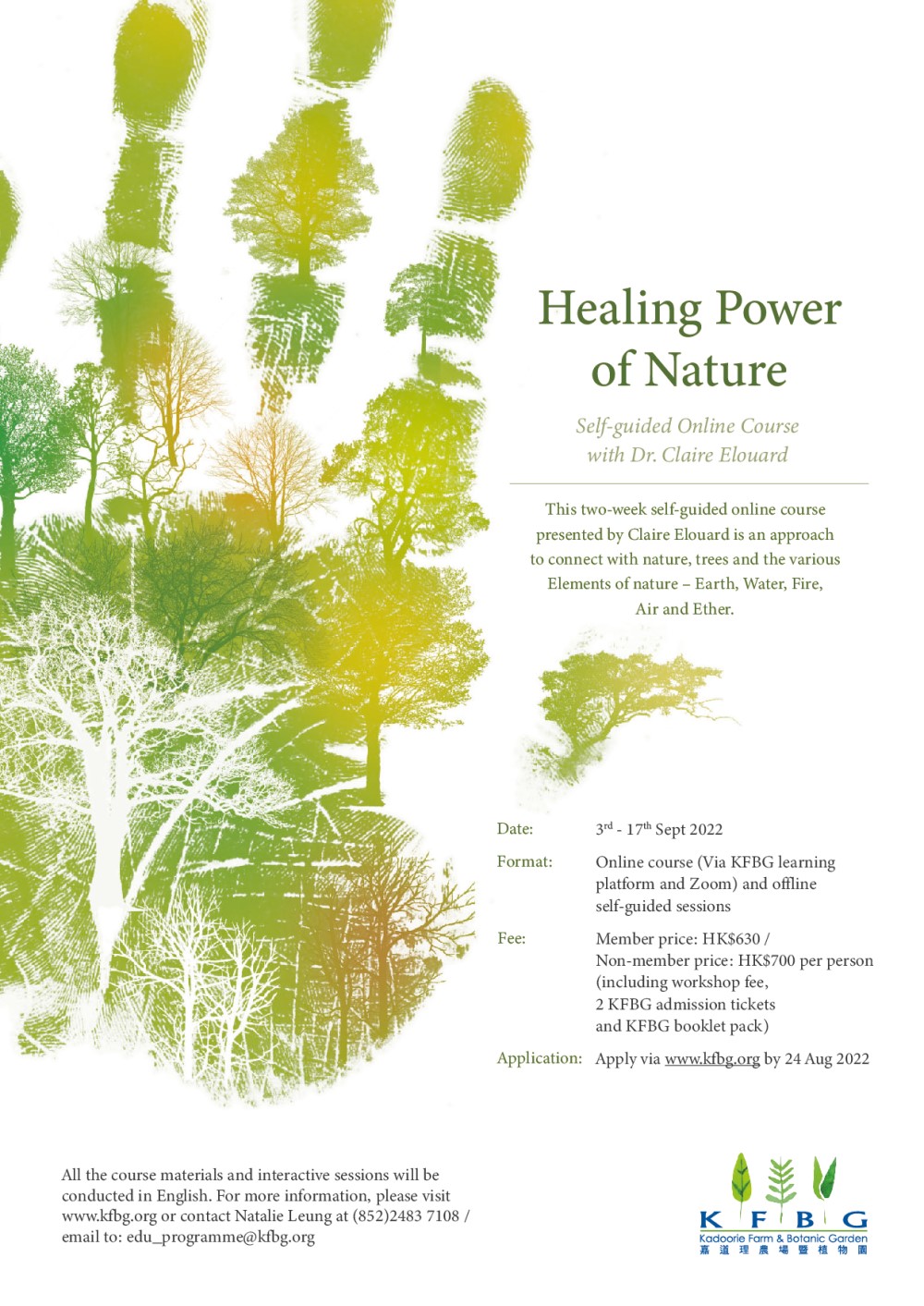 Nature / Objectives
This two-week self-guided online course presented by Dr. Claire Elouard is an approach to connecting with nature and trees and the various Elements of nature – Earth, Water, Fire, Air and Ether.
Prior to the course, there is a welcoming online session. Participants can meet Claire and learn more about the coming workshop.
The first week of the course explores the different Elements of nature and their healing powers. It includes a video talk and some audio exercises on some of the qualities of these elements and healing powers that can help us in our personal development and in dealing with the difficult situations in our life. The participants will be able to do these exercises indoor or outdoor.
There is an online meeting session at the end of the week, where participants can bring questions and interact with Claire.
The second week explores our connection with trees and their qualities. A video talk will first describe the communication of trees and how to develop our connection with trees. Audio exercises will guide us in our connection with trees and in our perception of some of their qualities. The participants will do these exercises outdoor with trees in a park or in a forest.

There is a closing online meeting session at the end of the week, where participants can bring along their questions to interact with Claire and share their experience with one another.


Teacher: Dr. Claire Elouard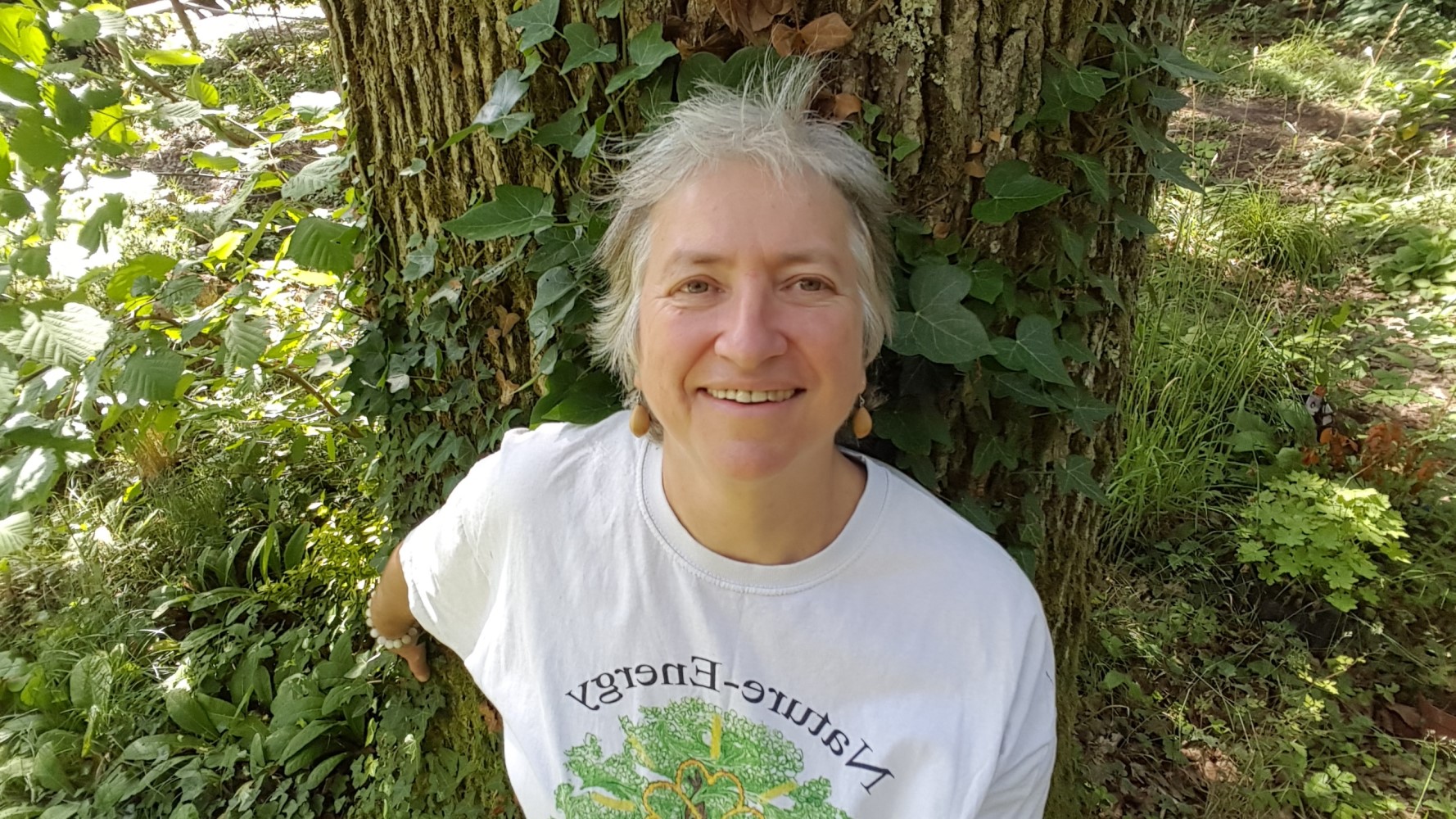 Dr. Claire Elouard is of French nationality; she spent her early childhood in Senegal, Africa, and later studied in France. She has a Master's degree in Biology and a Ph.D. in vegetal ecology from Universities in France. She conducted her field research for her Ph.D. in Indonesia and afterwards spent eight years doing research in forest pathology and ecology in Malaysia and South India. Subsequently, she directed an environmental project in the Mumbai area in India, from 2001 to 2015. She has been coming to KFBG for over 10 years delivering her workshops on the "Energy of Nature".
Dr. Claire Elouard has been deeply connected with nature since childhood. She later developed her perception of nature's energy and deepened it by learning about the Hindu philosophy on the five elements and their corresponding chakras. She has been teaching people to communicate with nature and perceive its energy since 2004 in India, France, Taiwan, Hong Kong, Singapore and China.
Content
This 2-week online workshop includes the following:
Welcoming online session with Claire: Sat, 3 Sept 2022 HKT 16:00
1
st
week (4 – 10 Sept 2022)
Video talk on "Being in nature and getting replenished by the healing powers of nature" and 5 audio indoor/ outdoor exercises

Online meeting session with Claire: Sat, 10 Sept 2022 HKT 16:00
2
nd
week (11 – 17 Sept 2022)
Video talk on "Connecting with trees and their qualities" and 3 audio outdoor exercises

Closing online meeting session with Claire: Sat, 17 Sept 2022 HKT 16:00
Please click HERE to view the Programme Poster.
Language
English
Target group / No. of Participants
Aged 18 years and above

Maximum of 50 participants
Course Period
3 – 17 Sept 2022
Format/ Location
Online resources: Available on KFBG learning platform throughout the course period

Interactive session: Zoom

Offline self-guided session: Any green area nearby or KFBG
Fee

Member Price: HK$630 / Non-member price: HK$700 per person, including:
Workshop fee

2 KFBG admission tickets

KFBG booklet pack
Application

Please complete your registration as follows:
Please

click

HERE

for the online registration and payment (HK$700) online on or before

24 Aug 2022.

Upon receipt of the application form and payment, a confirmation letter will be sent to you by email.

Payment is not refundable after confirmation.
Enquiry
For enquiries, please contact Natalie Leung at (852) 2483 7108 or edu_programme@kfbg.org
Note
The workshop is held fully online. Offline sessions require self-guidance following materials provided by Dr. Claire Elouard.

All the learning materials will be shared on KFBG learning platform.

Please download and install Zoom on your device before the course.

Prior notice will be given to participants in case of cancellation. In such a case a full refund will also be arranged accordingly.

To ensure the quality of the workshop for all participants, KFBG reserves the right to select participants for this workshop if we feel necessary. For unsuccessful applications, a full refund will be arranged by bank transfer or cheque within one month.
More about Kadoorie Earth Programme
This experience is brought to you by the Kadoorie Earth Programme (KEP).
Kadoorie Earth Programme is an initiative that is being co-created by KFBG and its network of collaborators and volunteers. By integrating the various strands of KFBG's nature conservation, sustainable living and holistic education programmes, it provides life-transforming learning experiences that reconnect people with themselves, each other and the rest of nature and enables them to cultivate resilience in the face of climate change, economic uncertainty and other related challenges. Facilitated by leading educators, KEP guides participants to experience a paradigm shift, to let go of the same way of thinking that created the problems1 and to open their hearts to new ways of knowing and acting. We invite you to be part of this unfolding initiative, to make a difference together in this world.
1 "We cannot solve our problems with the same thinking we used to create them."
Albert Einstein