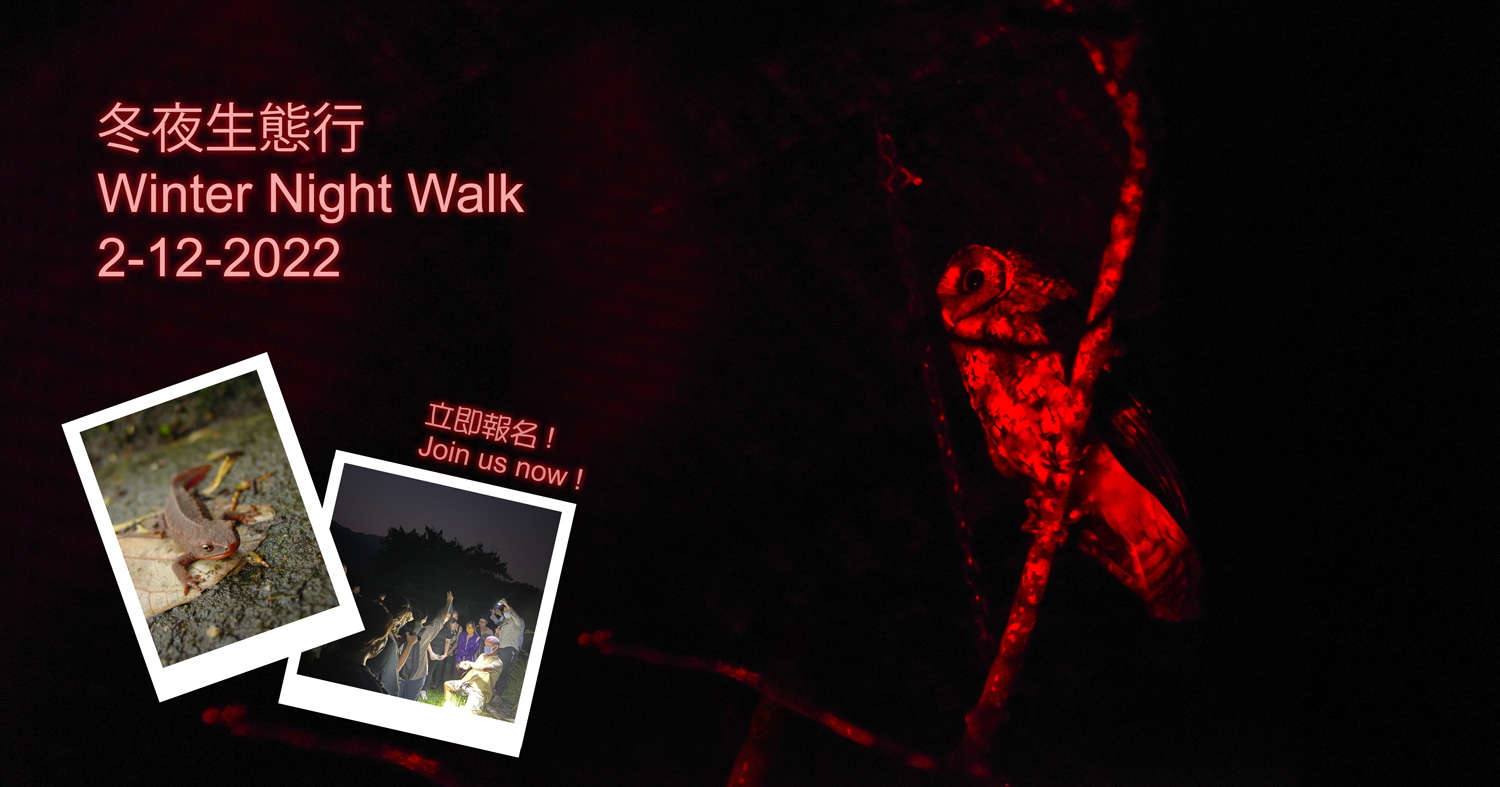 "The night-time world is full of natural mysteries and excitement. Led by KFBG's wildlife experts, the Night Walk introduces participants to the wonders of the nocturnal world inside our Nature Reserve.
Although the Winter months may be a little quieter than the summer, HK has a rich natural history and many mammals and nocturnal birds are active all year
Highlights will include:
* An introduction to one of the most successful groups of nocturnal animals – the bats;
* A visit to the home of some of our rescued nocturnal animals including owls and leopard cats. It's a great chance to see them when they are most active;
* Facts about animal and plant interactions along the walk
Chance encounters may include birds, insects and nocturnal mammals. On a lucky night sightings of our resident wild porcupines can provide a highlight!".
Date

2 December 2022 (Fri)

To ensure everyone's safety, we will decide whether the activity will be held as scheduled, according to the development of COVID-19 epidemic and the gathering restrictions. In case of cancellation, you will be notified by KFBG staff.

Venue

Lower area of KFBG

Time

5:30pm-7:45pm

Target audience

Aged 12 or above (teenager of age below 18 should be accompanied with an adult)

No. of participants

20

Language

English (supplemented with Chinese)

Fee

HKD 400 (same price for adults and teenagers)

Gathering time and location

5:15 pm, at the Vehicle Entrance Gate of KFBG (a map will be provided after application)

Terms and conditions

· Each applicant (adult or teenager) has to submit one application form.

· After confirmation of application, no refund will be made if you are absent from the activity.

· Latecomers will NOT be admitted.

· Participants will get a full refund if the activity is cancelled due to inclement weather conditions or COVID-19 pandemic.

Application

Please submit the online application form at least 7 days before the activity date.

Enquiry

Tel: 2483 7136 or Email: fauna@kfbg.org