KFBG's Rescue Centre reaches a new milestone with the arrival of the 60,000th wild animal since 1994
11 February 2022 |
Nature Conservation
(Hong Kong – 11 February 2022) Kadoorie Farm & Botanic Garden just received its 60,000th animal since the establishment of the Wild Animal Rescue Centre in 1994. Although this is a sad reflection on numbers of wild species that require human intervention, it is a milestone achievement for the animal rescue team at KFBG and their partners.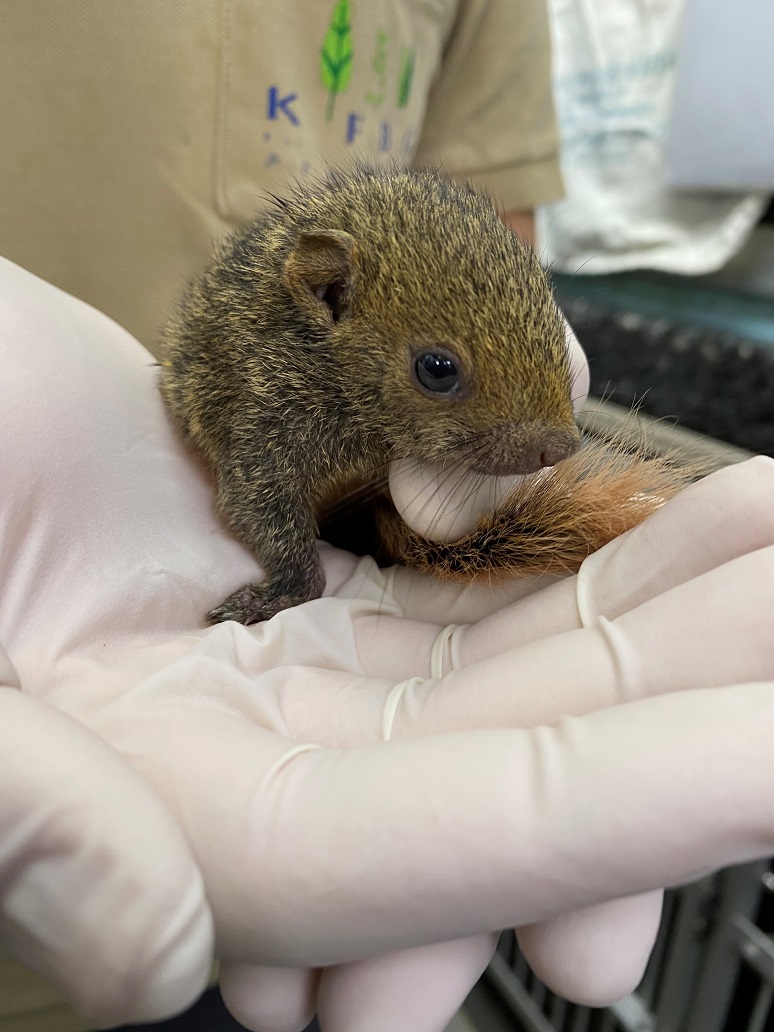 The WARC's 60,000th arrival is a Pallas's Squirrel. It was spotted by a hiker in Pok Fu Lam Reservoir when the young mammal sought comfort by clinging onto the hiker's leg and refusing to return to its treetop habitat despite attempts to coax it back. It is possible that this young squirrel had somehow become displaced from its parents and was seeking out warmth and food from the sympathetic passer-by.
The squirrel pup was thin and had a quiet, dull disposition upon its arrival at the WARC. The rescue team's priority is to ensure it is hydrated and warm.
Since the start of the rescue programme in 1994, KFBG has received many diverse species of animals. Over 90% of the birds, mammals and snakes received are native species to Hong Kong, while over 90% of the amphibians and other reptiles, excluding snakes, received are exotic species and therefore cannot be released to the wild in Hong Kong. In January 2022, 98% of the non-snake reptiles being temporarily kept at KFBG were on the threatened categories of the IUCN Red List. This means that they are either vulnerable, endangered, or critically endangered globally.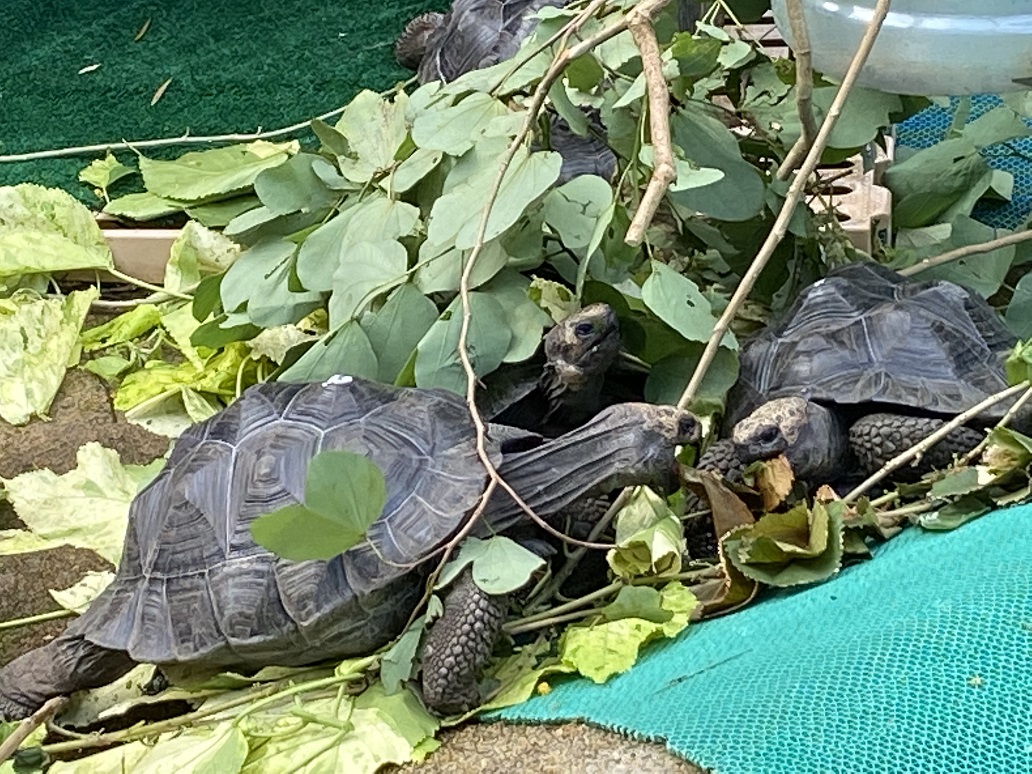 Rescue cases of interest include four Galapagos Giant Tortoises (Chelonoidis sp.) that were confiscated by the Authorities when discovered in a wildlife smuggling case in 2016. The smuggling of such species is fueled by the illegal pet trade which targets animal species of rarity and high value. KFBG supports the enforcement work of the authorities through the holding and care of these and other animals and will help to identify appropriate international conservation programmes for each species.
The centre has recorded a 68% survival rate for animals rescued over the last 5 years, and although this is a great achievement, it reflects the severity of the health condition of many of the wild native animals received and the constant threat of wildlife crime.
"Many native wild animals we received through rescue are in a poor condition when caught. They are likely to have been involved in a serious incident, such as window strike or vehicle collision. Similarly, exotic animal species face many hardships during their often cruel confinement while being smuggled across international borders," said Dr. Gary Ades, Head of the Fauna Conservation Department of KFBG.
Survivorship can vary significantly between animals, depending on the type of incident or form of injury sustained and condition upon arrival and admission. 58% of the native animals received during the last 5 years have been successfully returned to the wild. Some rehabilitated wild animals which can't be released have found a home at the education display area of KFBG.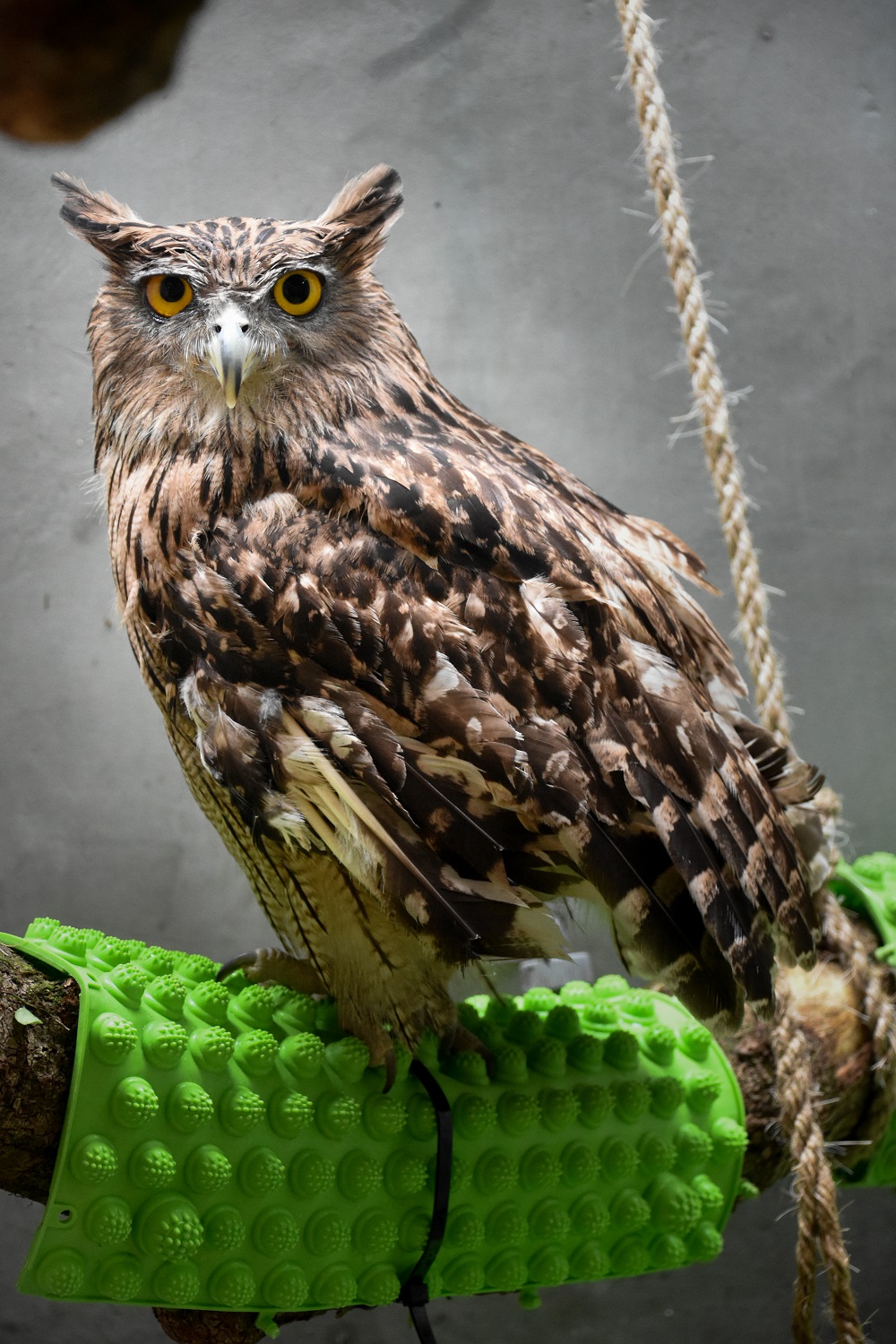 A Brown Fish Owl (Ketupa zeylonensis), a native species to Hong Kong arrived with feather damage and eye problems and is under treatment and rehabilitation at the Rescue Centre.
Wild animals arrive at the Rescue Centre for diverse reasons – many as a result of human conflicts and interactions, and through collisions with man-made structures. Young animals may be picked up and "rescued" even though their parents may be close by. Although this is often seen as an act of kindness, in many cases it would have been kinder to leave the animals where they are, as wild animals often leave their young unattended whilst they are searching for food or hunting. Other man-made hurdles that wild animals have to face include reflective windows, moving vehicles, abandoned fishing gear and sticky glue rat traps. All can present serious problems to wild animals and result in the need to be rescued.
KFBG works closely with its partners the SPCA and AFCD in providing opportunities for animals that come into difficulties and to give them a second chance. On reaching this significant milestone we would like to thank our partners in rescue as the efforts that lead to success require good collaboration and teamwork.
Rescue team staff work throughout the year to provide the best care for rescued animals including the White-breasted Waterhen (Amaurornis phoenicurus) chicks and young Masked Palm Civets (Paguma larvata), maximising their chances of survival and successful release back into the wild.

Photo credit: KFBG/ Alice Wong (left), KFBG/ Bel Li (right)
About the Wild Animal Rescue Centre (WARC)
As the only non-government wildlife rescue centre operating in Hong Kong under a special licence from the Director of the Agriculture, Fisheries & Conservation Department (AFCD), the WARC receives displaced, trapped or injured native wildlife and wildlife of conservation concern confiscated from the illegal pet and food trade.
Members of the public can contact KFBG at 2483 7279 or visit www.kfbg.org/en/donation if they would like to know more about our rescue services or are interested in financially supporting the care and placement of wild animals. Working together may ultimately prevent some species from becoming extinct in the wild.
If you come across an animal in distress and clearly requiring rescue, please contact the SPCA at 2711 1000 and for any illegal acts encountered involving wildlife please contact AFCD at the hotline 1823.
-- END --
For media enquiries and interview arrangement, please contact:
Ms Hilary Su
Tel: 2483 7270
Email: hilarysu@kfbg.org