Guardians of KFBG's trees
28 July 2022 |
Plants & Us
Like many other living organisms on Earth, trees face numerous challenges over their lifetime, including competition for water, nutrients and sunlight. On top of that, trees can suffer from growth defects, physical wounding and fungal infection, and any one of these can lead to complications if the tree is unable to recover naturally – or, in the context of a botanic garden, if the problem is left untreated. So, when signs of disease or hazard are spotted in KFBG's forests, the guardians of our trees spring into action.
KFBG is home to thousands of trees, and many of them are located on steep slopes and ridges high up on the northern flank of Tai Mo Shan, often making access by road impossible. This means that, for most of our tree work, the use of a truck with an aerial platform is simply not feasible, and so tree climbing is our only option. To overcome this hurdle, KFBG established its first tree management team in 2003 to train up professional tree climbers.
Is a tree climber a stunt man?
From a distance, a tree climber suspended in the crown of a tree could easily be mistaken for some sort of aerial acrobat. However, the truth is that tree climbers are far from exhibitionists risking life and limb at height. First and foremost, a tree will only be climbed where it is possible to set up suitable, reliable equipment. Tree work at KFBG is carried out by qualified tree climbers applying internationally recognised tree-climbing techniques. Proper tree climbing gear and personal protective equipment are essential. One piece of equipment that is worth special mention is the abrasion-resistant rope that can withstand a minimum breaking strength of 5400 pounds and withhold more than ten times the dynamic force resulting from movement. Together with a safety helmet and a specially designed arborist's harness, tree climbers are well supported to work for extended periods in the canopy. So, in a sense, they are well prepared stunt men – minus the menacing aspect!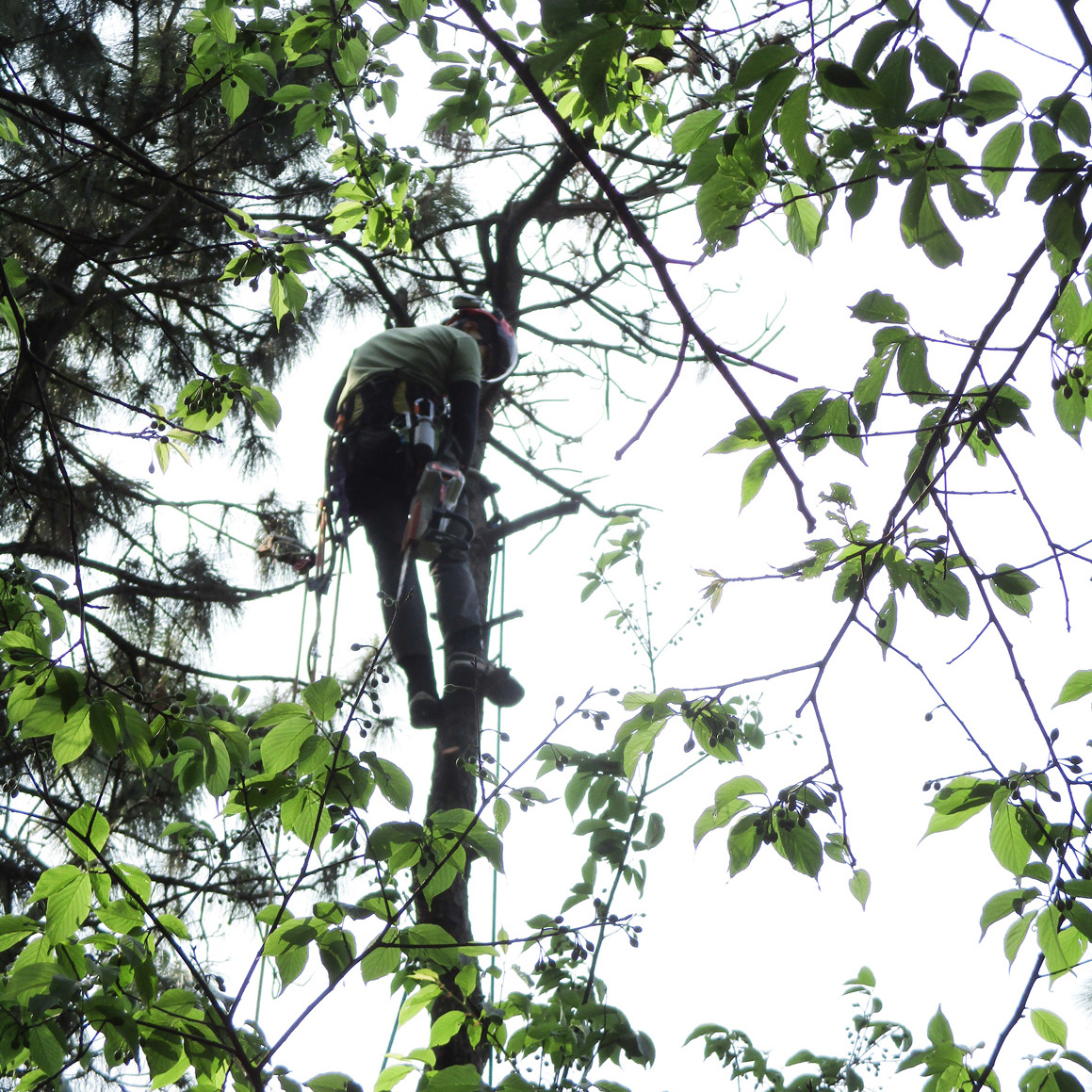 Daily work of a tree climber
But the work of a tree climber is not limited to simply looking the part. Firstly, before engaging in any aerial work, a detailed assessment of the tree and its surrounding environment must first be carried out. Once that has been that tended to, tree climbers typically spend their workdays conducting aerial inspections of tree crowns, pruning limbs, installing stabilising cable systems and removing hazardous trees. Expert knowledge of tree physiology and architecture is therefore key. And as beguiling as it may look, tree climbing is highly physically demanding. This means that, whilst mitigating all risks associated with working at height, it is imperative that our tree guardians plan, coordinate and constantly think of safety. Tree climbing is like a sport that requires a team and excellent teamwork. The team includes not only the climbers themselves, but also a ground crew who provide crucial help such as rigging to deliver equipment and traffic control on the ground. They must complement one other by maintaining good communication.
Such an amazing job does not come without a price. To be a professional tree climber requires intensive training that really puts an individual's physical endurance and height tolerance to the test.
Perks of tree climbing
If you are keen on surprises and a varied work environment, tree climbing could be the dream job for you. Imagine the thrill of going to work every day with the prospect of taking in stunning views and crossing paths with unusual animals! It is not uncommon for our tree climbers to come across a bamboo pit viper basking in the sun, or a swarm of bees trying to protect their home. Or, on a lucky day, they may find baby owls nesting in a tree cavity. Keeping the best interests of any wildlife at heart, it is a common practice to retreat quietly in such cases, to avoid causing any disturbance to these shy animals. But arguably the greatest perk of tree climbing at KFBG is the spectacular bird's eye view of the beautiful Kam Tin and Lam Tsuen valleys in all seasons. On a sunny day with high visibility, it is possible to see across Deep Bay as far as Shenzhen.
KFBG will be hosting an adventure tree climbing event in the second weekend of December during our annual Hikeathon event. If you are keen to see if you have what it takes to be a tree climber, be sure to keep an eye on our website and social media for more information in the coming months.