Conservation and Research - Conservation by Site
Indo-Burma Biodiversity Hotspot

Founded in 2000, the Critical Ecosystem Partnership Fund is a global leader in enabling civil society to participate in and benefit from conserving some of the world's most critical ecosystems.
CEPF provides grants to non-governmental and private sector organizations to help protect biodiversity hotspots, Earth's most biologically rich yet threatened areas.
During 2013 - 2020, KFBG has been part of the CEPF Regional Implementation Team for the Indo-Burma Biodiversity Hotspot, helping to facilitate calls for proposals and to oversee small grants in China.
About Indo-Burma Regional Program
Encompassing more than 2 million km2 of tropical Asia, Indo-Burma is one of the most threatened of the Earth's 36 biodiversity hotspots. Only 5 percent of its natural habitat remains in relatively pristine condition.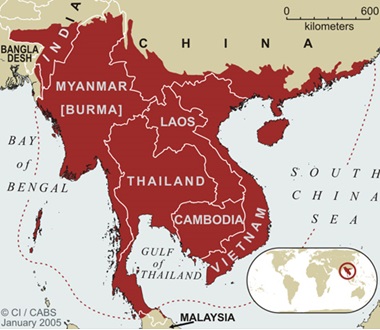 The combination of economic development and increasing human population is placing unprecedented pressure on the hotspot's natural capital. The large portion of the population living in rural areas and high levels of poverty throughout mean that natural resources, particularly those of forests, freshwater wetlands and coastal habitats, form a critical component of livelihood strategies for many of the hotspot's inhabitants. Consequently, poverty alleviation and biodiversity conservation are inextricably linked.
The program covers Cambodia, Lao P.D.R., Myanmar, Thailand and Vietnam, as well as parts of southern China. The investment of the program at phase I (2008-2013) was USD 9.7 million, and the investment at phase II (2013-2020) was USD 15.8 million.
Overview of China Grants
List of Completed Grants
| | | | |
| --- | --- | --- | --- |
| Year | Type of Grant | Name of Grantee | Project Title |
| 2013 | Large | TRAFFIC International | Starving the Supply – Interventions to Curb Illegal Wildlife Trade from Southeast Asia into southern China |
| 2013 | Large | Fauna & Flora International | Promoting a Community-based Limestone Biodiversity Conservation Network in Guangxi and Yunnan |
| 2013 | Large | The Hong Kong Bird Watching Society | Capacity Building of Local Conservation Groups in Guangdong and Guangxi Provinces to Address Illegal Shorebird Trapping Problem |
| 2013 | Small | Kunming Institute of Zoology | Freshwater turtle conservation in karst area of Yunnan and Guangxi |
| 2013 | Small | Guangxi Nanning Bei Dou Xing Ti Yu Culture Co., Ltd | Set up a bird watching society in Guangxi |
| 2013 | Small | Zoological Society of Yunnan | Capacity building of local communities in bird conservation in Huang Lianshan, Yunnan |
| 2014 | Large | Institute of Zoology, Chinese Academy of Sciences | Establish Protected Area Friendly System in tropical China |
| 2014 | Large | Yi Tai Rui Wo Environmental Consulting Company Limited | Nu River Biodiversity: Increasing Knowledge and Capacity on Infrastructure Impacts |
| 2014 | Large | Shan Shui Conservation Center | Biodiversity Information Sharing Platform for Mainstreaming Biodiversity into Policy Making |
| 2014 | Small | Natural Conservation Association Pianbian | Capacity-building of local communities and promotion of community forestry Daweishan, Yunnan |
| 2014 | Small | Liuzhou Bird Watching Society | Fostering Community-based Conservation in Nonggang Nature Reserve |
| 2014 | Small | Hainan Hele-crab Conservation Center | Co-development of biodiversity, community and livelihood in Xiaohai, Hainan |
| 2014 | Small | Beihai Citizen Volunteer Association | Supporting the growth of college environmental societies in Beihai, Guangxi |
| 2014 | Small | Hainan Gao11 Culture Communication Ltd | The Squirrel School's Guided Eco-tours in Yangshan Wetland, Hainan |
| 2015 | Large | TRAFFIC International | Sustainable Trade in Wild Medicinal and Aromatic Plants in the Sino-Vietnamese Limestone Corridor |
| 2015 | Large | The Hong Kong Bird Watching Society | Empowerment of local communities to address problem of illegal hunting in Guangdong and Guangxi, China. |
| 2015 | Large | Beijing Normal University | Strengthening Civil Society Networking to Combat Illegal Wildlife Trafficking in Southern China |
| 2015 | Small | Guangxi Biodiversity Research and Conservation Association | Hou Niao Volunteer Program – Promoting a Coastal Wetland Volunteer Network in Guangxi |
| 2015 | Small | Xishuangbanna Tropical Botanical Garden, Chinese Academy of Sciences | Hunting for solutions in Southwest China |
For more information, please visit https://www.cepf.net/