Fauna Outreach Volunteer Programme 2023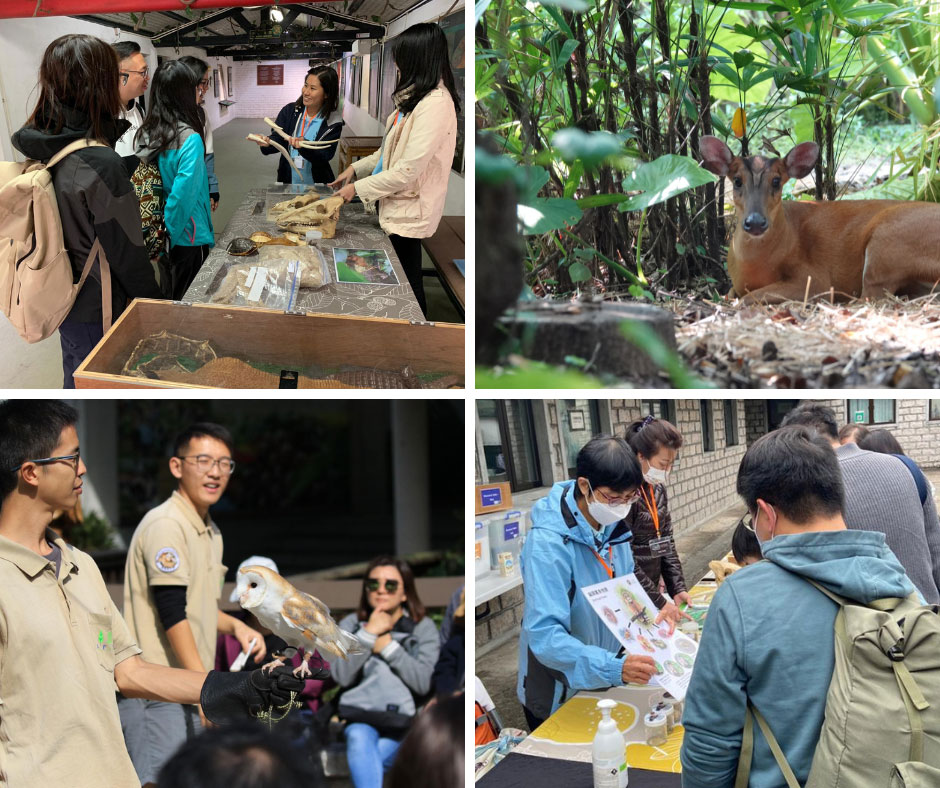 The Fauna Conservation Department conducts Animal Encounter and Discovery Table programmes on Sundays. Participants will experience close encounters with animals while increasing their awareness regarding wildlife conservation and the illegal wildlife trade. Hopefully attendees will take away with them a greater respect and appreciation for wildlife and become empowered to lead greener lifestyles and support wildlife conservation work and nature preservation.
Volunteers are important in these two programmes. The Fauna Outreach Volunteer Training Programme provides comprehensive training and guidance for volunteers. Qualified volunteers will help lead the programmes and other outreach activities.
More information about the Animal Encounter and Discovery Table programmes:
https://www.kfbg.org/en/events/animal-encounters
Volunteer Duties:
Perform duties as a guide for the Native Mammal Talk as a part of the Animal Encounter programme
Assist Animal Keepers during the Raptor, Python and Stick Insect Talks which are part of the Animal Encounter programme
Introduce animal specimens and our wild animal rescue work to visitors as a part of the Discovery Table programme
Assist in maintaining the smooth operation of Fauna Outreach activities, e.g. promoting the programmes, managing crowds and handling enquiries
Help with the general management of the group during our monthly Night Walk programme
Support any other educational activities undertaken by the Fauna Conservation Team
Benefits:
Gain an opportunity to promote wildlife conservation
Gain unique knowledge about reptiles, mammals and birds and applied conservation of these groups
Gain experience in guiding tours and speaking in public
Receive a certificate of recognition after 8 days of service over the first 12 months
Become a KFBG Member (Individual Membership) for 1 year
Lunch and travel allowance
2023 Intake: 20 volunteers
Training Period:
Training Day 1: 18 Feb 2023 (Saturday) 10am – 4pm
Training Day 2: 19 Feb 2023 (Sunday) 10am – 4pm
Training Day 3: 25 Feb 2023 (Saturday) 10am – 4pm
Exam: 11 Mar 2023 (Saturday) 10am – 4pm
Training Location:
Kadoorie Farm and Botanic Garden
Language:
Cantonese and English
Requirements:
18 years or above
Good command of Cantonese, Mandarin and English
Good interpersonal and speaking in public skills
Enjoy working outdoors
Able to work independently and in a team
Education or work experience related to biology, ecology, zoology, environmental science or education are preferred
Experience in tour guiding or organising education programmes is an advantage
Tenanus vaccination is not necessary if you would like to be our Outreach Volunteer
Commitment:
Complete 8 days of service within 12 months for KFBG activities.
Fee: HK$250
Application Procedure:
Interested parties, please submit an online application through KFBG website: https://volunteerapplication.kfbg.org/en/form2. In order to identify potential volunteers, please select "Others" for "Volunteer role(s) you are interested", and input "Fauna Outreach Volunteer" for "Please specify others".
Please write us a short letter to tell us why you would like to volunteer with us, and express your level of commitment to our mission.
For enquiries, please contact Ms. Bel Li at belli@kfbg.org
Application Deadline: 12 Feb 2023 (Sunday)
Photo credit: Connie Wong (top left) and Walter Ma (bottom left)