Kadoorie Earth Programme 2022 Talk series by International Ecological Speakers "Cooking the Message" with Jhon Kwano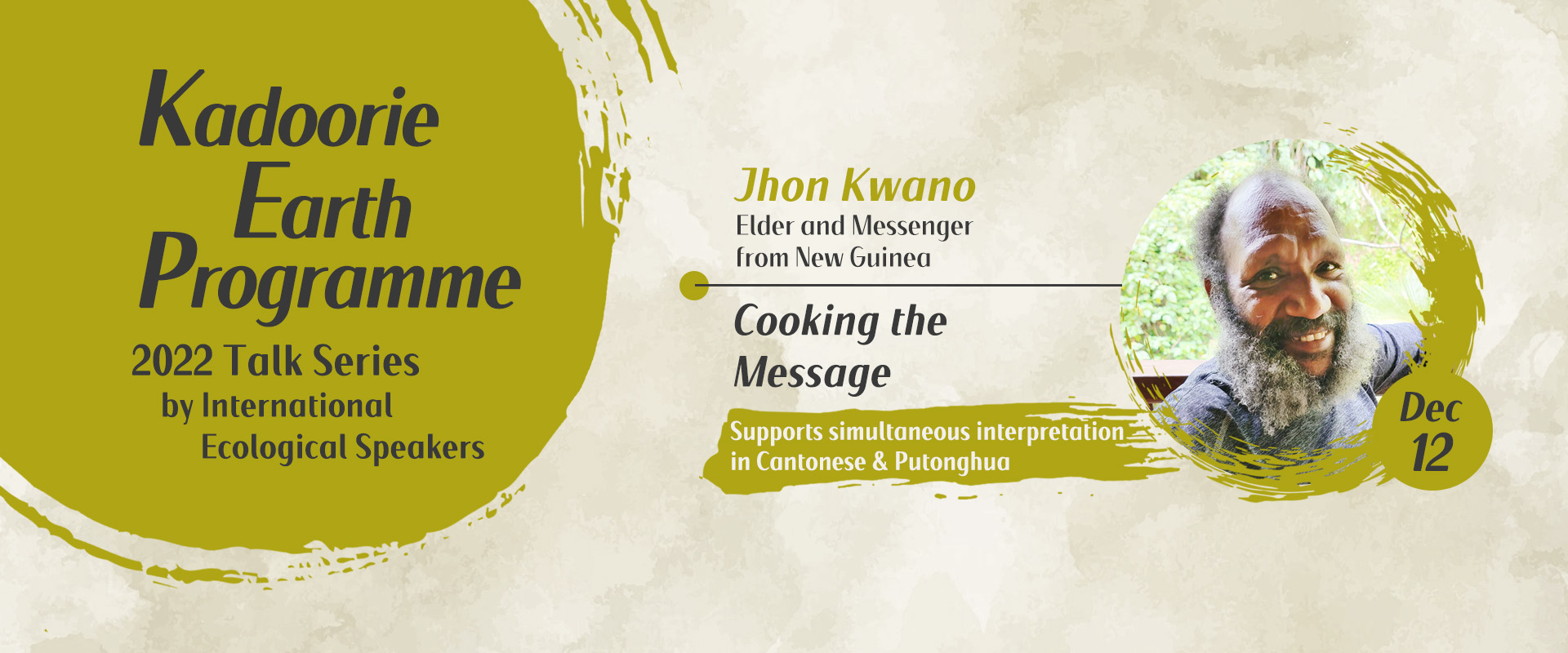 Introduction:
Jhon is an elder from the Lani tribe in the highlands of New Guinea, the largest island in Melanesia. In this talk, Jhon will share the knowledge of his culture, the challenges they face and his experience of encountering the modern world. He will guide us in how to receive messages from nature and integrate them into our lives.
"When you receive a message from Nature,
don't try to understand it. Hold it, cook it and keep it."
Please download the poster from HERE
Speaker:

As an elder from the Lani tribe in New Guinea, Jhon Kwano is from the last generation of his people to receive traditional initiation. He was identified from an early age for the role of Messenger, sharing the message of his tribe with outsiders and reporting back with what he has seen in the outside world. He is the only one known to be playing this role outside of Melanesia. As such, he is authorized to represent not only the Lani, but also other cultures in both New Guinea and the rest of Melanesia.

New Guinea is one of the most bio-culturally diverse places on Earth and Jhon's people still live as their ancestors have for thousands of years, in harmony with nature.
Language
English (Supports simultaneous interpretation in Cantonese and Putonghua)
Date and Time
12 Dec 2022 (Mon), 6 - 7:30 pm HKT (10 - 11:30am GMT)
Format
Zoom Meeting
Fee
A small donation to support our conservation work will be appreciated
Application
Please click HERE for the online registration by 11 Dec 2022
Enquiry
Natalie Leung at +852 2483 7108 or natalieleung@kfbg.org
Note
● You will receive the zoom link for the talk before the programme date.
● Please download and install Zoom on your device beforehand.
● In case of cancellation, you will be notified before the talk
More about Kadoorie Earth Programme
​​Kadoorie Earth Programme (KEP) is an initiative being co-created by KFBG and its network of collaborators and volunteers. By integrating the various strands of KFBG's nature conservation, sustainable living and holistic education programmes, it provides life-transforming learning experiences that reconnect people with themselves, each other and the rest of nature and enable them to cultivate resilience in the face of global challenges.
Be part of this unfolding initiative by joining our series of upcoming talks by world-renowned ecological speakers. Click HERE and save the dates to get inspired on how we can shift to an ecologically centred worldview, with care and reverence for the Earth.