Kadoorie Earth Programme 2022 Talk series by International Ecological Speakers "Inspiring Hope Through Action" with Dr. Jane Goodall, DBE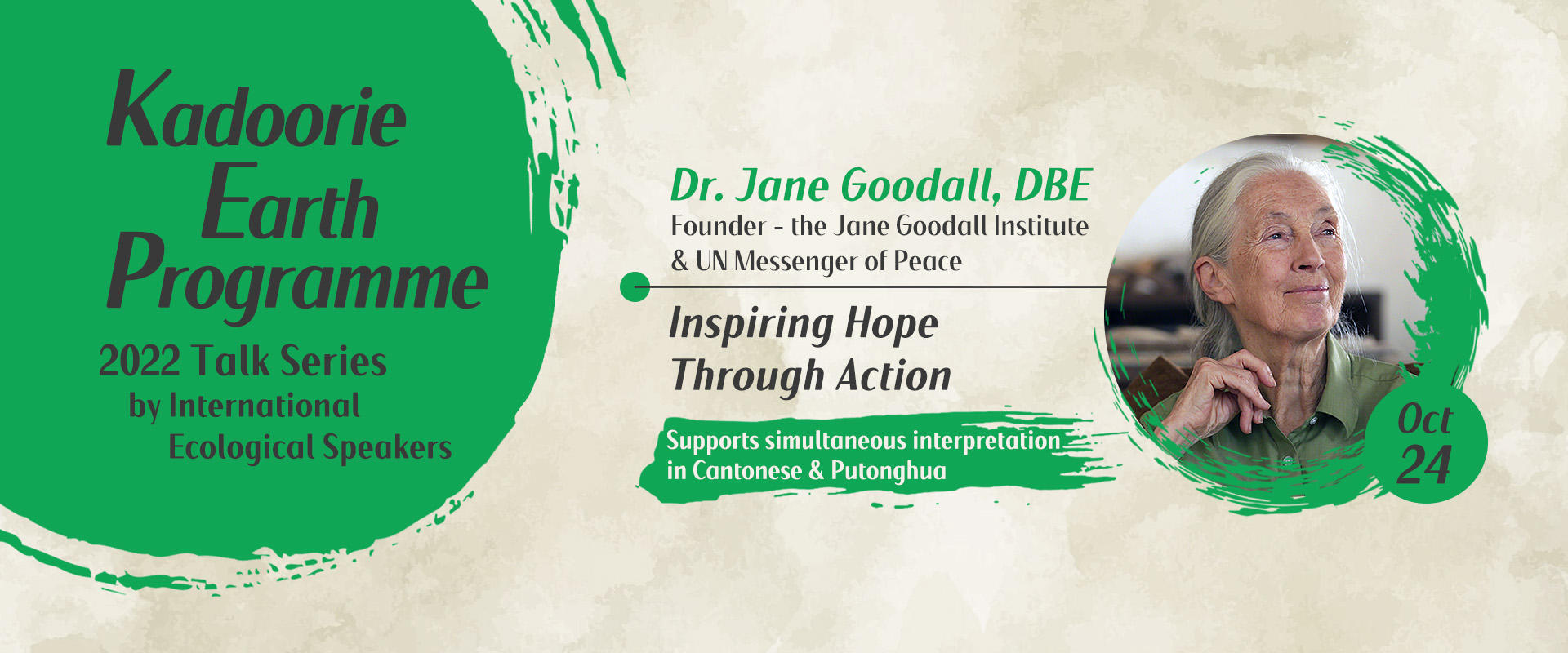 Introduction:
Over 60 years ago, Jane Goodall first set foot onto the shores of what is today Tanzania's Gombe National Park to begin her pioneering chimpanzee behavioural studies. In the last six decades, this research has transformed scientific perceptions of the relationship between humans and the rest of the animal kingdom. Today, Jane's mission has evolved into a quest to empower every individual to make the world a better place for people, other animals, and the planet we share. Dr. Jane Goodall, a world-renowned ethologist and conservationist, will share with us the stories of how she inspires hope through action.
Jane has been a friend of KFBG for many years, visited our nature reserve and presented at our premises. We are very pleased to have her back at KFBG, even though it is online, and we hope you can join her talk!
Please download the poster from HERE
| | |
| --- | --- |
| Speaker: | |
| Dr. Jane Goodall, DBE, founder of the Jane Goodall Institute and UN Messenger of Peace, is a world-renowned ethologist and activist inspiring greater understanding and action on behalf of the natural world. She is best known for groundbreaking studies of wild chimpanzees in Gombe Stream National Park, Tanzania, transformative research continued by the Jane Goodall Institute which is now the longest running wild chimpanzee study in the world. Dr. Goodall is the author of numerous books and the subject of numerous television documentaries, including the 2010 documentary "Jane's Journey," and the 2017 National Geographic documentary "JANE Dr. Goodall is a global icon and the recipient of many honors, including the Medal of Tanzania, the National Geographic Society's Hubbard Medal, Japan's prestigious Kyoto Prize, the Benjamin Franklin Medal in Life Science, the UNESCO 60th Anniversary Medal, and the Gandhi/King Award for Nonviolence. In 2021, Jane was the recipient of the esteemed Templeton Prize, and her newest book, "The Book of Hope: A Survival Guide for Trying Times," was published. | Photo credit: Jeff Orlowski |
1.
Language
English (Supports simultaneous translation in Cantonese and Mandarin)
2.
Date and Time
24 Oct 2022 (Mon), 5 - 6pm HKT (9 - 10am GMT)
3.
Format
Zoom Meeting
4.
Fee
A small donation to support our conservation work will be appreciated
5.
Application
Please click HERE for the online registration by 23 Oct 2022
6.
Enquiry
Natalie Leung at +852 2483 7108 or natalieleung@kfbg.org
7.
Note


You will receive the zoom link for the talk before the programme date.
Please download and install Zoom on your device beforehand.
In case of cancellation, you will be notified before the talk and a full refund will be arranged.
More about Kadoorie Earth Programme
​​Kadoorie Earth Programme (KEP) is an initiative being co-created by KFBG and its network of collaborators and volunteers. By integrating the various strands of KFBG's nature conservation, sustainable living and holistic education programmes, it provides life-transforming learning experiences that reconnect people with themselves, each other and the rest of nature and enable them to cultivate resilience in the face of global challenges.
Be part of this unfolding initiative by joining our series of upcoming talks by world-renowned ecological speakers. Click HERE and save the dates to get inspired on how we can shift to an ecologically centred worldview, with care and reverence for the Earth.