Kadoorie Earth Programme 2023 Talk Series by International Ecological Speakers 'Co-Existing and Co-Creating with the More-Than-Human World' with Om Sunisa Janwiset Deiters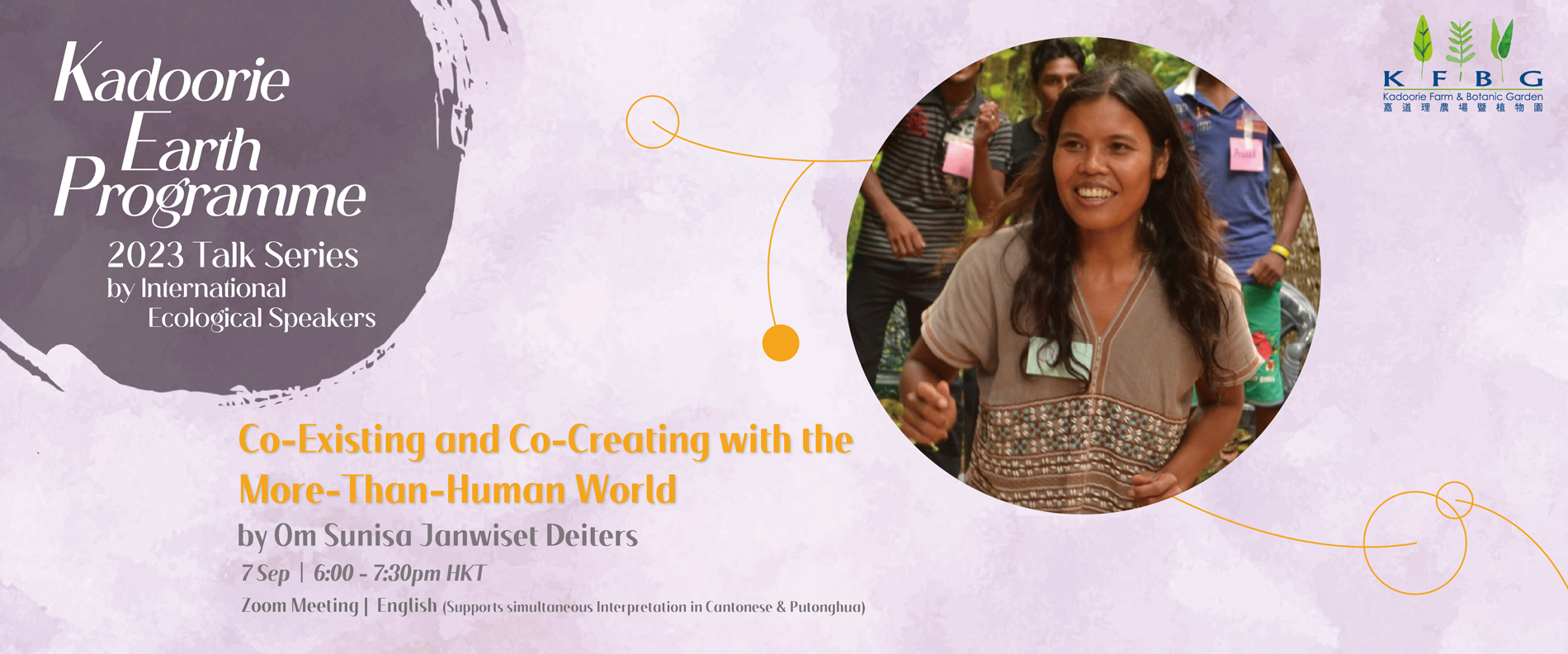 Introduction
Om's talk explores the insights and inspiration that drew her to explore the deep connection with the more-than-human world, various natural elements and the non-physical, subtle realms such as consciousness, energy fields and intuitive intelligence.
She also shares how Gaia Ashram has been building its culture and education programmes based on this concept of co-existence and co-creation in the community of all beings of which humans are a part of. This sharing includes practical guides for nature connections.
Speaker
Om Sunisa Janwiset Deiters


Om lived and worked as a facilitator at Wongsanit Ashram, a socially engaged spiritual community for about nine years, and later at the Panya Permaculture project in Thailand. She helped create the Next Generation of Global Ecovillage Network of Asia & Oceania (NextGENOA) and is currently mentoring young leaders of the network. She has facilitated courses in many countries for NGO workers, young Buddhists activists, international students and children. She uses participatory teaching methods and her focus is on deep ecology and nature connection. She founded Gaia Ashram with her partner in 2012. Now she divides her time teaching, managing the Gaia Ashram project and taking care of her children.

Om Sunisa Janwiset Deiters
Language
English (Supports simultaneous interpretation in Cantonese and Putonghua)
Date and Time
7 September 2023 (Thu), 18:00 - 19:30 HKT (10 - 11:30am GMT)
Format
Zoom

Fee
A small donation to support our conservation work will be appreciated

Application
Coming Soon

Enquiry
Iris Chung at +852 2483 7109 or iris.chung@kfbg.org

Note
● You will receive an auto-reply confirmation email upon registration with the zoom link attached.
● Please download and install Zoom on your device beforehand.
● In case of cancellation, you will be notified before the talk

More about Kadoorie Earth Programme

​​Kadoorie Earth Programme (KEP) is an initiative being co-created by KFBG and its network of collaborators and volunteers. By integrating the various strands of KFBG's nature conservation, sustainable living and holistic education programmes, it provides life-transforming learning experiences that reconnect people with themselves, each other and the rest of nature and enable them to cultivate resilience in the face of global challenges.