Kadoorie Earth Programme 2023 Talk series by International Ecological Speakers "Soil is the Source of Life" with Satish Kumar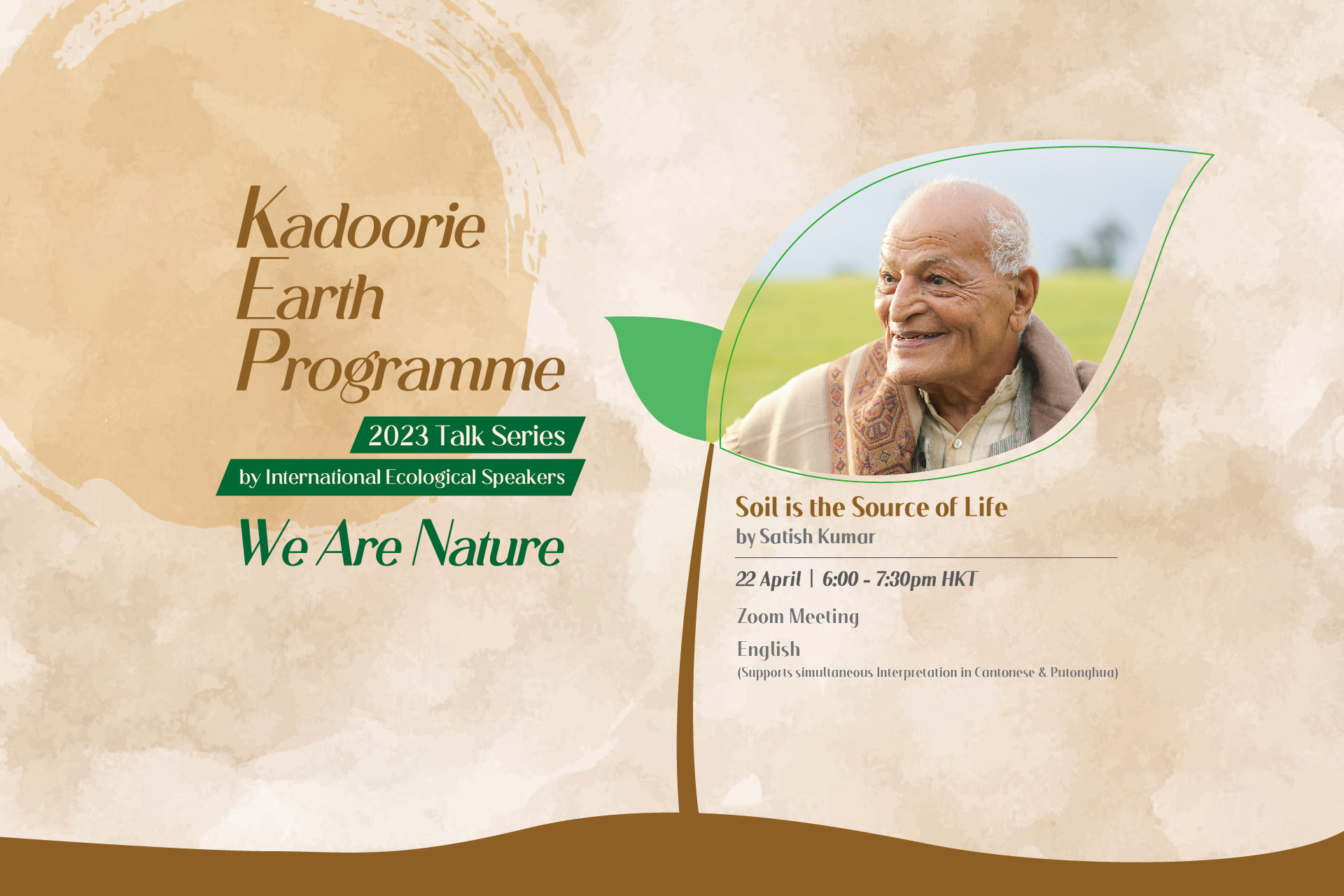 Introduction:
Without soil there is no food and without food there is no life, no trees, no forests. Soil represents life on Earth. In our human-centred worldview, in our educational systems, in our study of science and technology, we have come to think that soil simply means dirt, and is unclean. But it is not dirty: it is the source of life.
At the moment we behave as if we can do to Earth what we like. Our activities are causing global warming and climate change, we poison the soil, we cut down rainforests, we interfere with seeds through genetic engineering. These are acts of war with nature! We engage in such a war because we see ourselves separated from nature. We need to realise that we are nature, we are all part of this healthy web of life maintained by soil, in particular, and by nature in general. As we are nature, therefore, what we do to nature we do to ourselves.
Speaker:
Satish Kumar

Raised as a Jain monk from the age of nine, Satish became a campaigner for land reform at eighteen, working to turn Gandhi's vision of a renewed India and peaceful world into reality.
In 1962, concerned about nuclear proliferation, he began, with his friend E.P. Menon, an 8,000-mile peace pilgrimage, walking from India to Moscow, Paris, London and Washington with no money, through deserts, mountains and supposedly hostile territories to deliver a message of peace to the leaders of the four nuclear powers at the time.
In 1973, he settled in England and was invited by the renowned economist E. F. Schumacher to be the editor of Resurgence magazine, now titled 'Resurgence and Ecologist'. Under his editorship the magazine has become, according to the Guardian newspaper, 'The spiritual and artistic flagship of the green movement".
In 1991, Satish co-founded Schumacher College, in Totnes, Devon, UK, an international residential education centre named after E. F. Schumacher, which aims to provide transformative learning for sustainable living.
Satish writes, teaches and leads workshops internationally on holistic economics, reverential ecology, holistic education and voluntary simplicity. His books include 'Soil · Soul · Society: A New Trinity for Our Time', 'No Destination', 'Earth Pilgrim', 'You Are Therefore I Am', 'Elegant Simplicity' and the recently launched 'Radical Love'.
Satish is a regular teacher with KFBG and we are pleased to invite him back for this online talk.
Language
English (Supports simultaneous interpretation in Cantonese and Putonghua)

Date and Time
22 April 2023 (Sat), 18:00 - 19:30 HKT (10:00 - 11:30 GMT)

Format
Zoom Meeting

Fee
A small donation to support our conservation work will be appreciated

Application
Please click HERE for the online registration by 21 April 2023

Enquiry
Iris Chung at +852 2483 7109 or iris.chung@kfbg.org

Note
● You will receive an auto-reply confirmation email upon registration with the zoom link attached.
● Please download and install Zoom on your device beforehand.
● In case of cancellation, you will be notified before the talk

More about Kadoorie Earth Programme

​​Kadoorie Earth Programme (KEP) is an initiative being co-created by KFBG and its network of collaborators and volunteers. By integrating the various strands of KFBG's nature conservation, sustainable living and holistic education programmes, it provides life-transforming learning experiences that reconnect people with themselves, each other and the rest of nature and enable them to cultivate resilience in the face of global challenges.