Kadoorie Earth Programme 2023 Talk series by International Ecological Speakers "We Are Seed, We Are Soil, We Are Shakti" with Dr. Vandana Shiva
Introduction:
We are the living seed, the living soil. We are the creative power of Shakti, the Indian goddess of creation.
The Living Earth is self-organised, creative, constantly evolving. We are part of the Earth, we are part of nature. We are not separate from nature. Nature is not inert, mere raw material to be extracted for industrial use. We are not superior to other beings, We are part of the Earth family, united in diversity, life and compassion. When we sow seeds of love, we grow our future.
Speaker: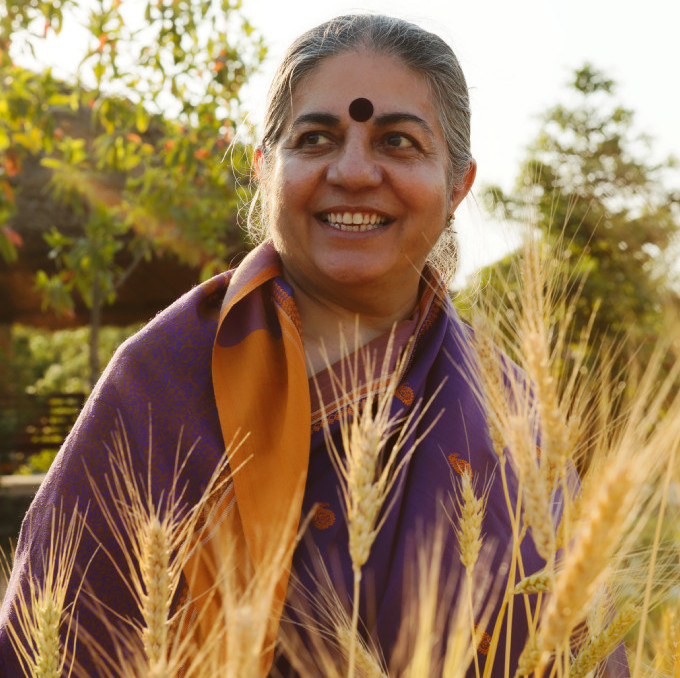 Dr. Vandana Shiva
Dr. Vandana Shiva trained as a physicist with a PhD in quantum theory from the University of Western Ontario in Canada. She later shifted to interdisciplinary research in science, technology and environmental policy, which she carried out at the Indian Institute of Science and the Indian Institute of Management in Bangalore. In 1982, she founded an independent institute, the Research Foundation for Science, Technology and Ecology, in Dehradun, northern Indian, dedicated to high-quality, independent research to address the most significant ecological and social issues of our times, in close partnership with local communities and social movements. In 1991, she founded Navdanya. This national movement aims to protect the diversity and integrity of living resources, especially native seed, the promotion of organic farming and fair trade. In 2004, she started Bija Vidyapeeth, an international college for sustainable living in Doon Valley, north of Dehradun, in collaboration with Schumacher College, UK.
Time magazine identified Dr. Shiva as an environmental "hero" in 2003 and Asia Week has called her one of the five most powerful communicators in Asia.
Facilitator
Chan Shun Hing

Chan Shun Hing engaged in research and teaching work in Hong Kong for over 20 years after she received her PhD degree from Peking University in 1996. After retirement in 2013, she re-connected with the soil through farming and rural land conservation activism. She co-founded Partnership for Eco Agriculture and the Conservation of Earth (PEACE), a small organisation based in Nam Chung, Sha Tau Kok, Hong Kong, to practice organic farming, holistic life and ecological education. Now she is a core member of the Nam Chung Reed Blossom Eco Community evolved from the past 10 years' endeavours. Before retirement, she served as associate professor in the Department of Cultural Studies, Lingnan University, with feminist studies as her main research interest. She has also participated in the local women's movement since the 1980s. During these years, from gender to ecology, and from urban to rural, both intellectual and living practices have enriched her understanding of eco-feminism and nature. She hopes she can continue to address different environmental crises, including climate change, with her life experiences and passion towards all sentient beings.
Language
English (Supports simultaneous interpretation in Cantonese and Putonghua)

Date and Time
31 May 2023 (Wed), 18:00 - 19:30 HKT (10:00 - 11:30 GMT)
Format
Zoom

Fee
A small donation to support our conservation work will be appreciated

Application
Please click HERE for the online registration by 17:30, 31 May 2023

Enquiry
Iris Chung at +852 2483 7109 or iris.chung@kfbg.org

Note
● You will receive an auto-reply confirmation email upon registration with the zoom link attached.
● Please download and install Zoom on your device beforehand.
● In case of cancellation, you will be notified before the talk

More about Kadoorie Earth Programme

​​Kadoorie Earth Programme (KEP) is an initiative being co-created by KFBG and its network of collaborators and volunteers. By integrating the various strands of KFBG's nature conservation, sustainable living and holistic education programmes, it provides life-transforming learning experiences that reconnect people with themselves, each other and the rest of nature and enable them to cultivate resilience in the face of global challenges.