KFBG finds a new home in Europe for 55 smuggled endangered turtles and tortoises
14 March 2022 |
Nature Conservation
(Hong Kong – 14 March 2022) Fifty-five chelonians, most of high conservation importance, and including 4 Galapagos tortoises (Chelonoidis sp.) – one of the world's rarest species – were sent to Europe from Kadoorie Farm and Botanic Garden (KFBG) this March. KFBG's Wild Animal Rescue Centre (Rescue Centre) had housed many of these chelonians for seven years or more and finally found four suitable overseas conservation facilities for the rare creatures.
The shipment comprised 25 Tricarinate Hill Turtles (Melanochelys tricarinata), 12 Malayan Box Turtles (Cuora amboinensis), 9 Chinese Box Turtles (Cuora flavomarginata), 4 Big-headed Turtles (Platysternon megacephalum) and 1 Chinese Broad-headed Pond Turtle (Mauremys megalocephala). They were either rescued from the illegal wildlife trade or discovered stray but undoubtedly imported illegally. The animals have found new homes at Turtle Island and the Cuora Conservation Centre in Austria, and several will enter programmes in Zoo Delle Maitine and Safari Ravenna in Italy.
The fresh-water turtles and tortoises were prepared for their long trip to Europe. KFBG staff carefully packed them into specially designed live animal shipment crates.
"The European centres offer the best opportunity to conserve the different species of turtles and tortoises that were originally part of the illegal trade into Hong Kong. They are able to provide needy assurance colonies for the species many of which are threatened with extinction in the wild," said Dr. Gary Ades, Head of the Fauna Conservation Department of KFBG.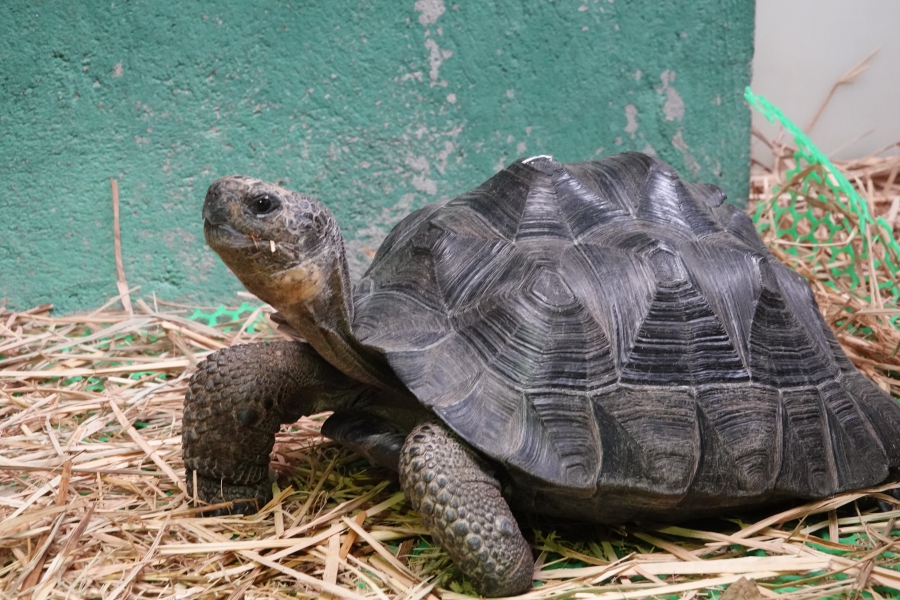 The four Galapagos tortoises were smuggled inside a parcel originating from USA, then confiscated by the Hong Kong authorities and sent to our Rescue Centre in October 2016. After the tortoises' five-and-a-half-year stay in the Rescue Centre, one of them grew from 165 grams to 2.8 kg. Galapagos tortoises can weigh more than 227kg and live to be over 100 years old.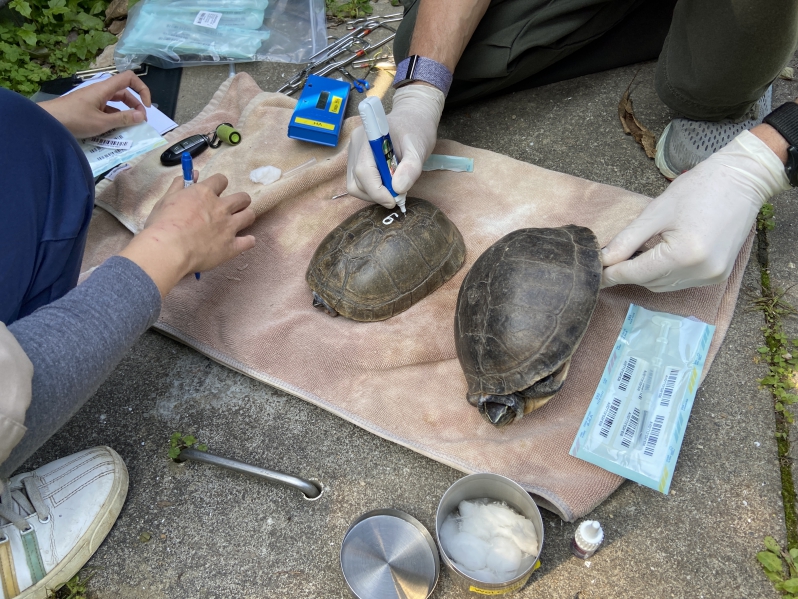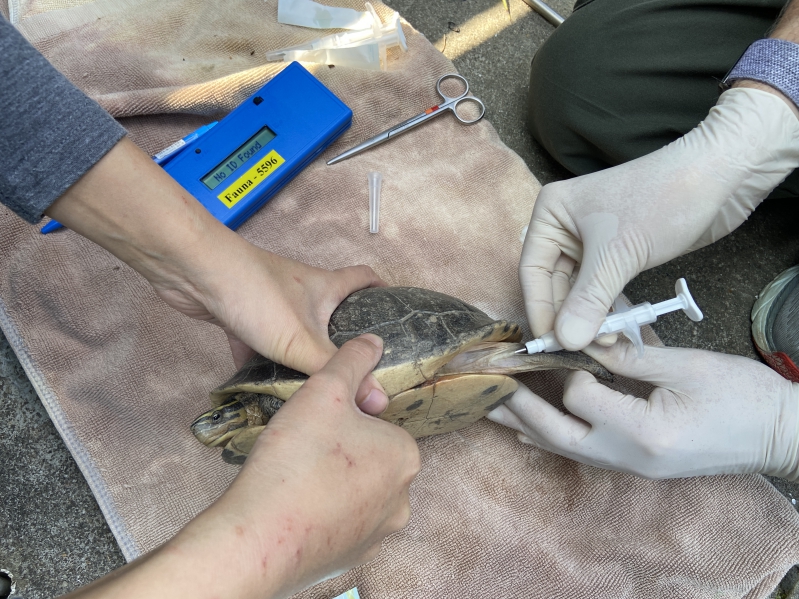 Twelve endangered Malayan Box Turtles were received by the Rescue Centre following a seizure by the Hong Kong authorities in 2010. They were thought to be on their way to destinations in mainland China via Hong Kong. On arrival at KFBG's Rescue Centre, they were in poor condition caused by the cruel transport conditions and handling during their transport. They were rehabilitated under the care of the rescue team at KFBG, and microchipped by our vet for ID before shipment.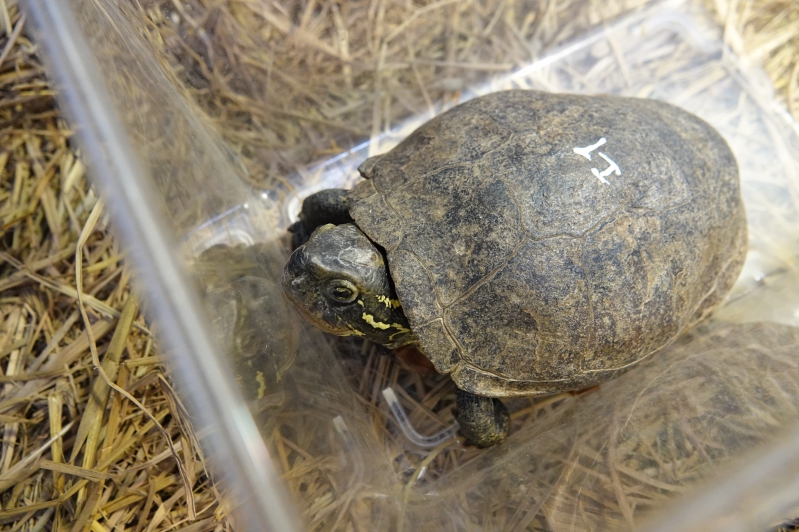 A female Chinese Broad-headed Pond Turtle arrived in our Rescue Centre in July 2013. We estimated her age by her size to be around 32 years old. She has joined one of the conservation breeding programmes in Europe.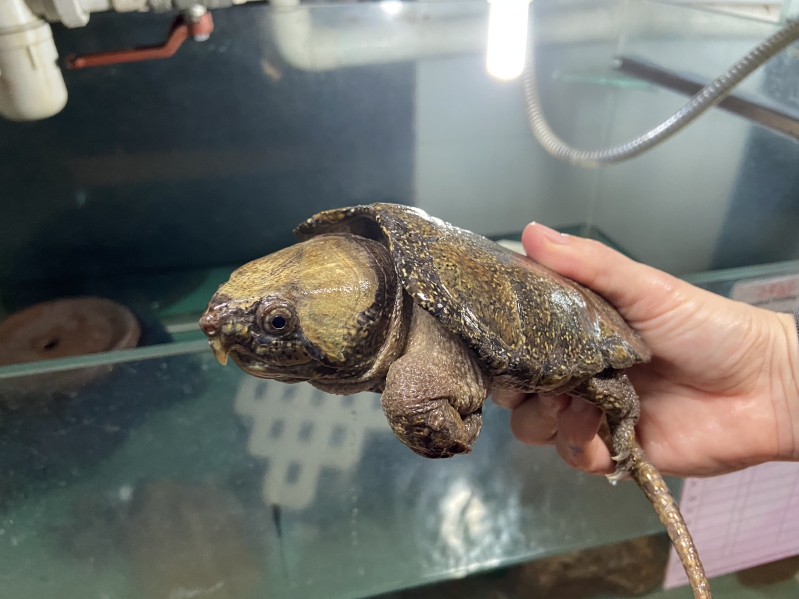 Four Big-headed Turtles were rescued in 2016. Two of them were confiscated from the internet trade by the AFCD's undercover officers. Another two were seized while they were being smuggled.
Big-headed Turtles are listed as a Critically Endangered species on the IUCN Red List. The wild population is suspected to have decreased by over 90% in the last three generations (90 years).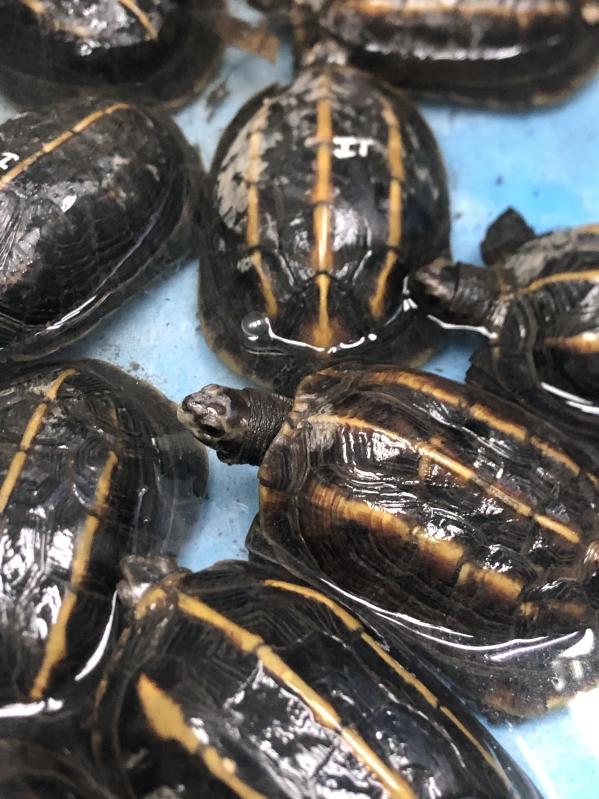 Tricarinate Hill Turtles (left) and Chinese Box Turtles (right)
IUCN Red List: Endangered
Photo credit: KFBG/ Paul Crow
The smuggling of wild animals across continents is a serious ecological crime, depleting highly vulnerable and diminishing populations, as well as causing tremendous suffering for these creatures.
About the Wild Animal Rescue Centre
As the only non-government wildlife rescue centre operating in Hong Kong under a special licence from the Director of the Agriculture, Fisheries & Conservation Department (AFCD), the Rescue Centre receives displaced, trapped or injured native wildlife and wildlife of conservation concern confiscated from the illegal pet and food trade.
Contact KFBG at 2483 7279 or visit www.kfbg.org/en/donation to learn more about our rescue services or are interested in financially supporting the care and placement of wild animals.
If you come across an animal in distress and clearly requiring rescue, please contact the SPCA at 2711 1000 and for any illegal acts encountered involving wildlife please contact AFCD at the hotline 1823.
-- END --
For media enquiries and interview arrangement, please contact:
Hilary Su
Tel: 2483 7270
Email: hilarysu@kfbg.org