Botanic Garden and Nature Reserve - Caring For Our Hillside
Working the Ground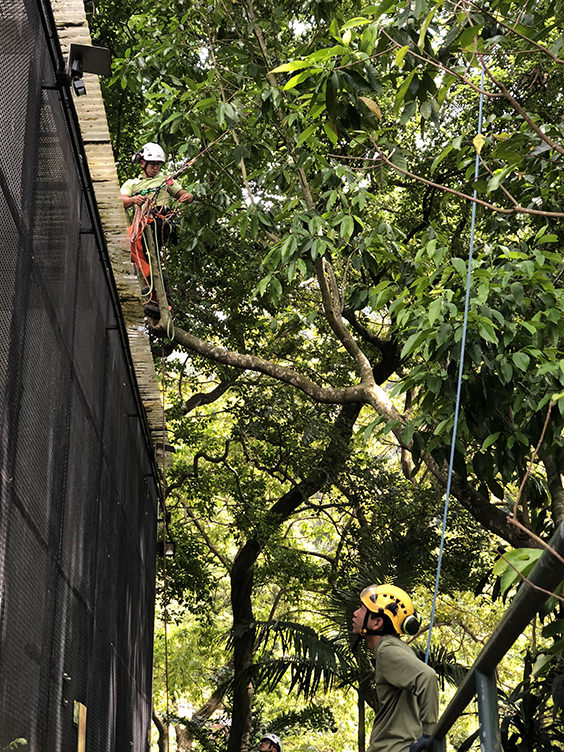 Managing all the trees on KFBG's 148 ha site for the benefit of the trees themselves, for the ecology of the emerging mixed forests, and to ensure public safety is no small task. Our Tree Management Teams, informally referred to as 'tree teams', are made up of qualified arborists, tree climbers and ground crew. Their role is to evaluate the current and projected future health and integrity of individual trees, based on which a full tree risk assessment is made.
Our first tree team was established in 2003. At that time, there were no authorised arboriculture courses in Hong Kong. Seeing the importance of arboriculture in managing our trees and forests, experts from Australia and USA were invited to Hong Kong to provide professional on-site training. The course contents included aspects of arboriculture, tree climbing, tree work technique and tree risk assessment. Over time, our tree teams have grown in size and expertise, and they are now very well equipped to deal with most tree management issues that arise. As our tree health care professionals, their main duty is to maintain the health and well-being of all our trees.
In line with our tree management plan, all trees situated in close proximity to people, roads, exhibits, buildings and workplaces are regularly inspected and assessed. If a tree is identified as hazardous, our arborists proceed to assess the risk, as well as provide advice for mitigation. A detailed operation will then be planned. If a particular course of action is called for, suitable personal protective equipment will be selected to ensure the safety of our tree climbers and ground crews, who then carry out tree works, such as cabling, pruning or felling.
During the operation, the area will be cordoned off to prevent unauthorised entry. Due to KFBG's hilly landscape, tree climbing is our most frequently used technique for conducting tree works. With the use of ropes and harnesses, our tree climbers venture up into the tree crown using internationally recognized tree climbing techniques, whilst ground crews provide support and assistance on the ground.
Depending on the size of the limbs to be pruned, either a handsaw or chainsaw is selected. Pruned tree parts are lowered to a designated drop-off zone using ropes. Once the tree work is complete, the wood debris is collected for recycling and the area is reopened to the public.