Botanic Garden and Nature Reserve - Caring For Our Hillside
Development of Animal-Friendly Features
The woodlands and hillside at KFBG are of high ecological importance and biodiversity value; its semi-natural habitats (stream, ponds, woodlands, shrubs and grassland) and man-made structures (buildings, reservoirs) are known to support a diverse range of flora and fauna. The range of habitats support a high number of moths (1,180 species noted in the 2005 KFBG Fauna Checklist), which is indicative of a healthy rich ecosystem.
We have developed an Environmental Enhancement programme, which commenced in an ad-hoc manner in the early 2000s due to a growing need. The programme recognises the importance of the KFBG protected areas and investigates ways to mitigate man-made structures and enhance the ecology. The goal of the programme is to enhance the site's ability to support a wider range of native fauna and take steps to increase population size of certain fauna species. This goal is to be achieved through making alterations to existing site features and practices. Alterations to practices or installations may target mitigating the negative impacts of existing infrastructure projects or practices but may also include completely new installations, infrastructure or practice recommendations. Since the development of the programme we have also carried out presentations to professional engineers and advised the HKSAR Government regarding animal friendly engineering that considers animal movement in and around urbanized areas.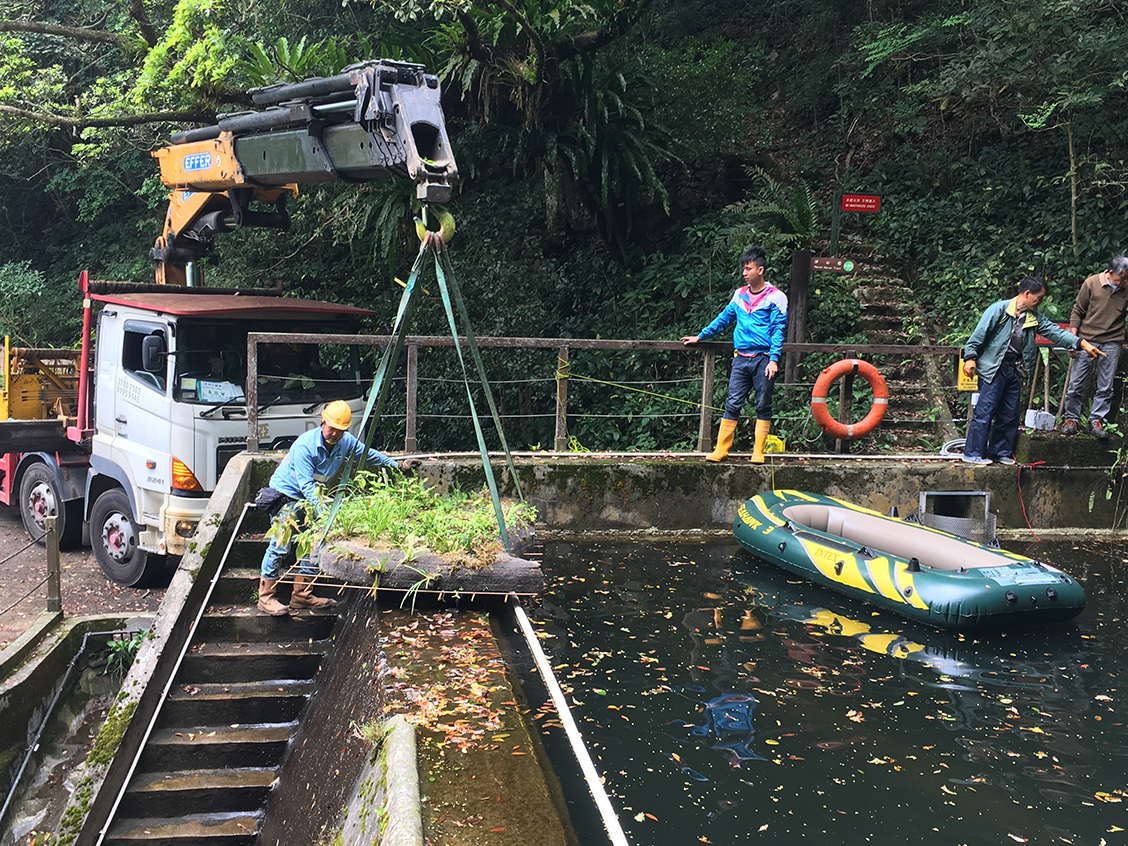 To date a number of environmental enhancement measures have been implemented at KFBG, such as the installation of a fish ladder/pass at the Magnolia Falls reservoir; modification of drainage channels to allow animals to pass through or to escape; construction of a bat tower; installation of bat boxes on buildings; and creating 'floating islands' in collaboration with the Flora Conservation Department. Our future goal is to monitor the effectiveness of these measures and if proven effective these will act as a models to external parties demonstrating approaches that may be applicable across other parts of the territory or region.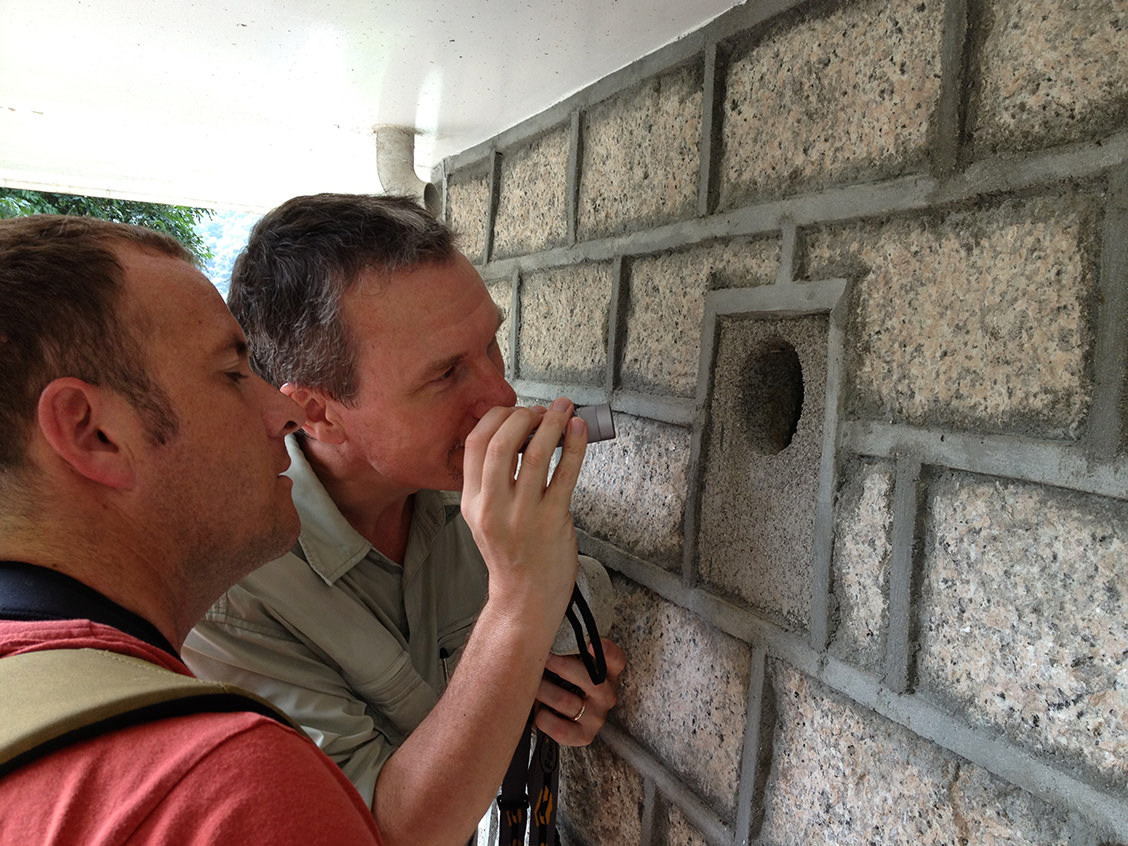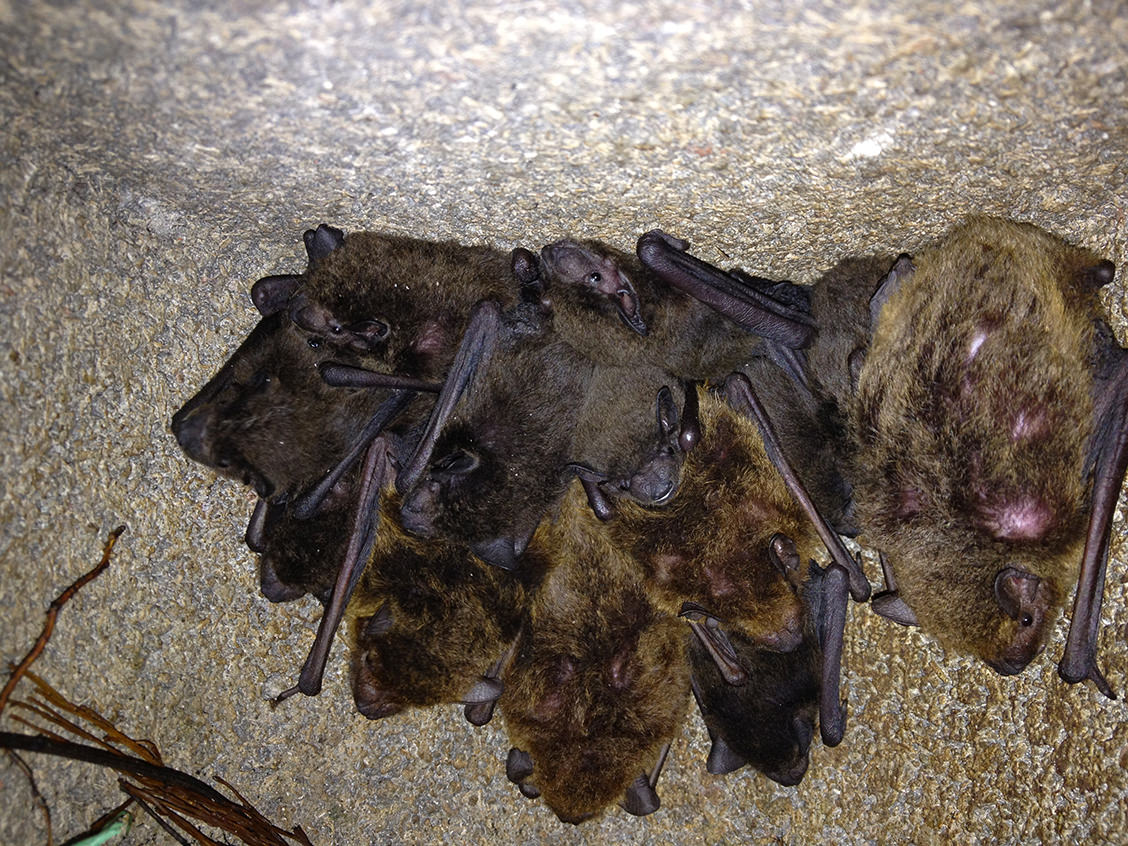 Inspection of bat boxes is carried out to monitor the bat populations at KFBG (left). A group of Japanese Pipistrelles (right) found in an artificial nesting box in Kwun Yum Garden.