About Us - History and Heritage
Sir Horace Kadoorie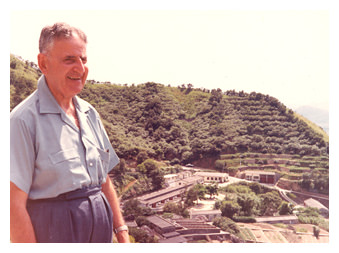 It was Horace Kadoorie, the "farmer and horticulturalist" of the Kadoorie family, who first thought of launching the Kadoorie Agricultural Aid Association (KAAA). We can thank him for getting the Association off the ground and running successfully. Even in his younger days, when he lived in Shanghai, Horace was already helping people in need. In 1937, he founded the Shanghai Jewish Youth Association and also helped establish a Committee to look after 20,000 refugees who had arrived in Shanghai from Europe.
It was in Shanghai that he learned that one of the best ways to help people in need was to empower them to help themselves. He used the same philosophy when he helped immigrants in Hong Kong and came up with practical solutions to their problems.
With his brother Lawrence, Horace founded KAAA in 1951, which paved the way for the KFBG. In 1989, Horace was knighted for his efforts in helping the Nepalese Gurkha soldiers in Hong Kong adjust to civilian life.
---
Statue of Sir Horace Kadoorie
This statue of Sir Horace was unveiled in May 2011 to honour his great contribution. The statue sits on a bench in the Plaza to welcome our visitors.
"……(Sir Horace) was that rare, extraordinary & human, one who devotes his every moment of life, seeking to help others. There are certainly thousands, if not millions, who are indebted to this man. And I am one of them, privileged to be a small part of his great legacy."
Lawrence Holofcener*
Sculptor of the "Sir Horace Kadoorie Statue"

*Lawrence Holofcener is a world famous sculptor who created sculptures of John Lennon, Albert Einstein and Nelson Mandela, etc.