Conservation and Research - Fauna Conservation
Bats (Lam Tsuen Community Bat Project)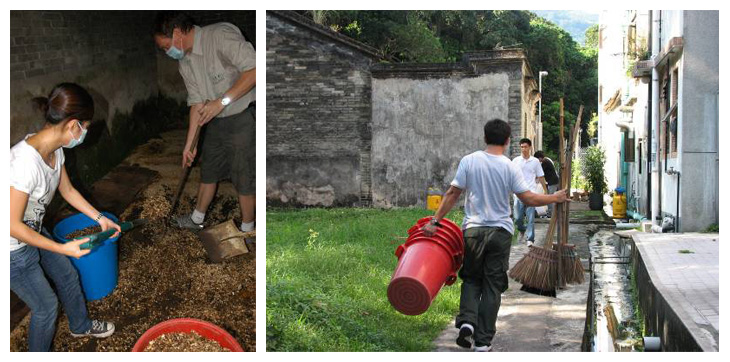 This project developed following a complaint made to the Agriculture Fisheries & Conservation Department (AFCD), by villagers from Cheung Uk Tsuen Village in Lam Tsuen, Tai Po in 2004.
The complaint concerned the occupancy of an ancestral building by about 80 Himalayan Leaf-nosed Bats (Hipposideros armiger), a large insectivorous species which often roosts in old buildings. The AFCD approached the Fauna Conservation Department of KFBG for assistance and advice concerning a future meeting with the villagers. All bats are protected by law and the objective was to raise awareness and try to find an amicable solution to the conflict.
Villagers felt that bats would bring bad luck and that they produced a smell from the guano piles in the building. Fauna Conservation staff offered to remove the guano on a regular basis and explained that the guano can make excellent plant fertilizer. An individual bat of this species can eat thousands of insects, including mosquitoes, each night – and they do not attack people or suck blood. The villagers were also reminded about the iconic role bats have in Chinese culture as symbols of good luck and fortune – far removed from the perception that the villagers held.
After this visit, discussions took place with two other KFBG departments, the Sustainable Living & Agriculture Department and the Education Department, to consider inter-departmental collaboration, which would attempt to deal with the various issues of this case, and led to some form of long-term resolution of the conflict.
The main objectives of the project, which was further developed in 2005, are:
Raise awareness among the villagers of our local biodiversity and the bats protected status with villagers
Conflict management incorporating agricultural and cultural aspects
Development of friendship and trust, and establishment of a model of cooperation with our neighbours in the Lam Tsuen Valley
Ultimately, protection of the wild bats
Since 2005, over 100 visits have been completed by the project team and volunteers to remove guano from the building and count the bats. Our Facilities Department have also helped the villagers with some minor building repairs.
Bat counts have varied between 0 in winter and 196 during the summer months. Movements occur seasonally with the bats moving to more humid water tunnels during the dry season, then reappearing in the building around the middle of March. Our long-term aim is to develop a sustainable project which involves the villagers themselves as guardians of the bats and the guano.
The bat guano is composted at KFBG and sold as potting compost in the KFBG Farm Shop, the proceeds of which have gone towards the upkeep of the building.
BATS ARE PROTECTED BY LAW IN HONG KONG AND ANY DISTURBANCE OR STUDY OF BATS SHOULD RECEIVE PRIOR APPROVAL FROM THE DIRECTOR OF AFCD.