Conservation and Research - Fauna Conservation
Banteng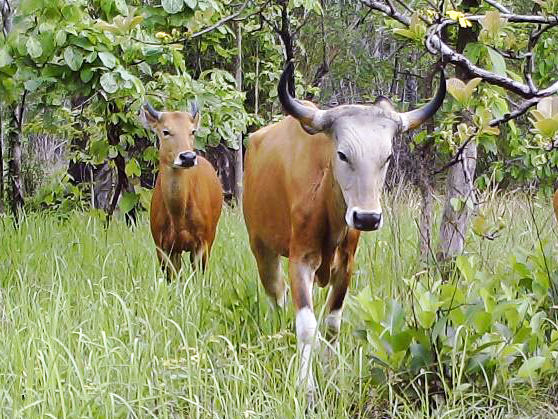 Banteng
Scientific name: Bos javanicus
Order: Cetartiodactyla
Family: Bovidae
IUCN Red List: Endangered
---
Species profile
Banteng is one of the most endangered wild cattle in the world. Poaching, habitat degradation and loss caused its population to shrink by more than 50 per cent over the past three decades. The estimated global population of less than 8000 individuals is scattered across Cambodia, Indonesia, Malaysia, Myanmar, Thailand and Vietnam.
What sets the Banteng apart from the domestic cattle is that the former wears "white socks" and has a distinct white rump. Banteng are social animals, spending most of their time in herds which are generally accompanied by a single adult bull. Unlike its close relative the Gaur which prefers residing in evergreen forests, the Banteng likes roaming in dry open forest. Banteng can grow up to 800kg. Their shyness makes them hard to find in the wild.
Our conservation work
Eastern Cambodia boasts the largest and most pristine dry forest in Southeast Asia, and houses over half of the global population of Banteng. In 2017, the Kadoorie Conservation China Department (KCC) was invited by the Hainan Provincial Department of Agriculture to help conserve the biodiversity of a 13,000-hectare Chinese-owned Economic Land Concession in Kratie Province of eastern Cambodia.
Our surveys did not only reveal that the site is home to a healthy breeding population of Banteng, but also indicate that illegal logging and poaching are rampant. To combat these illegal activities and safeguard threatened wildlife and their habitat, we work with our local partner to establish a forest patrol team to conduct regular anti-poaching and anti-logging patrols, provide training and equipment to the team, and carry out outreach campaigns in local communities to raise awareness of the importance of biodiversity conservation.
Related articles:
Preliminary study on the basic ecology and conservation of Banteng (Bos javanicus) in a land concession of eastern Cambodia