Conservation and Research - Fauna Conservation
Romer's Tree Frog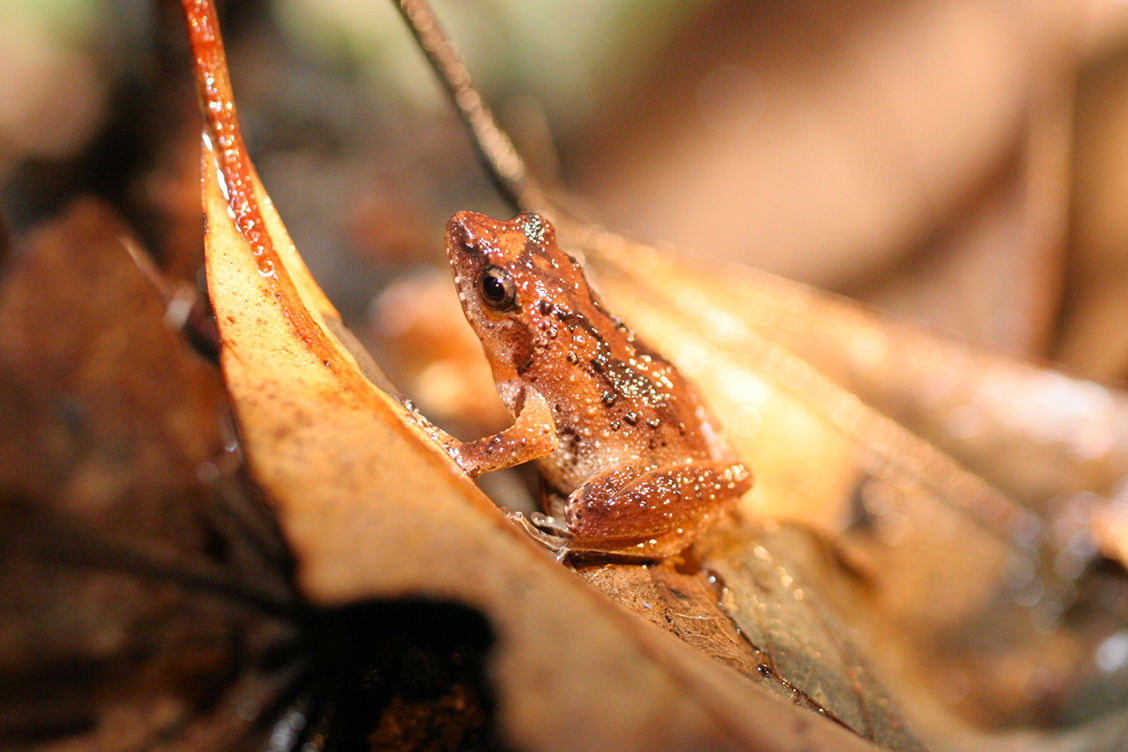 Romer's Tree Frog
Scientific name: Liuixalus romeri (Smith, 1953)
Order: Anura
Family: Rhacophoridae
IUCN Red List: Endangered
Protected by the Wild Animals Protection Ordinance (Cap. 170)
---
About the Species
This tiny frog no larger than the tip of your thumb was once thought to be endemic to Hong Kong and was known from two key sites in the territory, Lamma Island and parts of Lantau Island. The largest population was found on Chek Lap Kok, which was under imminent threat from the development of the new International Airport in the mid-1990s. This event triggered a series of conservation actions, including the translocation of frogs to other suitable habitats and the establishment of an overseas assurance colony for the species.
Conservation Actions
The rescued frogs were moved to several locations on Hong Kong Island and in the New Territories, including KFBG. In 1995, the Fauna Conservation Department joined the project to conserve Hong Kong's then endemic Romer's Tree Frog (Liuixalus romeri). Several hundred frogs from the population on Lantau Island were translocated by the University of Hong Kong to eight sites across the territory as an in-situ conservation measure (including one ex-situ population in Australia). Artificial breeding habitat created on the KFBG hillside was one of the release sites.
Breeding occurred at the KFBG sites, but the populations were not sustained and by 2010 we confirmed that the species had disappeared from these locations. The activity of wild boar disrupting artificial breeding habitats and the presence of a predatory frog that may have been preying upon the tiny frogs and tadpoles were thought to be part of the reason for the population's demise.
In 2012 KFBG pushed ahead with efforts to conserve the species onsite at KFBG and a second phase of habitat creation in a new location commenced hoping to eradicate some of the problems encountered in the first phase. In 2013, 2014 and 2015 wild-collected tadpoles were brought into captivity and raised until metamorphosed into tiny froglets before release into the new habitats. Since the final translocation in 2015 the conservation effort has been based around habitat maintenance and monitoring for frog presence to establish if the translocations have been successful. Results so far indicate the species has again failed to establish at the site but small numbers may still be present and monitoring continues.